Commentary
Restart rule injects excitement
Updated:
July 25, 2009, 12:46 PM ET
By
Terry Blount
| ESPN.com
INDIANAPOLIS -- Now that last year's exploding tire issues apparently are solved, NASCAR can return to quality racing at the Brickyard.
Oh, wait a second. My bad.
We've never seen quality racing at Indy for a NASCAR event, regardless of how good or bad the tires were on race day.
If the drivers are right, things are about to change.
Sunday's Allstate 400 at the Brickyard (2 p.m. ET, ESPN) may go from the worst race in its 15-year history last year to the best one ever in 2009.
Why? Easy. The double-file restart rule.
"There's no telling what will happen here," Carl Edwards said Friday. "It's going to be crazy. The fans will get their money's worth and we'll be completely stressed out."
The new rule, allowing all the lead-lap cars to line up double-file up front on every restart, could have a bigger impact at Indy than any other track in the Sprint Cup Series.
The reason is the long and narrow front straightaway, five-eights of a mile in between two large grandstands. The driver feels like he's riding a missile through a tunnel, heading for a 90-degree turn at the end.
"When everybody restarts on one straight, that's where you have problems," Jeff Burton said. "You can't see through cars.
[+] Enlarge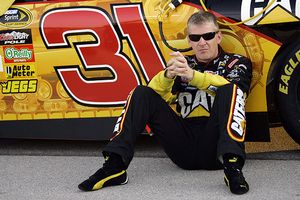 Rob Grabowski/US PresswireJeff Burton has no reason to be a fan of double-file restarts, since he's wrecked during one in four straight races. He still says he's not against them.
"If you're running eighth and the second-place guys checks up, the guy right behind him sees it. But the guy behind him doesn't, and so on. It's this accordion effect and we will have a lot of wrecks."
The race two weeks ago at Chicagoland Speedway was a good example, producing some wild crashes on late restarts. And the odd rectangle shape of the 2.5-mile track at Indy could increase the chances of mangled sheet metal.
"Everything is on the line right now," Edwards said. "Guys are trying to keep their position for the Chase [the top 12] or get in the Chase. And this is a big race. So with 20 laps to go, it will be insane."
With all the lead-lap cars vying for position late in the race Sunday, things could get a little too insane as far as some of the drivers are concerned.
"We've had a lot of discussions with NASCAR about restarts on this track,'' Jeff Gordon said. "It's one of the most unique restart zones we have."
Gordon, Burton and other drivers convinced NASCAR officials to make a minor change on the restarts for this race. The green will fly when some of the field still is coming out of Turn 4.
This will enable the cars in the back half of the field to see down the frontstretch and react to any accident that happens in front of them.
"Their visibility will be much better," Burton said. "The further you move back toward the corner, the more efficient the restart can be."
Burton said he doesn't hate the new restart rule, despite being furious two weeks ago at Chicagoland when he wrecked his No. 31 Chevy on a late restart.
"I'm not opposed to it," Burton said. "I've just ended up on the short end of the stick because of it. Maybe Sunday it will work for us.
"But I've wrecked four weeks in a row off of these restarts. I had to go look back to see if I've never done that in my career. Now I'm 42 and I've wrecked at four races in a row because of it."
"

I think it will be a disaster for everybody on the outside. It's unfair here for the guys on the outside and a huge advantage for the guys inside.

"

-- Matt Kenseth
The leader gets to choose which line he wants for the restart, but most drivers believe the inside line is the only way to go at Indy.
"I think it will be a disaster for everybody on the outside," Matt Kenseth said. "It's unfair here for the guys on the outside and a huge advantage for the guys inside."
Indy is a one-groove track, maybe one and a half. Burton said the racing groove is about 10 feet wide. But two cars can't go into the turns side-by-side at the same speed.
Something or someone has to give when lead-lap cars bunched together head into Turn 1 on a restart.
"It's a long straightaway, but the start/finish line is closer to Turn 1 than people realize,'' Gordon said. "There isn't much of an outside groove here. You're pretty much done out there once the cars get up to speed."
Tony Stewart isn't so sure about the outside line being a weak spot.
"If [the inside driver] can't clear the [outside] guy by the time they get to Turn 1, you are going to want to be on the outside," Stewart said. "The guy on the inside always ends up being a lot looser than he wants to be."
Either way, it's going to increase the side-by-side action for an event that has sorely lacked quality racing.
"The restarts bring a lot of intensity," Gordon said. "But that also brings a huge potential for disaster. They can make you or break you."
Terry Blount covers motorsports for ESPN.com. His book, "The Blount Report: NASCAR's Most Overrated and Underrated Drivers, Cars, Teams, and Tracks," was published by Triumph Books and is available in bookstores. Click here to order a copy. Blount can be reached at terry@blountspeak.com.
ESPN Seattle Seahawks reporter
Covered the NFL at the Houston Post and Houston Chronicle, including eight Super Bowls
Received Citation for Writing Excellence from Hearst Newspapers
Also has covered NBA Finals, World Series, Finals Fours, Indy 500 and Daytona 500
ALLSTATE 400 AT THE BRICKYARD
Sunday marks the 16th running of the Allstate 400 at The Brickyard. It's the first stock car race of Indianapolis Motor Speedway's Centennial Era Celebration as the first races were run at the venerable track in 1909.
Coverage
•
Hinton: Others had a chance, JJ has the trophy
•
Blount: Montoya's monstrous mistake
•
Newton: Kyle Busch in Chase jeopardy
•
Recap: Jimmie Johnson wins third Brickyard
•
Mark Martin takes pole
|
Starting grid
•
Hinton: Stewart at home as Brickyard favorite
•
Newton: Brickyard belongs on schedule
•
Blount: Double-file restarts to the rescue
•
Willis: The Eliminator says Smoke rises
•
Blount: What are the odds? Handicapping Indy
•
Hinton: Hey! Stock cars were here first
•
Door-To-Door: Here's why you should watch
•
Blount: Gordon changed the face of NASCAR
•
Newton: Newman flying under the radar
•
Newton: Five things needed to win
•
Newton: NASCAR at a crossroads
•
Blount: The Unlucky Eight
•
Hinton: Uneasy lie the crowns
•
Surround: Allstate 400 at The Brickyard
SportsNation
•
RaceCast with Ryan McGee chat
•
Fantasy with Mark Garrow chat wrap
•
Ask in-race reporter Tony Stewart!
•
Ask the ESPN race analyst
Brickyard Video
•
SportsCenter highlight of the night
•
NASCAR Now recaps The Brickyard
•
Jimmie Johnson wins third Brickyard
•
NASCAR Now's Sunday morning notebook
•
How the Brickyard was saved
•
Indy has become one of NASCAR's jewels
Blogs
•
Sunday live blog from Indy
•
Saturday live blog from Indy
•
Friday live blog from Indy
•
Newton: The side of Kyle you don't see
•
Willis: Crunching numbers for Indy
Jayski podcasts
•
Goodyear, Junior and Jeff Gordon
•
Is Junior the problem? Is Harvick ready?
•
Biffle on Mayfield; Goodyear's prep
•
Stewart praises all the tire work done
MOST SENT STORIES ON ESPN.COM