Commentary
How it ends? Gordon's drive for five
Updated:
September 15, 2009, 7:15 PM ET
By
Terry Blount
| ESPN.com
It owes him one. Jeff Gordon, that is. The Chase owes him. Actually, it owes him two.
Gordon would have six Sprint Cup championships today if the Chase format didn't exist. He would have won the 2004 and 2007 season titles under the old system of total points for the entire year.
The 10-race playoff has cost him dearly, but Gordon never has complained. He understood the rules going in. It is what it is. He believed in the system and its benefits to NASCAR.
Now the Chase will give him one back.
Often in sports, things balance out over time. That's why Gordon is my pick to win the 2009 Chase and earn his fifth Cup title.
Sure, I have other reasons for picking the man in the No. 24 Chevy, statistical reasons that make a logical argument in his favor.
But I'm not doing it out of some overly complex mathematical stat analysis. I'm doing it because I believe in fairness for one of the best drivers ever to sit in a race car.
So here goes. My annual fearless predictions on how the Chase 12 will fare.
Feel free to disagree. I know you will. Fire away. Nothing like predicting the future to get folks riled up.
Anything else you'd like me to predict while I'm at it? Here's a couple for ya:
I predict Tom Delay will not win "Dancing With The Stars." I predict Kanye West will not get a key to the city in Taylor Swift's hometown.
OK, back to the business at hand. Come November, after the checkered flag at Homestead-Miami Speedway, here's how they'll rank.
That elusive fifth title finally arrives as Gordon out-points his Hendrick Motorsports teammates down the stretch. Gordon has 10 top-10s in the last 13 races, including six top-5s and four runner-up finishes.
No driver has won the Chase without winning at least one of the events earlier that season at a Chase track. Gordon won at Texas in April. He also was the best finisher among the Chase 12 at three of the eight Chase tracks that had events earlier this season. If his back holds up, he'll be the champ.
[+] Enlarge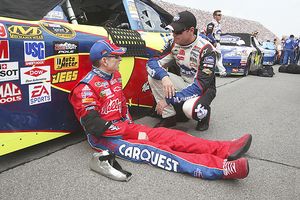 AP Photo/Carlos OsorioMark Martin, left, starts the Chase on top and teammate Jimmie Johnson is only 10 points behind. But will either of them finish in first?
One certainly could make the argument that racing owes Martin a title, also. He is a four-time runner-up and a sentimental favorite who would make sports history as a champion at age 50.
Some fans believe Martin was robbed of the 1990 crown when he lost to Dale Earnhardt by 26 points after suffering a 46-point penalty early in the year for an illegal carburetor spacer. Maybe NASCAR owes him one. That's one less than it owes Gordon.
He's trying to become the first driver to win four consecutive Cup championships. Not gonna happen.
Johnson never has entered the Chase this cold. His average finish in the last five races is 20th. He doesn't have a top-5 finish since his victory at Indy in July. But Johnson will give team owner Rick Hendrick a top-three sweep in the Chase standings.
If you believe momentum is the key factor, this is your guy. Hamlin is the hottest driver entering the Chase with six consecutive top-10s, including two victories.
But he won't have enough mojo to overcome the powerhouse trio at Hendrick. Hamlin posted only one top-5 earlier this year (second at Martinsville) at the eight tracks in the Chase playoff where the series has already run.
If the Chase format gives one back to Gordon, it will cost someone who would have won it. Stewart is that guy.
He will accumulate the most points overall in 2009. He won't earn the most points in the Chase. Stewart finished outside the top 10 only four times in the first 22 races this year. Now he's done it in four consecutive races.
What a gutsy effort Vickers showed Saturday night, getting up on the wheel and posting his best Richmond finish ever (seventh) to earn his first Chase spot.
His No. 83 Toyota team is on a roll. Vickers has finished 12th or better in the last nine races. Things are looking up, but winning a title will have to wait.
He has the ability to get it done, even with a broken ankle. But Edwards doesn't have the equipment to get it done.
[+] Enlarge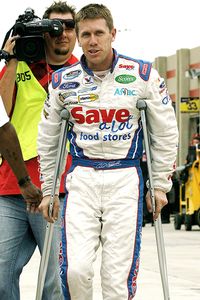 AP Photo/Glenn SmithThe crutches shouldn't slow Carl Edwards down, but the team he's driving for may.
It's a down year for Roush Fenway Racing. Matt Kenseth missed the Chase for the first time, and he's the only Roush driver to reach Victory Lane this season. Edwards finished outside the top 10 in six of the last eight races. That also won't get it done.
Looking at the numbers, he should be a contender. Busch has finished sixth or better in six of the last seven races.
But he's competing in the Chase with a lame-duck crew chief. Pat Tryson is moving to Michael Waltrip Racing next season to guide Martin Truex Jr. Generally speaking, lame-duck situations don't work out well in Cup.
He stuck to the season-long game plan of playing it safe and posting top-15s to make the Chase for the first time. That won't be good enough to win the Chase.
Montoya did not have a top-5 finish earlier this season at the eight tracks inside the Chase. He admits they were sandbagging a little at some of those events. But he'll need to bag a victory or two on ovals to compete for the title.
He won the first two Chase races last year. If he could do that again, he might have a shot.
Only one problem: He can't. Biffle hasn't won since Dover last September. And no Ford driver has won a race since February.
Another driver with that lame-duck problem. Kahne is racing a Dodge, but Richard Petty Motorsports will race Fords next season.
Not a good situation for getting all the technical support you need in the playoff. He won at Atlanta two weeks ago, but that's his only top-10 in the last five races.
After three consecutive seasons of failing to make the Chase, Newman made a wise decision to leave Penske Racing and join Stewart's new operation.
Newman's is one of four drivers to make the Chase without winning a race. But he's the only playoff driver without a top-5 finish in the last 12 events.
That's it. I'm through making predictions for 2009.
Well, OK. One more. Lady Gaga will not be named the best-dressed woman in America.
Terry Blount covers motorsports for ESPN.com. His book, "The Blount Report: NASCAR's Most Overrated and Underrated Drivers, Cars, Teams, and Tracks," was published by Triumph Books and is available in bookstores. Click here to order a copy. Blount can be reached at terry@blountspeak.com.
ESPN Seattle Seahawks reporter
Covered the NFL at the Houston Post and Houston Chronicle, including eight Super Bowls
Received Citation for Writing Excellence from Hearst Newspapers
Also has covered NBA Finals, World Series, Finals Fours, Indy 500 and Daytona 500
SPONSORED HEADLINES
MORE RACING HEADLINES
MOST SENT STORIES ON ESPN.COM