Commentary
Johnson's historic quest continues
Updated:
November 15, 2009, 9:43 PM ET
By
Terry Blount
| ESPN.com
AVONDALE, Ariz. -- No challengers. No hope. No contest. It's Jimmie Johnson and the 42 dwarfs.
On a day when Johnson just needed to stay out of trouble and maintain his points lead, he dominated the field and won the Checker O'Reilly Auto Parts 500 without a serious challenge.
[+] Enlarge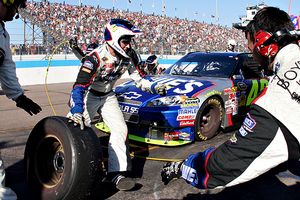 AP Photo/Mary SchwalmNo surprise: The 48 crew put Jimmie Johnson in position to win again Sunday at PIR.
Johnson and the No. 48 Chevrolet are just that good. He now has four victories in nine Chase races.
Johnson has won four of the past five events at Phoenix International Raceway, including three consecutive fall events in the Valley of the Sun.
And no one is surprised.
"There was no doubt in my mind Jimmie would come here and make a statement that he is the best and they are not going to be denied," said Denny Hamlin, who finished third.
Johnson is going to win his historic fourth consecutive championship, and he's going to do it in a cakewalk.
He goes to the final race of the season next weekend at Homestead-Miami Speedway with a 108-point lead over Mark Martin in the Sprint Cup standings. Johnson only needs to finish 25th or better to clinch it and become the first man to win four in a row.
"That's a good position to be in, but we finished 38th last week," Johnson said. "We saw in Texas anything can happen. So we don't need to get too excited about it."
Chase Standings

Jimmie Johnson stretched his points lead to 108 over teammate Mark Martin (right) with his fourth win of the Chase. Martin finished fourth. Johnson can grab the crown by finishing 25th or better, regardless of how others finish.
| | Driver | Points | Behind |
| --- | --- | --- | --- |
| 1. | Jimmie Johnson | 6492 | -- |
| 2. | Mark Martin | 6384 | 108 |
| 3. | Jeff Gordon | 6323 | 169 |
| 4. | Kurt Busch | 6281 | 211 |
| 5. | Tony Stewart | 6207 | 285 |
| 6. | Juan Pablo Montoya | 6203 | 289 |
| 7. | Greg Biffle | 6171 | 321 |
| 8. | Denny Hamlin | 6140 | 352 |
| 9. | Ryan Newman | 6081 | 411 |
| 10. | Kasey Kahne | 6016 | 476 |
| 11. | Carl Edwards | 5972 | 520 |
| 12. | Brian Vickers | 5826 | 666 |
Johnson never does. He doesn't have to. He is one of the best ever to sit in a race car, and nobody seems to know it.
It's safe to say Johnson may be the most underrated athlete in professional sports. Watching him race Sunday was like watching Usain Bolt run the 100 meters against seven sumo wrestlers.
But many continue to say he's simply a product of the best organization (Hendrick Motorsports) and the best crew chief (Chad Knaus).
"They said that about Earnhardt Sr., they said that about Petty and they said that about Jeff Gordon," said Jeff Burton, who finished second Sunday. "They said they all were good because they drove for the best team.
"I don't think your generation ever gives you the credit you deserve. But I don't think there's any way you can dismiss [Johnson's] ability. It's hard not to put him near the top of the list. But Jimmie does it differently than Earnhardt did. Earnhardt was real aggressive. Jimmie does it real smooth."
Maybe that's the problem. Johnson just makes it look too easy.
It isn't that fans root against him making history. They just want to see the other guys make it tough on him.
No one can. Even last week at Texas, they didn't land a blow on him. Johnson punched himself with a wreck on Lap 3.
"The only thing that could keep him from winning the championship this year is bad luck," Hamlin said. "He had a big enough gap to afford that one bad-luck day last week."
But Johnson admitted the one bad-luck day got to him.
"I was pretty bummed out after last week," Johnson said. "Texas was a good lesson."
He learned well, putting on a clinic at Phoenix and proving he won't allow anyone or anything to derail his destiny.
"

I don't know how good these guys can get. But they are the best I've ever seen at a time when this sport is more competitive than it ever has been in the time I've been racing. They have the most talent I've ever been around and the most dedication I've been around.

"

-- Rick Hendrick
Hamlin is right. Johnson made a statement and the message was clear: This is mine, boys. You can't take it from me.
Johnson never would say something that bold, but he knows he cleaned house Sunday.
"I guess in the end you could look at it like that," Johnson said. "But out there living it, I didn't feel it was a statement. For me, it was like, 'Hey, we need to step up today and get it done. We need to show what we're made of.'"
Knaus had no intention of coming to Phoenix and playing defense. He's not a kill-the-clock kind of guy. Knaus knows Johnson is at his best when they go for it and continue to throw it down the field.
"It would have been easy to come here tails between our legs and play it conservative," Knaus said. "I didn't want to do that. We wanted to attack. I couldn't be prouder. They tried to knock a little wind out of our sails last week, but these guys just don't give up."
Team owner Rick Hendrick has been at this for a quarter century, but he feels he's witnessing something special now with Johnson and Knaus.
"I don't know how good these guys can get," Hendrick said. "But they are the best I've ever seen at a time when this sport is more competitive than it ever has been in the time I've been racing. They have the most talent I've ever been around and the most dedication I've been around."
Yes, it's a great team, but this season is about Johnson. He is the best of his era. No one else comes close.
Terry Blount is a senior writer for ESPN.com. His book, "The Blount Report: NASCAR's Most Overrated and Underrated Drivers, Cars, Teams, and Tracks," was published by Triumph Books and is available in bookstores. Click here to order a copy. Blount can be reached at terry@blountspeak.com.
ESPN Seattle Seahawks reporter
Covered the NFL at the Houston Post and Houston Chronicle, including eight Super Bowls
Received Citation for Writing Excellence from Hearst Newspapers
Also has covered NBA Finals, World Series, Finals Fours, Indy 500 and Daytona 500
SPONSORED HEADLINES
MORE RACING HEADLINES
MOST SENT STORIES ON ESPN.COM