Commentary
Spoiler gets first true test at Texas
Updated:
April 13, 2010, 11:45 AM ET
By
Terry Blount
| ESPN.com
This is the race you've been waiting for.
No, that isn't a promo line from Texas Motor Speedway, real or fake. It's a spoiler alert.
Finally, fans will see whether this spoiler change makes much of a difference. TMS is a big, bad, high-banked and superfast place for Sprint Cup racing.
The first spoiler race at Martinsville, a tiny paper-clip-shaped short track, meant nothing on how this will play out. And the race Saturday night at Phoenix, an oddly shaped 1-mile flat track, didn't mean much more as far as what we learned on the change from the rear wing back to the rear spoiler.
But this is Texas, 1.5 miles around at more than 190 mph. Strap in and have at it, boys, as the 2010 theme goes, because this is the first true test of the new spoiler.
"I even forgot we had a spoiler, to tell you the truth." Juan Pablo Montoya said at Phoenix this past weekend. "We have tested already, but yes, Texas is going to give us a little bit better perspective of where we are."
Even the official spoiler test session at Charlotte, a similar 1.5-mile oval, and one earlier tire test at TMS didn't reveal much because the drivers didn't run together in racing conditions as they will this weekend.
[+] Enlarge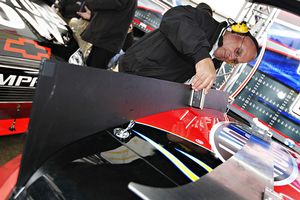 AP Photo/Steve HelberNASCAR official Billy Berkheimer inspects the new spoiler on the 24 car before Sprint Cup qualifying March 26 at Martinsville Speedway.
"I know how the cars [with the spoiler] drive by themselves," Jeff Burton said. "But what I don't know, and no one else knows, is how it will drive when it's behind other cars. I do know that it will have some kind of impact."
Some impact, yes. But if you're expecting a dramatic change in the racing, most drivers think you're in for a disappointment.
"I'm not seeing a major change with how the car drives," Jeff Gordon said at Phoenix. "I didn't really notice a big difference [in the Phoenix race], which I think is a good thing. If we had this big drastic change, it would really throw everybody into a tailspin."
That wouldn't necessarily be a bad thing if some of the usual front-runners struggled with the spoiler change while a few new names started running up front. But Gordon doesn't see that happening.
"I don't think it's going to change who's fast and who's going to run good," Gordon said. "I think if we're well-prepared and we've got the car dialed in, then it'll be a typical challenging Texas for us where hopefully we can pull off a win. I feel as confident about it whether we have the spoiler or the wing."
Gordon won at TMS one year ago with the wing. He's winless at Texas driving a car with a spoiler, but he has never driven this car (formally known as the Car of Tomorrow) on the TMS oval with the spoiler.
Gordon isn't expecting any "oh wow" moments, but he agrees with Burton that an unknown factor exists.
"Where the aerodynamics play bigger roles, like the mile-and-half tracks, we're going to see more how this works," Gordon said. "We have to see what it's like when you're in traffic behind other cars. In traffic, there might be some differences."
People will watch closely to see what happens in the first practice session Friday.
"Even then, we still won't get around each other much," Jimmie Johnson said. "If we were smart from a teammate standpoint, we'd put four [Hendrick Motorsports cars] or maybe six cars if we include Stewart-Haas [Racing] in a big group and go out there and see.
"We could have had that data from Charlotte if we would have thought about it. I don't know why we didn't. It just doesn't make any sense to me. It would have been great to have the data and understand exactly what the car is doing and how much downforce it loses and all that kind of stuff, but we didn't. So the first test will be in the [Texas] race."
"

I don't think it's going to change who's fast and who's going to run good. I think if we're well-prepared and we've got the car dialed in, then it'll be a typical challenging Texas for us where hopefully we can pull off a win.

"

-- Jeff Gordon
Kevin Harvick expects to see more accidents based on what he saw in practice at Phoenix on Friday.
"I think everybody learned [the cars with the spoiler] will spin out," he said Friday. "It's hard to spin them out with the wing, but we had a lot of spinouts today."
Brian Vickers thinks he has a good idea how things will go at Texas. He was one of the drivers who did a Goodyear tire test at TMS in January when the spoiler was used for the first time.
"For a high-speed racetrack, I thought it was a great improvement," Vickers said last week about the TMS test. "We'll probably be a little better in traffic with more front downforce. It kind of shifts that balance forward. It's not substantial, but definitely a noticeable improvement from our perspective. I think the fans will see it, as well."
Altering the balance of the car was one of the reasons for making the change. Another reason was to help keep the cars from getting airborne when turned in an accident.
Vickers brought up another improvement that few people have mentioned: "You can see out the mirror a little more," he said.
Burton said Richard Childress Racing stopped working on wing development months ago and focused exclusively on research of the spoiler as soon as it became obvious the change was coming.
Teammate Clint Bowyer believes Texas could show which teams did their homework correctly on the spoiler.
"We'll see what we all have as far as our programs are concerned," Bowyer said.
Johnson sees it as a work in progress. The team that gets the spoiler right at Texas might not be the one that looks the best in the end on the high-speed ovals.
"I feel good about things, and I know we're going to have a good setup," Johnson said. "But this is the wild card, and it's a different world. We're going to need a few months to really evolve setups and adjust to what's going on in the pack."
Most of the drivers agree. They also agree on one other thing about the change to the spoiler.
"I think it looks better," Gordon said. "And the fans seem to want it and like it, so it's a win-win for everybody."
Terry Blount is a senior writer for ESPN.com. He is the author of "The Blount Report: NASCAR's Most Overrated and Underrated Drivers, Cars, Teams, and Tracks." He can be reached at terry@blountspeak.com.
ESPN Seattle Seahawks reporter
Covered the NFL at the Houston Post and Houston Chronicle, including eight Super Bowls
Received Citation for Writing Excellence from Hearst Newspapers
Also has covered NBA Finals, World Series, Finals Fours, Indy 500 and Daytona 500
SPONSORED HEADLINES
MORE RACING HEADLINES
MOST SENT STORIES ON ESPN.COM