Commentary
Spoiler a game-changer in Sprint Cup?
Updated:
May 12, 2010, 11:58 AM ET
By
Terry Blount
| ESPN.com
Don't look for anyone at Joe Gibbs Racing to lobby for the return of the rear wing. Six races into the return to the rear spoiler, JGR must like what it sees.
[+] Enlarge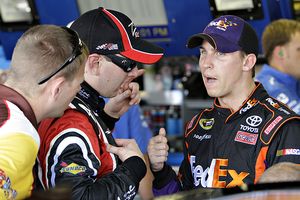 AP Photo/Chuck BurtonTeammates Denny Hamlin, right, and Kyle Busch have pushed Joe Gibbs Racing to the front in the post-wing era.
Why wouldn't it? JGR has won two-thirds of the races since the wing was placed in the scrap-metal pile and the spoiler was bolted to the rear deck lid in March.
Denny Hamlin has moved up 13 spots in the standings (19th to sixth) since Sprint Cup made the switch. JGR teammate Kyle Busch has gained seven spots (10th to third). Only Joey Logano hasn't improved with the spoiler, dropping two positions, but overall the spoiler looks good for JGR.
Is the spoiler really the reason for the improvement? No one can say for sure. It doesn't meet the test of empirical evidence.
But Kurt Busch is convinced the spoiler has changed the game for everyone.
"Some teams have adapted better than others," Busch said on a Tuesday conference call. "It's made some guys better and some worse. And it's different for drivers on the same team. Jeff Gordon really has surged since the change while Mark Martin has struggled a little bit."
Statistically speaking, Martin has done almost as well as Gordon since the wing was retired. Gordon has moved up seven spots (11th to fourth) and Martin has improved six positions (16th to 10th).
But Gordon has four top-four finishes in the six spoiler events, and he had a chance to win all four of those races. Martin has finished in the top six three times with the spoiler, but hasn't competed for victories.
A better example of how teammates have gone in opposite directions with the spoiler is Stewart-Haas Racing. Ryan Newman has gained 12 spots in the standings (26th to 14th) since the switch, but Tony Stewart has dropped 13 spots (fifth to 18th).
[+] Enlarge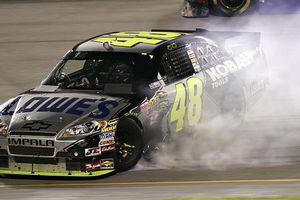 AP Photo/Steve HelberJimmie Johnson has three wins in 2010, but he's been a no-show in Victory Lane since NASCAR went back to the spoiler.
Again, whether the spoiler is the difference can't be proved. But things have changed since the spoiler was added.
Hamlin has won 50 percent of the spoiler races. His only bad outing with the spoiler came at Phoenix only 10 days after his knee surgery, when he toughed out the pain and finished 30th.
"We're winning at different types of racetracks," Hamlin said Saturday night after his victory at Darlington. "It's very encouraging for me for what is in the future."
Since Hamlin is racing with only one good leg, one would assume something else is responsible for his recent surge. For Kyle Busch, maybe he's just starting to feel comfortable with new crew chief Dave Rogers.
But facts are facts. Hamlin has three victories with the spoiler. Busch has a spoiler win at Richmond. They were winless this season in the five races with the wing.
Here's another fact: Jimmie Johnson won three times this year in the five races with the wing, but the No. 48 Chevy team is winless with the spoiler.
"It's hard to know if the 48 has had bad luck or whether [the spoiler] has changed the game for them," Kurt Busch said. "We'll all learn more as we go along with races [for the first time using the spoiler] at Charlotte and Pocono and Michigan."
Kurt, who ranks eighth in the standings, has three top-10s with the spoiler, but also three races where he didn't run well.
"The balance of the car is different," he said. "I had the winning car at Texas last fall, but I could tell in the spring race [last month at TMS when he finished fourth] that I needed to think differently about how I raced with the spoiler."
It's still up for debate whether the spoiler has improved the racing, but it appears to have changed the dynamic of the Cup power structure for the moment.
Woe is Ford
How bad are things for the Ford drivers right now?
Other than going winless in all three NASCAR series so far this year, consider these stats for just the last two weekends:
• Ford didn't have a driver finish in the top 12 at Darlington Saturday night. Matt Kenseth in 13th was best in class for the Ford guys.
• Only one Ford driver has finished in the top 12 in the last two races -- Carl Edwards was fifth at Richmond.

Edwards
• Edwards finished 15th at Darlington, not bad considering he started 39th and got lapped on the track just 34 laps after the race started.
• Only one Ford driver has qualified in the top 10 in either of the last two races -- Kahne started 10th at Darlington -- and only three times has a Ford started in the top 15 in the last two events.
Those tidbits would seem to indicate things aren't getting better. Ford hasn't won a non-restrictor plate Cup race since February 2009.
Ford's only points event victory anywhere over that span was Talladega last November when Jamie McMurray won for Roush Fenway Racing. Kasey Kahne also won a qualifying race at Daytona this year.
Almost a year has passed since a Ford won in the Camping World Truck Series. The last Ford truck victory came July 13 last year at Michigan.
Edwards was expected to dominate this season in the Nationwide Series after winning five races last year, but he's winless this year and fourth in the standings, 199 points behind Brad Keselowski.
Edwards' last victory in a Cup race was the final event of 2008. That's 47 and counting for his losing streak. Greg Biffle has gone 55 races without a win and Kenseth is 0-for-45.
But it's a huge credit to all three Roush drivers that they've managed to race well with equipment that's half a step behind the other manufacturers. All three men would make the Chase if it started today -- Kenseth is fifth, Biffle seventh and Edwards 11th.
Ford is switching full-time to its new engine starting with the July race at Daytona. Maybe that will help. Maybe a new aero package is needed, but something is missing.
"The last month has been really hard for whatever reason,'' Kenseth said after the Darlington race. "We show up at the track and we're slower than we were a couple months before. It's just been a battle lately."
These are winning drivers who should be going to Victory Lane. For the moment, the equipment doesn't match their skill level.
Terry Blount is a senior writer for ESPN.com. He is the author of "The Blount Report: NASCAR's Most Overrated and Underrated Drivers, Cars, Teams, and Tracks." He can be reached at terry@blountspeak.com.
ESPN Seattle Seahawks reporter
Covered the NFL at the Houston Post and Houston Chronicle, including eight Super Bowls
Received Citation for Writing Excellence from Hearst Newspapers
Also has covered NBA Finals, World Series, Finals Fours, Indy 500 and Daytona 500
MOST SENT STORIES ON ESPN.COM