Commentary
Rivalries these days only temporary
Updated:
June 11, 2010, 5:29 PM ET
By
Terry Blount
| ESPN.com
BROOKLYN, Mich. -- Rivalries are overrated. In today's NASCAR era, a rival is temporary.
This week it's Logano versus Harvick. Next week it will be two other guys.
And what does it mean when the green flag falls? Almost nothing.
That's what drivers want you to know. Rivalries, as many fans view them, are a product of yesteryear.
"I don't get this long-rivalries stuff," Jeff Gordon said Friday. "If you build a rivalry with a guy, and every week you mess with him and he messes you, you probably are not going to make the Chase."
Fans often say NASCAR needs more rivalries today. They want two guys angry at each other, hopefully while fighting for the championship.
Drivers don't see it that way.
[+] Enlarge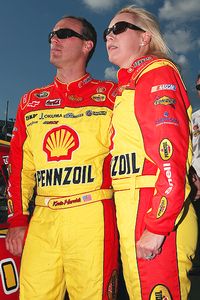 Chris Trotman/Getty Images for NASCARJoey Logano suggested that DeLana Harvick, right, "wears the fire suit in the family" after his run-in with Kevin Harvick at Pocono Raceway.
"You have to get over things more now," Jeff Burton said. "Years ago, it was more acceptable. Today everyone is scared to death of having a bad day. You have to think about what the long-term fallout is.
"We turned this into a 26-race [regular season] schedule, and it's hard to make up points. It's a bigger price to pay."
NASCAR's new have-at-it edict certainly has brought more emotional moments on and off the track this season. But it isn't bringing long-term rivals.
"Emotions get high," Kyle Busch said Friday. "But you've got to make sure you pick and choose your battles. I know I don't need enemies going into the Chase. When it's down to the last 10 races, it's not time to mess with anybody. You can't worry about getting by one guy trying to make your day miserable."
Busch said the tightness of competition today means you can't focus on one guy to pick on every week.
"In the past, there weren't 25 cars that legitimately had a chance to win the race," Busch said. "And those guys were racing points for a full season. You could throw away a couple if you wanted to have a beef with a guy."
The newest beef is between Joey Logano and Kevin Harvick, a little feud that's gone on for most of the season. But don't call them rivals.
Harvick leads the Sprint Cup standings, and Logano is 17th, 101 points outside the Chase cutoff with 12 races to go before the 10-race playoff begins.
''You put it behind you, man,'' Logano said Friday. "We have to refocus every week no matter what happens."
But is it over with Harvick, who Logano still feels wrecked him on purpose last weekend at Pocono?
"You never know," Logano said. "I'm not gonna say it is, and I'm not gonna say it's not. My main priority is getting into the Chase. That's my No. 1 goal."
Which is why playing rough with Harvick doesn't help his cause. And Harvick has way too much to lose to waste his time trying to teach Logano a lesson.
Gordon thinks part of the problem is that fans think rivalries means payback.
"

If I battle a guy, I want to patch things up. I don't want it to linger. I don't want it to affect me at a crucial point in the championship.

"

-- Jeff Gordon
"With Richard Petty, you don't hear about him having all these heated arguments,'' Gordon said. "He seemed to keep the peace pretty good in the car to win all those races."
David Pearson, Petty's big rival back in the day, might dispute that thought. But Gordon's point is that he can't worry about rivalries why trying to win races.
"If I battle a guy, I want to patch things up," he said. "I don't want it to linger. I don't want it to affect me at a crucial point in the championship. Rivalries are great for the show, but not for you as a competitor."
Burton believes true rivalries come when only a handful of drivers are capable of winning.
"Twenty years ago you didn't have a large number of teams who could win races,'' he said. "It was a much smaller number. You were always fighting the same guys every week. Now it one team this week and another one next week, so it's not as much of a continuation for a rivalry."
With double-file restarts and green-white-checkered overtime finishes, drivers make contact with one another on the track more today than ever before, which one would think might lead to more rivalries.
That isn't happening. Maybe guys are just getting used to it.
"The racing is changing," Mark Martin said Friday. "In some ways I'm glad I'm 51 and not 31. I can enjoy watching these cars in the future instead of dragging them in on a hook."
Drivers will continue to wreck each other. They will continue to get mad at each other. And we'll see an occasional payback now and then.
But long-term, hard-core rivals? It's a thing of the past.
Terry Blount is a senior writer for ESPN.com. He is the author of "The Blount Report: NASCAR's Most Overrated and Underrated Drivers, Cars, Teams, and Tracks." He can be reached at terry@blountspeak.com.
ESPN Seattle Seahawks reporter
Covered the NFL at the Houston Post and Houston Chronicle, including eight Super Bowls
Received Citation for Writing Excellence from Hearst Newspapers
Also has covered NBA Finals, World Series, Finals Fours, Indy 500 and Daytona 500
MOST SENT STORIES ON ESPN.COM