Commentary
Is this how the title should be decided?
Updated:
October 3, 2010, 9:15 PM ET
By
Terry Blount
| ESPN.com
KANSAS CITY, Kan. -- A Chaser who was counted out -- Greg Biffle -- won the race and got back in the Chase.
And the master Chaser, the one man everyone fears -- Jimmie Johnson -- is back on top of the standings and the favorite to again win it.
And neither man is the story of the day after the Price Chopper 400 at Kansas Speedway. Not even close.
The big story is a Chaser with a lot to lose -- Kyle Busch -- became a victim of the have-at-it-boys philosophy in a payback from a non-Chaser: David Reutimann.
[+] Enlarge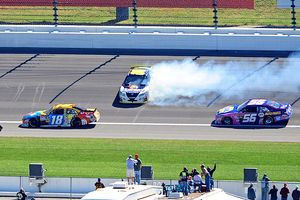 Mark J. Rebilas/US PresswireDavid Reutimann went spinning as Kyle Busch passed down low, setting the stage for later payback.
"I don't care whether you're in the Chase or not," Reutimann said after the race. "You better think about who you're running into before you run into them. You won't get respect as a Chaser if you don't respect everyone else."
When asked if he slammed into Busch intentionally, Reutimann said, "What do you think? Oh. Maybe I just got tight."
That last comment was Reutimann's effort at sarcasm, in case you didn't notice. He intentionally slammed into the left-rear quarter panel of Busch's No. 18 Toyota as retaliation, plain and simple.
Busch rammed into the back of Reutimann's No. 00 Toyota earlier in the race, causing Reutimann to spin, damaging his car and ruining his day.
"The guy was loose off the bottom and I got into him," Busch said. "It's my fault. But it's unfortunate he elected to do what he did against a guy in the Chase racing for something. He could have wrecked me next year in any of the first 26 races."
Busch was much calmer after the race (following a discussion with team owner Joe Gibbs in the garage) than he was after Reutimann's payback.
"I have a serious problem with what just happened," Busch said on the radio. "And I don't think anyone in the [NASCAR] tower is going to do a damn thing about it."
He was right. NASCAR officials have painted themselves into a corner with the "have at it boys" theme this season. As we've seen earlier this year in the incidents with Carl Edwards and Brad Keselowski, payback is no big deal, even if it endangers someone's life.
That wasn't the case this time, but it is the first time that a non-Chaser has gone after a playoff driver and deliberately affected the Chase.
And there's a darker side to it: Dave Rogers, Busch's crew chief, claims Reutimann's crew chief, Rodney Childers, told Reutimann to take out Busch.
"He told [Reutimann] to do it or they would have a problem," Rogers told Busch on the radio.
Childers wasn't around for comment. Reutimann was asked what Childers told him.
"Nothing," Reutimann said. "Everybody is aggravated. You can say all you want about Kyle being an aggressive driver. You guys can sugarcoat it. He just rolled over me. I'm at the bottom of the track and he had the whole top of the track to go to, but I got wrecked."
Either way, I don't blame Reutimann. He's playing by the current rules of engagement. He did what he has seen done other times this season.
So the have-at-it wreckfest just got turned up a notch. And it could make the difference on whether Busch contends for the championship.
The good news for Busch is he and Rogers made a miraculous recovery to finish 21st with a bent rear-end housing. Rogers wisely opted not to take the car to the garage, convincing Busch it was better to milk what he had left and stay on the track.
"

... You can say all you want about Kyle being an aggressive driver. You guys can sugarcoat it. He just rolled over me. I'm at the bottom of the track and he had the whole top of the track to go to, but I got wrecked.

"

-- David Reutimann
Busch now is seventh in the standings, 80 points behind Johnson, who finished second Sunday and now leads Denny Hamlin by eight points in the standings.
For Busch, it could have been much worse. It also could have been much better.
"Dave is a phenomenal guy and did a great job today," Busch said. "We did the best we could, but we ended up far off where we could have been."
If Busch loses the championship by 10 points, everyone will know the title was decided by a payback moment, something that probably wouldn't have happened a year ago.
Maybe Busch deserved it. Maybe he didn't. He's no saint, that's for sure.
But does NASCAR want the outcome of the Cup championship possibly determined this way -- a free-for-all, consequences-be-damned, gunslinger style with non-Chasers taking out Chasers, knowing no punishment is forthcoming?
Well, it is exciting, even if it isn't fair.
This truly is the have-at-it era. Welcome to the new world order, boys.
Hey, want to keep Johnson from winning that fifth consecutive title? Take your best shot. Everybody gets a free one.
Terry Blount is a senior writer for ESPN.com. His book, "The Blount Report: NASCAR's Most Overrated and Underrated Drivers, Cars, Teams, and Tracks," was published by Triumph Books and is available in bookstores. Click here to order a copy. Blount can be reached at terry@blountspeak.com.
ESPN Seattle Seahawks reporter
Covered the NFL at the Houston Post and Houston Chronicle, including eight Super Bowls
Received Citation for Writing Excellence from Hearst Newspapers
Also has covered NBA Finals, World Series, Finals Fours, Indy 500 and Daytona 500