Commentary
Reward winning and consistency
Updated:
January 23, 2011, 12:10 PM ET
By
Terry Blount
| ESPN.com
Don't complain if you didn't vote. And don't criticize without offering a solution.
Sounds fair to me, so I offer up my solution to NASCAR's changing points system.
I have a plan. Yes, I know just about everyone has their own plan.
Yours isn't getting implemented and neither is mine, but I'm offering it freely rather than just griping about NASCAR's possible 43/1 plan that's the talk of the sport.
My plan
• A 30-point system. A driver receives 30 points for winning. Second place is worth 20 points, decreasing one point per spot down to two points for 20th.
• No points below 20th. And no points for leading a lap or leading the most laps.
• A driver earns two points for winning a pole in qualifying.
Qualifying for the Chase
• The top 10 in points after 26 races make it.
• Anyone ranked in the top 20 who wins a regular-season race also makes it.
Setting the Chase field
• Each regular-season victory is worth three points (one-tenth of a race win) to start the playoff.
• The regular-season points leader automatically starts the Chase tied for the top spot with the driver who won the most races.
That's it; simple and easy to understand. Now allow me to explain the reasoning behind each part of the plan.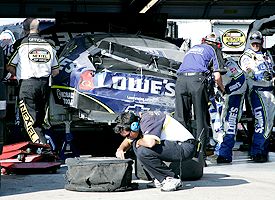 John Harrelson/Getty Images for NASCARIf Terry Blount's plan were enacted, you would say goodbye to seeing crews scramble to patch up a wrecked car to get it back on the track.
My biggest problem with NASCAR's new idea is that it doesn't do enough to emphasize winning. Professional sports competition is about winning. Otherwise, no one would care.
So the winner of each race gets a lot more points than the runner-up.
Lap-leader points are gone. Why should any driver receive points for leading a lap under caution?
Heck, why give bonus points for leading the most laps? That's like saying the horse that led three-quarters of the Kentucky Derby should get place or show money even if he faded and finished 14th.
Besides, it's too complicated. NASCAR is right about trying to keep it as simple as possible.
So here's another simplifying idea: No points for finishing 21st or worse. If you don't finish in the top 20 out of 43 cars, you don't deserve any points.
This also would eliminate drivers going back on the track with wrecked cars that look like they belong in a junk pile.
More importantly, it would eliminate the problem NASCAR has now of ruining a driver's chances in the Chase over one blown engine that causes a 40th-place finish.
In my plan, the most you can fall behind in one race is 32 points if the race winner also won the pole. But you can make that up the next week if you win the race and the pole while the other guy finishes 21st or worse.
Speaking of the pole, it's time to add some meaning to qualifying. For goodness' sake, put something on the line more than the best pit stall. It would eliminate some of that Friday boredom, especially at the restrictor-plate tracks.
Watching one car at a time make a lap at Talladega is like watching an ant crawl around a bike wheel.
As for the Chase, let's reward some consistency to start off. Racing also is about consistent quality performances, which must be factored into the equation.
So the top 10 in points during the regular season make the Chase. And let's reward winning. Any driver not in the top 10 that won a race also gets in, but you have to be in the top 20.
A driver can't just win the second race of the season at Phoenix and skip the rest of the year until the playoff starts. Consistency remains a factor.
And imagine the added drama at Richmond in the regular-season finale if several drivers know they can make the Chase by winning the race that September night.
Setting the field for the Chase continues to be based on winning, with one exception. The driver who leads the standings after 26 races gets to start on top with the guy who won the most events, assuming that isn't the same person.
See, I don't hate consistency. But you'd better win some races once the playoff starts if you want to win the championship. And it won't knock you out of contention if you get in the big wreck at Talladega and finish 43rd.
Sadly, my plan isn't going to happen. But a man can dream, can't he?
Terry Blount is a senior writer for ESPN.com. His book, "The Blount Report: NASCAR's Most Overrated and Underrated Drivers, Cars, Teams, and Tracks," was published by Triumph Books and is available in bookstores. Click here to order a copy. Blount can be reached at terry@blountspeak.com.
ESPN Seattle Seahawks reporter
Covered the NFL at the Houston Post and Houston Chronicle, including eight Super Bowls
Received Citation for Writing Excellence from Hearst Newspapers
Also has covered NBA Finals, World Series, Finals Fours, Indy 500 and Daytona 500
SPONSORED HEADLINES
MORE RACING HEADLINES
MOST SENT STORIES ON ESPN.COM