Commentary
A return to normalcy at Las Vegas?
Updated:
March 5, 2011, 3:03 PM ET
By
Terry Blount
| ESPN.com
LAS VEGAS -- Judging by the first two races this season, expect the unexpected in 2011.
Let's review:
• Race 1 had an unexpected new winner in the Daytona 500 with 20-year-old Trevor Bayne.
• Race 2 had an unexpected old winner at Phoenix in Jeff Gordon, ending a 66-race winless streak.
• The top 5 in the Sprint Cup standings includes A.J. Allmendinger in fourth. The top 12 includes Bobby Labonte in seventh, David Gilliland in 10th and Paul Menard in 11th.
• Drivers ranking worse than 25th include Jamie McMurray (26th), Greg Biffle (28th) and Jeff Burton (32nd).
What in the name of racing sanity is going on here?
Sunday's race on the 1.5-mile Las Vegas Motor Speedway oval will reveal a lot about where things may go this season. One third of the Cup schedule is tracks similar to LVMS, so being good here is important.
"How about we just start the Chase right now?" Allmendinger said Friday. "It's still really early, so we need to be pretty calm about it. If we get through this race with a good finish, I think we'll have something to build on."
If you are a fan of McMurray, Biffle or Burton, don't panic. If you are a fan of Bayne, Gilliland or Menard, don't get overly optimistic. Some of this upside-down world will balance out over time.
Look at it like the opening month of baseball season. The Houston Astros might top their division's standings at the end of April. They probably won't be on top of the standings at the end of September.
However, some of these surprising trends in NASCAR will continue, starting with Gordon. His victory last weekend was no fluke.
"I expect Jeff and those guys to be world beaters this year," Mark Martin said Friday. "He was elated [after his victory] and I was real happy for him."
Martin was the first person to congratulate Gordon in Victory Lane. It was special for Martin, also, because Gordon won with Martin's old team.
Gordon's No. 24 Chevy crew now was the No. 5 Chevy team with crew chief Alan Gustafson before the three-man driver swap this offseason at Hendrick Motorsports.
"I have a soft spot in my heart for Alan and the guys that work on that car," Martin said. "I was thrilled for them. It brought me more joy than I can describe."
Martin also has a soft spot for Gordon.
"I certainly understand what Jeff was feeling [Sunday]," Martin said. "I experienced that same feeling two years ago at Phoenix."
Martin ended a 97-race winless streak in 2009 with his first of five victories that season in the No. 5 car. He knows what that team is capable of, and he knows what Gordon is capable of doing as a four-time champion with 83 career victories.
"Jeff is one of the most incredible race car drivers in my lifetime," Martin said. "We don't always realize it, but you have moments [like last week] where you see again what an incredible driver he is. I expect an enormous amount from that team this year."
[+] Enlarge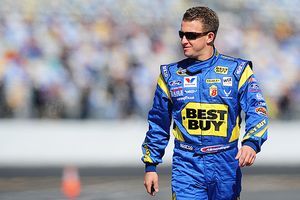 Mark J. Rebilas/US PresswireA.J. Allmendinger is hoping his steady streak continues at Las Vegas.
Allmendinger expects big things for his No. 43 Ford team this year. Through all the turmoil of whether Richard Petty Motorsports would survive at the end of last season, Allmendinger kept his focus and posted three top-15 finishes in the last five races, including a fifth-place showing in the season finale at Homestead, Fla.
Allmendinger has continued that trend with an 11th-place finish at Daytona and ninth at Phoenix. He's still waiting for his first Cup victory, but this could be the year.
Labonte, the 2000 Cup champion with 21 career victories, hopes this is the year he wins again. His last victory was eight years ago, but his move to the No. 47 Toyota this season gives him the best car and team he's had since leaving Joe Gibbs Racing in 2005.
"It always builds confidence when you get off to a good start to the season," Labonte said. "I know we're doing a lot of the right things."
Labonte was fourth at Daytona but finished 21st at Phoenix. Gilliland was third at Daytona and 22nd at Phoenix. That's good enough to rank in the top 10 because some of the expected contenders are off to horrible starts.
Burton's best finish in the first two races is 26th and Biffle's best is 20th. That will change, probably this weekend.
But for now, the new world order in NASCAR has made for an interesting beginning to the season.
"NASCAR as a whole is off to a great start," Gilliland said. "There's a buzz right now [and] everywhere you go is up. It's exciting to be a part of it."
Terry Blount is a senior writer for ESPN.com. His book, "The Blount Report: NASCAR's Most Overrated and Underrated Drivers, Cars, Teams, and Tracks," was published by Triumph Books and is available in bookstores. Click here to order a copy. Blount can be reached at terry@blountspeak.com.
ESPN Seattle Seahawks reporter
Covered the NFL at the Houston Post and Houston Chronicle, including eight Super Bowls
Received Citation for Writing Excellence from Hearst Newspapers
Also has covered NBA Finals, World Series, Finals Fours, Indy 500 and Daytona 500
SPONSORED HEADLINES
MORE RACING HEADLINES
MOST SENT STORIES ON ESPN.COM