Commentary
What to look forward to in 2009? Here's some predictions, likely and less so
What does the future hold for NASCAR in 2009? A look into Terry Blount's admittedly faulty crystal ball tells the tale.
Updated:
January 4, 2009, 11:00 PM ET
By
Terry Blount
| ESPN.com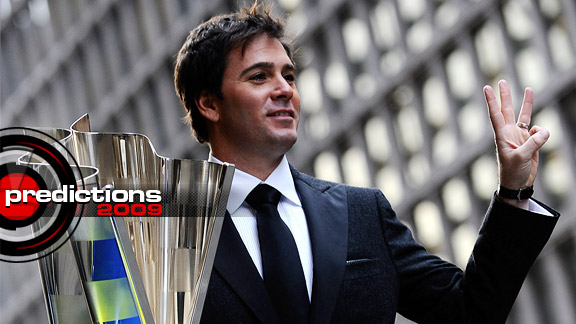 Jeff Zelevansky/Getty Images/NASCARWill Jimmie Johnson make it four in a row? Don't count on it.
With less than two months to go before the season-opening Daytona 500, let's take a peak into the NASCAR crystal ball and see what's coming for 2009.
One warning: Our sphere has a crack in it, so we might as well be predicting things from inside the Liberty Bell. But the little glass globe sure came up with some fun possibilities for next season.
Here's what we see:
At least two teams will get caught cheating during Speedweeks at Daytona, an annual rite of passage to start the season. And one of those cars will finish in the top five in the Daytona 500 while the suspended crew chief sits at home and texts instructions on his cell phone.

In his first race for Hendrick Motorsports, Mark Martin will finally win the Daytona 500, joining Bobby Allison on the list of two 50-year-olds to do it. Some will say Martin is on his way to that elusive championship. He isn't.

[+] Enlarge

AP Photo/Reinhold MatayJames Hylton might see if he can take another spin around Daytona International Speedway.

Speaking of old guys, James Hylton, after finishing 37th in the Daytona 500 at age 74, says he now will challenge Michael Phelps in the 100-meter freestyle and Usain Bolt in the 100-meter dash.

Many people will make a big deal out of nothing one week after the Daytona 500 when only 42 cars will take the starting grid for the Cup race at Auto Club Speedway in Fontana, Calif.

When rookie Scott Speed wins at Dover in June, he will announce he's celebrating by painting his toenails gold and getting a new piercing on his left eyebrow.

Jack Roush will accuse Toyota officials of using a satellite camera to zoom through a skylight on the roof of the Roush Fenway Racing shop to take detailed photos of all his hats.

Tony Stewart will win as a team owner for the first time at the Atlanta race in March, saying the Goodyear tire was so good he plans to shoe all his vehicles with Goodyears and glue Goodyear rubber on all his sneakers.

Stewart will throw his first fit as a team owner when a victory is taken away from him at Talladega. He drops below the yellow line to make a pass for the win. Oh, the irony. He was awarded the victory when Regan Smith went under the line to pass him at Dega in '08. Stewart will say: "I was wrong then, but I'm right now."

After Danica Patrick wins the Indy 500, Richard Childress will offer her a three-year, $50 million contract to race in Cup, with Victoria's Secret as the primary sponsor.

Jeff Gordon will win the road race at Sonoma, ending a span of 56 races without a victory and giving all four Hendrick Motorsports drivers at least one victory by midseason. Gordon will later announce his retirement, saying he will compete on "Dancing with the Stars" and begin his acting career as the new investigator on "CSI: Miami."

[+] Enlarge

AP Photo/Mary AltafferWhat will NASCAR get from its relationship with Kevin Costner? Hard to say, but Richard Petty likes it so far.

Kevin Costner's singing before the Coke Zero 400 at Daytona will cause the wolf from "Dances With Wolves" to howl all the way from South Dakota.

Teresa Earnhardt and Chip Ganassi will star in a new reality show: "Beauty and the Beast, NASCAR Style."

One NASCAR driver will test positive for a banned substance as part of the new random drug-testing policy. But NASCAR officials will waive punishment after determining that a combination of Red Bull, Amp Energy, M&Ms and gas fumes caused a false-positive result.

The Allstate 400 at the Brickyard will have green-flag runs of at least 20 laps without the tires grinding down to dust.

Martin Truex Jr. will sign with Stewart-Haas Racing in August, becoming the season's first lame duck before failing to make the Chase in his final year at Earnhardt Ganassi Racing.

Kentucky Speedway's former owners will reach a settlement in their lawsuit against NASCAR. In case you haven't noticed, all lawsuits involving NASCAR get settled out of court.

Jimmie Johnson will go into the final race of the season with a chance to make history as the first man to win four consecutive Cup titles, but he'll fall short when Robby Gordon slides up the track and causes both cars to crash with two laps to go.

For the first time in five years, the Chase will come down to a true championship points battle in the season finale at Homestead. Four drivers will enter the Ford 400 within 35 points of each other -- Jimmie Johnson, Greg Biffle, Carl Edwards and Dale Earnhardt Jr. Then Brian France will wake up from his dream.

Greg Biffle will win the 2009 Sprint Cup championship by six points over Johnson, the closest margin in the history of the Chase format. And Cale Yarborough will smile in his lounge chair at home.

Dale Earnhardt Jr. will lead most of the race in the season finale, needing a victory to win the title, but his crew will make a bad adjustment on his final pit stop, causing Earnhardt to fall back to 10th and finish fourth in the championship standings.

Joey Logano will edge Scott Speed for rookie of the year honors, but Speed will be the only one to win a race in 2009. Speed will declare himself the ROY by using Bernie Ecclestone's winner-take-all plan for F1.

Carl Edwards will win the Nationwide title, making it four in a row for the Cup guys. Bullies across America will rejoice.
Terry Blount covers motorsports for ESPN.com. He can be reached at terry@blountspeak.com.
ESPN Seattle Seahawks reporter
Covered the NFL at the Houston Post and Houston Chronicle, including eight Super Bowls
Received Citation for Writing Excellence from Hearst Newspapers
Also has covered NBA Finals, World Series, Finals Fours, Indy 500 and Daytona 500
ESPN.COM'S LOOK AT THE YEAR AHEAD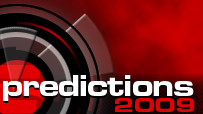 What to expect across the sports spectrum in 2009? ESPN.com offers things you might see coming, some you won't and some that will just flat-out surprise. Predictions to consider:
PRO SPORTS
COLLEGE SPORTS
MORE SPORTS
MOST SENT STORIES ON ESPN.COM