Commentary
Kansas Speedway cranks up the heat
Updated:
June 4, 2011, 8:30 PM ET
By
Joe Breeze
| ESPN.com
KANSAS CITY, Kan. -- The wild card for Sunday's Sprint Cup Series race at Kansas Speedway?
Heat. There'll be plenty of it.
Soaring temperatures and relative humidity promise to make the inaugural STP 400 one slick proposition.
Will tempers flare too?
We'll find out soon enough.
Five more things to watch:
[+] Enlarge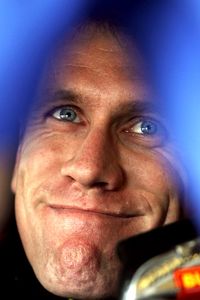 Jamie Squire/Getty ImagesCarl Edwards has two top-5s in seven starts at Kansas Speedway, but no trips to Victory Lane.
1. Is Carl still king? -- Few drivers have been hotter than Carl Edwards, who'd been working on a string of five straight top-10 finishes -- not including a victory in the All-Star Race -- before recording a pedestrian 16th at Charlotte last Sunday.
Edwards is the Sprint Cup points leader and carries a ton of momentum, but the pride of Columbia, Mo., has never won a Cup race at his home track.
How hungry is he to get it done Sunday?
"I told Bob [Osborne, crew chief] this week that this race is really important to me; I mean, all of them are, but to win here in the Cup series would be huge," Edwards told reporters Friday. "We have what seems to be a really fast race car, and practice went really well. It is going to be hot and slick, which should be fun. I am just glad to be here racing ..."
Edwards does have one trip to Victory Lane at Kansas. He won a Truck series race here in 2004, and it was memorable.
"I was racing too hard on the first lap and smacked the fence and then came back and won the race," Edwards recalled. "It was a very special win."
Oddly, Clint Bowyer, who hails from nearby Emporia, Kan., hasn't won a Cup race here, either, though he did lead 124 of 167 laps in winning Saturday's O'Reilly Auto Parts 250.
"It would be big," Bowyer said this week of a possible Kansas win. "Once it [Kansas track] was built, I drove by it every week and would set goals just to be able to drive there in anything. I never dreamed I would be able to drive an ARCA car there, let alone start a race in a Sprint Cup Series car."
Edwards qualified seventh Saturday, Bowyer 27th.
2. Roush rolling -- Edwards isn't the lone Roush Fenway Racing driver with a strong chance to find Victory Lane on Sunday.
Greg Biffle has two wins here, including a victory in the 2010 fall race. He also leads the Cup series at this track in laps led (323) and average finish (8.1).
Biffle had one of the most dominant cars in last week's Coca-Cola 600, but he had to stop for gas before the final restart and settled for 13th.
The Biff's secret at Kansas?
"If I told you, I would have to kill you," he said Friday. "You know, I really like this racetrack. It is a lot of fun. It being hot and slick is kind of my favorite. It is hard to get ahold of this and it is different on both ends.
"This place you can run up the racetrack, which is fun to do. You can run right up against the fence. This place has a lot of grip in the center of it, too. ... It has a little slower corner speeds and you have to be a little technical, which has played into my hands over the years, I guess."
RFR teammate Matt Kenseth is no slouch, either. He led 103 laps in the Coke 600 before fuel issues relegated him to a 14th-place finish. Even David Ragan joined in on the fun, finishing a career-best second behind surprise winner Kevin Harvick.
3. Junior overdue? -- Dale Earnhardt Jr. had the Charlotte race all but won before his No. 88 Chevy ran out of fuel entering Turn 3 of the final lap -- another heartbreaking near miss for NASCAR's most popular driver.
Afterward, Earnhardt appeared satisfied with seventh place and maintaining his fourth-place hold in the Cup standings.
"

When you run good,
it's much easier to want to show up.

"

-- Dale Earnhardt Jr.
In Sunday's race at Kansas, where he has four top-10s in 10 starts, Earnhardt knows he will have his hands full. But he also knows his 105-race winless streak won't last forever.
"I think that we came close to winning that race and we've done it a couple times this year, and that makes me feel more confident in us having that opportunity again more often throughout the season," said Earnhardt, who qualified 28th. "I feel like that if we just keep doing that, then the luck is going to fall our way and we'll get to Victory Lane one way or another."
Regardless, Earnhardt said he enjoys race weekends more than he has over the past couple of seasons.
"Preparing for the weekend -- I look forward to it a little bit more than I did in the past for sure," he said. "When you run good, it's much easier to want to show up."
4. Can Gordon right the ship? -- Jeff Gordon christened Kansas Speedway by winning the track's first two races in 2001 and 2002. His stats here are impeccable: In 10 races he has seven top-5s -- including the two wins -- and eight top-10s.
Gordon's numbers through 12 races this season aren't nearly as impressive. He has one win and three top-10s but over the past five races he has finished no better than 12th.
Still, he's only 15 points shy of the final Chase spot. And the one victory he scored at Phoenix gives him a leg up in the wild-card race.
"It is not just about being in the top 10 in points, it is about being a threat for the championship ..." Gordon said behind his hauler Saturday. "I think, from a points standpoint right now, what we have to focus on is winning races because, if we can win another one or two races, to me that locks us in [the Chase].
"We understand that not only locks us in, it gives us momentum to be in a position to actually be a threat for the championship."
[+] Enlarge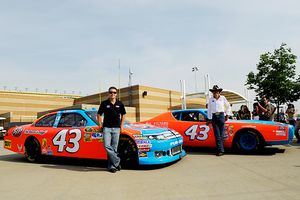 John Harrelson/NASCAR/Getty ImagesAJ Allmendinger, left, and Richard Petty hail the return of STP to the 43 car at Kansas.
5. Petty Blue -- Some old-timers will watch this race just to get a glimpse of the Richard Petty Motorsports No. 43 Ford Fusion.
The car on Sunday will feature the same paint scheme made famous by The King during his glory years of the '70s, a palette of Petty Blue and STP Day-Glo Red.
Granted, it's not a Dodge. And Petty won't be turning the wheel. But the car will be in the capable hands of AJ Allmendinger, who's got some momentum after a sixth-place run at Charlotte.
No pressure, right?
"I wake up every day and feel very fortunate to get into the 43 and have such a huge fan base when it comes to the number and the history of NASCAR," Allmendinger said Friday. "It comes full circle to be driving the iconic 43, and now I have a paint scheme that especially all the old-school fans looked at and loved as they grew up and watched The King. For me, I feel very fortunate to be a part of [it].
"I'm excited, and thank STP for coming back and being a part of this and allowing me to be their driver."
Naturally, Petty, the owner of seven Cup championships and the winner of a record 200 races, will serve as grand marshal.
STP last served as a primary sponsor on the 43 car for two races in 2006.
Joe Breeze is a motorsports editor at ESPN.com. He can be reached at Joe.M.Breeze@espn.com
Motorsports
Motorsports editor for ESPN.com
SPONSORED HEADLINES
MORE RACING HEADLINES
MOST SENT STORIES ON ESPN.COM