Commentary
New Hampshire went well enough, but Dover is a whole different challenge
A ninth-place finish at Loudon was OK with Denny Hamlin. He writes in his diary he's feeling good headed into Dover, but it's one of the trickiest tracks in the Chase.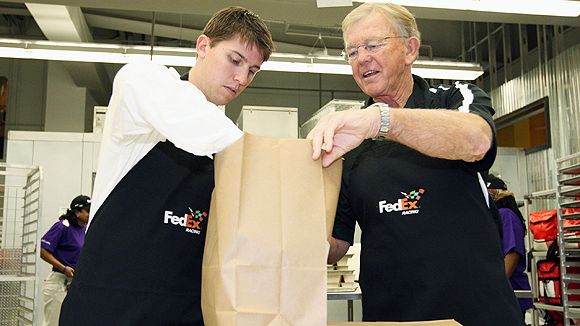 Ned Dishman/JGRDenny Hamlin and Joe Gibbs pack up meals for delivery on their visit to Food & Friends in Washington.
One week down, nine to go. New Hampshire was an interesting race for this FedEx team. Ninth wasn't exactly the finish we were hoping for -- at times we had a top-three car, but we had to stop for fuel, because we couldn't have made it to the end. In the grand scheme of things, to leave New Hampshire with a top-10 is always good. As we saw, there is always potential for trouble there. We went there in sixth place, and we left in sixth so I think we are in good shape, and we can be happy about our performance in Week 1.Now we head to Dover and another very tricky track. Everyone talks about Talladega as being the real wild-card track in the Chase, but both New Hampshire and Dover have the potential to cause just as much trouble. Dover is a very fast 1-mile track with a unique surface and a lot of banking. The speeds are high, and with as narrow as the track is, trouble at Dover usually means you are going to hit the outside wall, then slide down to the inside wall, all the while hoping you aren't going to hit anyone else or get hit. I was caught up in that big wreck there earlier this season and it was a case where I was carrying so much speed off Turn 2 that by the time I heard from my spotter, there was no chance I could slow down enough to avoid it. Unfortunately, we were only 16 laps in. We finished last. We feel like we've had good cars at Dover, and I think we'll be competitive going back there. I know as a driver I am much more comfortable with Dover now than I was there at the beginning of my Cup career. Nothing can take the place of track time at a track like that.Before heading to Dover on Thursday I made a stop in Washington to visit Food & Friends, a organization that provides meals to those in need throughout the area. I worked in the kitchen with a ton of FedEx employees and folks from Joe Gibbs Racing as part of the FedEx Cares week and we packaged up a ton of meals. Coach [Joe] Gibbs joined us at the event, and he worked right alongside us in the kitchen as we prepared the meals for delivery. As you can probably guess, the people of Washington were really excited to see him.They love the Redskins and everything that Coach Gibbs brought to that city while he was head coach. And you could tell he was happy to be back in D.C. and giving back to the community that means a lot to him. After working in the kitchen, we presented Food & Friends with a new Toyota Prius from FedEx. It will definitely help them serve more and more people while saving them fuel costs in the process. This was the fourth Prius FedEx has donated this season to groups like Food & Friends. It was a cool event and for a great cause.I'll be back again after the weekend at Dover. Hopefully we'll still be right in the thick of this Chase.
Denny Hamlin drives the No. 11 FedEx Toyota Camry. He shares his weekly thoughts on and off the track with ESPN.com readers with the help of writer Angelique S. Chengelis.
SPONSORED HEADLINES
MORE RACING HEADLINES
MOST SENT STORIES ON ESPN.COM