Commentary
We asked, you had answers, but is NASCAR really listening
Frustration with NASCAR was strong when Ed Hinton asked for input from fans. NASCAR heard the concerns and even had some answers. Whether you like those answers is a different matter.
Updated:
September 20, 2008, 9:27 PM ET
By
Ed Hinton
| ESPN.com
Two weeks ago I asked you to talk to me -- to tell me what you think of the current state of NASCAR. Several hundred of you have spoken, and you're not much happier than I suspected when I asked.We had 529 responses -- 282 in the ESPN Conversation area, and 247 direct e-mails to me. Of those, 4.7 percent expressed happiness with NASCAR just the way it is. Another 1.3 percent had mixed emotions -- generally happy, but with some nagging dislikes.That left 94 percent unhappy -- and, in many cases, vehemently so.I reported these findings, and your biggest concerns, to NASCAR.The good news is that NASCAR is listening to you -- which most of you had stopped believing. A Fan Council, assembled by NASCAR over the past year, is now complete with about 2,000 traditional, hard-core fans. (The roster is full, so don't bother applying.) Now the bad news: You are unlikely to get much if any relief from the two biggest concerns you've expressed to me: the Car of Tomorrow, which NASCAR is now selling as "the new car" because it's mandatory in all Cup races, and the so-called "cookie-cutter" tracks.You hate the new car with a hate that is more than hate, to reverse-paraphrase Edgar Allan Poe. Among the printable things you called it were: "Car of Trash," "Car of Touring," "piece of garbage" and "Car of Yuck."You often called it a "spec" car, and made frequent references to the now-defunct IROC, whose entire premise was identically prepared cars. You don't like the looks of the COT, nor the tight restrictions under which teams have to work on the car.But, "the new car is here to stay," said Ramsey Poston, NASCAR managing director of corporate communications. "And if you really wanted to see upheaval, then we would go back to an old car. I don't think anyone in the garage would vote for going back to old cars at this point."Indeed, team owner Jack Roush, for years the most adamant opponent of the new car, told me recently that no way, no how would he want to turn back. The money is spent, the inventories are in place, and what's done is done.Regarding cookie-cutter tracks, you the people are shattering an economic axiom of entertainment I'd long considered infallible: H. L. Mencken's line that "Nobody ever went broke underestimating the intelligence of the American public."Track moguls underestimated yours by building the 1.5-mile ovals -- and their 2-mile cousin at Fontana, Calif. -- with doglegs in the front stretches.The underlying financial motive was to create as many high-priced seats, facing the start-finish line, as possible. That's the real purpose of the dogleg -- to turn all eyes toward the flag stand, and charge a bundle for the view.The moguls also wanted tracks that accommodated Indy cars, so they could hold more races and make more money. Somehow they expected you, the paying customers, not to notice the one-by-one promenades that are the rule rather than the exception on the tracks at Chicagoland, Kansas City, Las Vegas, Homestead-Miami and -- the original cookie cutter on which the others were modeled -- Charlotte.They are truly "intermediate" tracks -- too small for drafting, but too big for the slam-banging of short tracks.Atlanta and Texas are variations on the cookie cutter only in that Atlanta is exceptionally wide through the corners for better racing, and Texas is so treacherous, with its dipsy-doodle transitions on and off the corners.The cookie-cutter moguls aren't anywhere near broke, but they may be headed for financial bloody noses in the long run."I can't really comment on the kind of tracks that the promoters built," Poston said -- not exactly a ringing endorsement. He did repeat NASCAR's reasons for moving races -- geographical diversity, "to serve our fans across the country."Building in those NASCAR-hungry locales appeared to create the urge to build cash cows over exciting racetracks.Could the tracks be rebuilt?
[+] Enlarge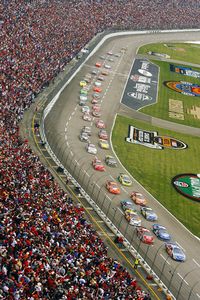 Chris Graythen/Getty Images for NASCARThat dogleg in so many newer tracks? All the better to add high-dollar seats, my dear.
"We wouldn't be in a position to order that," Poston said. "But I know from talking to different promoters that they're always looking at ways to make adjustments that they need to."To the overwhelming majority of you, the COT plus the cookie-cutter tracks equals "follow-the-leader racing," as so many of you phrased it. The result is, depending on exactly how the respondents put it, "boring" or "B-O-R-I-N-G" or "BORING." Others wrote "boring" in fancy fonts I won't try to reproduce here.Poston countered that "You're having a large number of races decided with a margin of victory of less than 1 second."Many of you feel that the drivers aren't any more interesting when they climb out of the cars than when they're in them.But Poston posed an interesting hypothesis: "I wonder," he said, "how
Richard Petty
would be perceived in 2008. What would they say -- that he was too polite or that he didn't showboat? Would Richard Petty be called vanilla by today's standards, because he was always a gentleman?"Many of you have pegged the real culprits in sanitizing the drivers -- not NASCAR, but the big corporate sponsors, who assume so erroneously that you want your drivers squeaky-clean. To a far lesser degree, some of you expressed displeasure with the Chase playoff concept, and would like to see the championship structure revert to the old, full-season format. "I think most people have turned the corner on the Chase," Poston said -- NASCAR's feedback once again similar to the feedback here.Some of you name, as the primary source of your discontent, Brian France, the third-generation NASCAR chairman. He is the personification of change."I think what most people oppose most, from what we've heard, is constant change," Poston said. "To go from one points system to another, one car to another. We get that. We understand that. We think this period of major change is over."Although Brian France cannot be blamed for the cookie-cutter tracks -- they were all initiated during the reign of his father, Bill France Jr. -- he is directly responsible for both the COT and the Chase, having personally forced both those issues. "The information we're getting from fans goes all the way to the top," Poston said. "And where we can make adjustments, we will."But don't expect France to budge on the new car.So, bottom line, NASCAR hears you and is concerned, but is banking on the complaints easing as fans adjust to the changes."We're going to let this car mature, this schedule mature, this points system mature," Poston said.They'd all better mature fast, from what I've heard from you.I asked you to be brief, but almost nobody was. Many poured out descriptions of lifetime loyalty to NASCAR that's been repaid with a feeling of abandonment and being ignored. Some of the responses were almost as long as this column is.So here are but a few excerpts from your many e-mails. One missive began with well-put reasoning on behalf of all of you who poured your hearts out at length.
You ask us what is wrong with NASCAR and then say to be brief? Ha!
Matt Hampton, Commerce, Mich.
While many of you either said you'd stopped going to many tracks or threatened to stop going, and even said you'd given away your tickets to races this year, others said they'd gladly take your place, just as things stand today.
Please tell anyone who does this to send me their tickets … I go to about three or four races every year and I have not once been disappointed in my experience at any track.
Robert Carpenter, Durham, N.C.
NASCAR's rationale that all the change attracts new and diverse fans may in some cases be backfiring, if the next two responses are an indication.
I am a British NASCAR fan and started watching in 2004 … When I started watching I enjoyed the tight, door-to-door racing, but now there are races where I won't even watch the start, as I know they will be four-hour processions without the excitement of Formula One pit strategy.
Philip Norman, Manchester, U.K.
I am an African-American fan who was drawn to the sport through friends in the early '90s. I was intrigued as an engineering student at the time at the concept of a sport that rewarded technical innovation … I am older now and a chemist, so my love for innovation and technology has not waned. Too bad it has for NASCAR.
In an attempt to become this corporate and cross-section darling, it is actually losing fans like myself … What should concern them even more is my son, who is 7 now. As a very young child he loved NASCAR … he used to tell anyone that he would race those cars one day. Now, since COT? He watches football with me … I cannot get him to watch NASCAR for more than five minutes …Garrick Purdie, Wilmington, N.C.
[+] Enlarge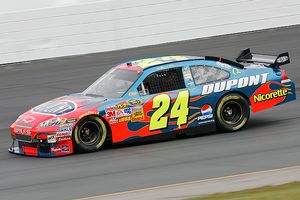 Todd Warshaw/Getty Images for NASCARThe Car of Tomorrow -- or "new car" -- is here to stay whether fans like it or not.
Many longtime fans feel fed up paying the bills of an organization you consider unresponsive to your wishes.
As a lifelong fan of NASCAR, I pine for the days when the teams' and fans' opinions actually mattered to the sport's sanctioning body. It is obvious that the management of NASCAR has lost touch with the essence of the sport.
The only way we can respond is to stay away from the tracks and vote with our dollars. Open-wheel [racing] found a way to ruin things for themselves, and the current situation in NASCAR reminds me of that.Patrick Bayle, Minneapolis, Minn.
We had standing tickets to both Talladega races, along with reserved camping sites. Also, I've had Bristol night race tickets for 15 years. To top that, we used to go to a different track about every other year -- California, Daytona, Charlotte and of course the Brickyard.
The racing, political correctness and NASCAR's general bull---- have led to us not going to a race in three years … until we received free tickets to this year's Brickyard [site of the well-chronicled tire debacle]. What do you think the chances of us going back to any NASCAR race now are?Chris Seibert, Washington, Ind.
I've followed the sport for 20 years and as little as five years ago, whether it be via DVR or live TV or at the track, I did not miss a race. This year, I think I might have watched the Daytona 500 in its entirety. I can't remember watching another race for longer than 15 minutes … Thank goodness football season has started.
Petty Officer 1st Class James Bergreen, U.S. NavySome dislike NASCAR racing as it is at the moment, but see a brighter future as teams adapt to the COT, if NASCAR will give them more leeway for adjustments.
I think that, without a doubt, the racing in NASCAR right now is more boring than it has ever been. But I also believe that this is temporary; the teams will get a handle on the new car by the end of '09, and the racing will improve.
NASCAR could definitely improve the situation by giving the teams more options on car setup. Chad Knaus, as much as I hate to say it, is right.Matt, Blacksburg, Va.Thus far, NASCAR has given no indication it will ease up -- as
Jeff Gordon
has been pleading for since the first COT test 18 months ago -- on restrictions on working on the new car.NASCAR is listening. Is it really hearing you? That, alas, is hard to say.
Ed Hinton is a senior writer for ESPN.com. He can be reached at edward.t.hinton@espn3.com.
SPONSORED HEADLINES
MORE RACING HEADLINES
MOST SENT STORIES ON ESPN.COM