Commentary
Roller-coaster season climbing new heights on heels of fantastic finishes
How will the 2008 Cup season be remembered? If JJ and the boys keep bangin' till the finish, it'll be about racing, writes Ed Hinton.
Updated:
October 3, 2008, 8:31 PM ET
By
Ed Hinton
| ESPN.com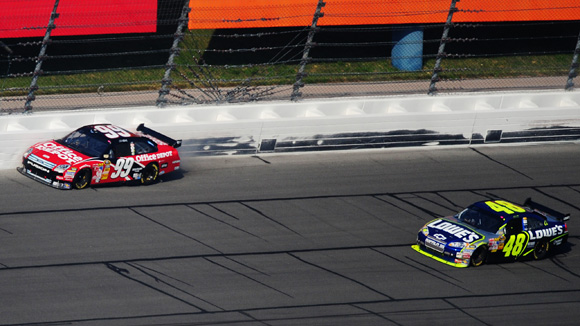 Mark J. Rebilas/US PresswireCarl Edwards scrapes the wall during his ill-fated "banzai move" on Kansas winner Jimmie Johnson.
It's all in the finish.That's what makes any race, or any racing season, memorable: the ending. Just like good movies, novels and operas.NASCAR, so far, is finishing a very rocky season very well.Sunday's final lap at Kansas Speedway instantaneously took its place in my mind among the top 10 or 12 finishes in NASCAR history. And it played to a packed house.
Carl Edwards
' last-lap dive past
Jimmie Johnson
, then Edwards' sliding up and smacking the wall while Johnson ducked back underneath to win at the flag was the best of three straight Chase races that have yielded entertaining finishes.Edwards had lost a dogfight to teammate
Greg Biffle
at Dover, Del., and before that at New Hampshire Biffle had surprised everyone except himself by hiding his hand until late to breeze past Johnson for a win in the Chase opener.And all three finishes came on tracks not notoriously conducive to high drama. Now they head for Talladega, which produces virtually nothing but high drama.
[+] Enlarge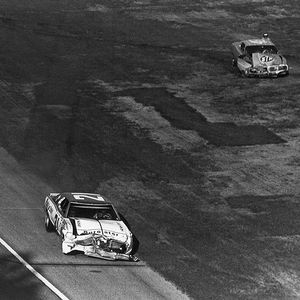 AP PhotoDavid Pearson limps across the finish line to win the 1976 Daytona 500 as Richard Petty can only watch. The two drivers tangled heading for the finish line.
For now the Chase has shaken out into a three-man hunt among the top three in the standings: Johnson, Edwards and Biffle.
So it doesn't measure up to NASCAR chairman Brian France's ideal of as many drivers as possible in the hunt, down to the wire -- yet. A typical monstrous crapshoot at Talladega Sunday could scramble everything.But for sheer excitement of finishes, the fifth Chase has begun as the best one yet. All this, on top of a rousing regular-season finale at Richmond, Va., where Johnson outdueled
Tony Stewart
at the end.There have been four finishes in a row that, taken overall, have been as good as you could ask for in this or any other era. There has been much criticism of the new car from here. Fans overwhelmingly disliked it in reader feedback we requested last month.But here, now, the car deserves its due. Its durability is such that Edwards actually planned to hit the wall in his run at Johnson, knowing the car could take it. He just didn't plan on the scrape against the wall slowing him down that much.All in all, the 2008 season is hurtling headlong toward "a satisfying conclusion," as a great literary agent I once knew said any novel must have to be successful.Human memory is selective for the sake of sanity. Of our experience, most of us keep the good memories and suppress the bad.That's why the ending is so important to what we remember of anything.The late Southern humorist Lewis Grizzard, once a colleague of mine, managed to get every reader who started a column of his to finish it.How? Because they knew that invariably there would be a poignant, resounding ending, and so they kept after their reward. In their memories every column was great, because every column had a great final sentence.Will 2008 be remembered as the season of the Mauricia Grant lawsuit, fan unrest with the new car, boring racing, lagging attendance, intensified drug testing?Probably not.More likely it will be remembered by what Grizzard called "the kicker ending."The Grant lawsuit isn't over by a long shot, and it will be next year at the earliest before we have any idea of the impact of the former NASCAR technical director's discrimination charges.
[+] Enlarge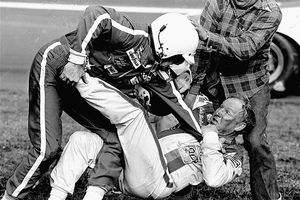 AP Photo/Ric FeldExciting finish? The 1979 Daytona 500 slugfest featured Bobby Allison, left, in one corner and Cale Yarborough in the other.
Regardless of the outcome, be assured that NASCAR will go on -- it may change some, for the better, but it will continue.Television ratings have actually ticked up a bit, by 2 percent over last year on average, according to Nielsen.Drug testing, especially for steroids? It ought to tell you something that NASCAR's drivers have roundly welcomed random testing whereas the players' unions of major sports leagues historically, by and large, have resisted drug-enforcement policies. NASCAR crowds always ebb and flow with the economy and oil prices, because NASCAR fans are mostly working class, and often travel long distances in their own vehicles.Even as we speak, Talladega Superspeedway is coordinating with gasoline suppliers in Alabama to make sure there's enough gasoline and diesel available to get the crowd home.But what's new? In 1974, NASCAR cut the length of races by 10 percent in the first national fuel crisis. The 24 Hours of Daytona and the 12 Hours of Sebring sports car races were canceled altogether. The end of automobile racing was at hand, pundits opined.
A closer analogy to Talladega this week came at the old Riverside, Calif., road course in 1979. A fuel shortage worse than this one, in a freeway-dependent state, threatened attendance for the Cup race there. You should have seen the look of relief on track president Les Richter's face when advisors told him one tank of gas would get people from Bakersfield, the key town to Riverside attendance, to the track and back.But all of that has been forgotten, covered up with good memories of those times.The finish of the 1976 Daytona 500 remains widely deemed the greatest in NASCAR history.
Richard Petty
and
David Pearson
wrecked each other within sight of the checkered flag, and Pearson nursed a mangled car across the finish line.That cleansed the larger truths of SpeedWeeks 1976. (I was there.)
A.J. Foyt
was thrown off the pole, and
Darrell Waltrip
off the front row, for cheating in qualifying. Foyt was some kind of hot. The crackdown went through third-fastest
Dave Marcis
, who also was caught cheating, and a bean farmer from Iowa, a semipro racer named
Ramo Stott
, started the 500 on the pole.But the American memory of Daytona 1976 is down to one picture, of Pearson's and Petty's cars spinning down the homestretch.The second-most celebrated finish in NASCAR history is "The Fight" after the 1979 Daytona 500 between
Cale Yarborough
and brothers Bobby and
Donnie Allison
, after Yarborough and Donnie had wrecked each other on the final lap, leaving the win to Petty.But if you get hold of the video of that '79 race, and sit down to watch it start to finish, you'll find that it was mostly an afternoon-long yawner, with Donnie Allison leading … and leading … and leading … until finally Yarborough unlapped himself and got into position to mix it up on the white-flag lap.That race came within a couple of laps of being remembered as one of the dullest Daytona 500s ever, if remembered at all. Almost nobody remembers that. Everybody knows the pictures of The Fight.The inaugural Chase of 2004 is recognized as the best yet. Largely healed over now is the mid-Chase heart wound of the Hendrick Motorsports plane crash that killed all 10 people on board.What is remembered is Jimmie Johnson's magnificent charge through all his sorrow to win three of the five races after his team's tragedy, only to fall eight points short of the championship. And
Kurt Busch
's broken wheel in the finale, just at the entrance to the pit road, so he could stop for repairs and hold on to win the title.How will the 2008 season be remembered? I'll let you know after the finish.
Ed Hinton is a senior writer for ESPN.com. He can be reached at edward.t.hinton@espn3.com.
MOST SENT STORIES ON ESPN.COM