Commentary
Stewart survives wild, wild affair at Talladega
Tires exploded. Chase contenders crashed. The "big one" ruled. And Tony Stewart won ... after finishing second. Just another wild and wacky night at Talladega, writes Ed Hinton.
Updated:
October 6, 2008, 12:39 AM ET
By
Ed Hinton
| ESPN.com
TALLADEGA, Ala. --
Tony Stewart
was awarded a win after taking the checkered flag second …
Jimmie Johnson
padded his Chase lead on a largely awful day for him … and that barely touches on the chaos that reigned Sunday in the Amp Energy 500.
Carl Edwards
knocked himself and teammate
Greg Biffle
back in the standings by doing what he feared "the idiots" of restrictor-plate racing, as he said, would do. This time, "I was the one …" Edwards caused the bigger of two "big ones" -- the massive pileups drivers consider inevitable at Talladega Superspeedway -- with only 15 laps to go, and took out a total of six Chasers, including the driver who had the strongest car of the day, crowd favorite
Dale Earnhardt Jr.
Blown tires in the first half of the race caused enough bedlam to embarrass Goodyear and NASCAR yet again this season. One incident knocked
Jeff Gordon
out of contention 53 laps into the race, and another caused an eight-car wreck that, curiously, involved no Chasers.Confusion continued after the race, when rookie
Regan Smith
, who had beaten Stewart to the checkered flag but was denied the win because he made the pass below the inside yellow line, maintained he had understood at the morning drivers' meeting that the move would be allowed. The NASCAR rule for restrictor-plate tracks is that a driver may not improve his position by passing below the yellow line.
But Smith said he had understood that "on the last lap, anything goes. That's what they were saying in the drivers' meeting [Sunday morning], and that's what I was going with."Smith maintained, "I got forced down there" by Stewart, and Stewart countered, "You're darn right I did," meaning he made a legal block as they came toward the finish line.
[+] Enlarge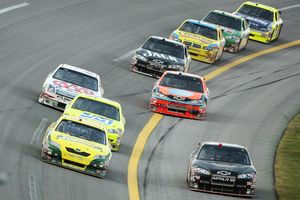 AP Photo/Dave MartinRegan Smith, right, was panalized for driving below the yellow line to pass Tony Stewart.
Smith took the checkered flag first and his Dale Earnhardt Inc. crew went into celebration, but moments later NASCAR declared Stewart the winner."We do not feel [Smith] was forced below the yellow line," said Jim Hunter, NASCAR vice president for corporate communications. "We respect Regan's view, but we made the call, we think it's the right call, and the finish is final.""I think [the rule] has been made pretty clear for the last six or seven years," said Stewart's crew chief, Greg Zipadelli, who knew the moment he saw Smith pass below the line that Stewart had won the race. "We were the first car penalized under the yellow-line rule."That was in the Pepsi 400 at Daytona in 2002, although it didn't cost Stewart a win. And since then, "I've lost Daytona 500s and I've lost races here at Talladega because somebody was blocking," Stewart said in defending his move.The win was Stewart's first this season, and his first at Cup level at Talladega. "[All this season] we've struggled to figure out what we needed to get into Victory Lane," said Stewart, who will leave Joe Gibbs Racing at the end of this season to run his own team. Stewart had been unpopular here in the past for criticizing the raucous legions who mainly worship the Earnhardt family of drivers. "I've wanted to win here for so long," Stewart said. "This hasn't been one of my favorite places on the fan side. People haven't always liked me here. But this was for those guys up in the stands today."Johnson corroborated Smith's remarks about the exception to the yellow-line rule being discussed among drivers Sunday morning, but NASCAR said the discussion never included its officials.

We do not feel [Smith] was forced below the yellow line. We respect Regan's view, but we made the call, we think it's the right call, and the finish is final.
-- NASCAR's Jim Hunter
"That all started this morning and like wildfire went through the garage area," Johnson said. "Everyone was worrying about it and keeping it in their back pockets. That's why it wasn't brought up at the drivers' meeting."Johnson advanced from a 10th-place finish to ninth after Smith was pushed all the way back from second to 18th in the race standings.That padded Johnson's points lead to 72 over Edwards and 77 over Biffle, although the top three spots remained the same in the Chase.With six races remaining in the playoffs, "I still don't have a big enough margin to lighten up between now and [the season finale at] Homestead," Johnson said.Johnson appeared to be in big trouble early in the race when his car just wouldn't produce adequate speed. At first he appeared to be preparing to ride for a while in the back to avoid trouble, but was so slow he went a lap down on only the 25th lap.But Johnson got a free pass back into the lead lap only 25 laps later, and managed to hang in the middle of drafting packs most of the afternoon, and avoid both big ones, even in his underpowered car. "I just had no speed all day long," Johnson said. "When we started the race, everybody took off and I couldn't even hang onto the draft." But after he got back on the lead lap, "I got in the middle of things and raced the best I could."While seven other Chasers were caught up in wrecks, Johnson "somehow, some way slipped through all those instances," he said.Johnson might have padded his points lead even more by going for the win but just didn't have either the horsepower or the position to do it."I wish we could have been a little bit more competitive there at the end and gotten a top-5 out of it," he said, "but with what took place today, a top-10 is just what we need."Johnson summarized it all for himself, Smith and the other Chasers, including Stewart."It's been a looong, eventful day."
Ed Hinton is a senior writer for ESPN.com. He can be reached at edward.t.hinton@espn3.com.