Commentary
Kurt -- yes, Kurt -- Busch slides to win
Updated:
March 9, 2009, 2:07 AM ET
By
Ed Hinton
| ESPN.com
HAMPTON, Ga. -- A little Paul Simon music, please: Slip-sliding away … slip-sliding away …
The nearer their destination -- race dominator and winner Kurt Busch -- the more Jeff Gordon, Carl Edwards, Brian Vickers and others kept slip-sliding away.
Yes, Kurt Busch. The other brother. Kyle Busch was the one who won last week at Las Vegas.
On Sunday, it was Kurt Busch who won the Kobalt Tools 500 at Atlanta Motor Speedway, even after scraping the wall twice, sliding around on a mysterious tire structure Goodyear had brought here that confounded all the drivers.
[+] Enlarge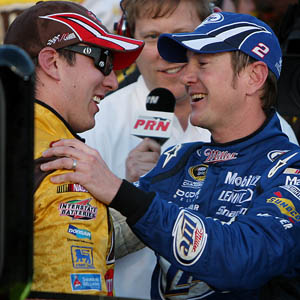 AP Photo/Isaac BrekkenKurt Busch, right, was congratulating brother Kyle after last week's race in Las Vegas. It was the other way around in Atlanta on Sunday.
"Everybody was slip-sliding," said the victorious elder Busch brother, who had only one win last season while his brother was burning up the Cup tour. "Maybe we were sliding less, but that's just due to the setup [crew chief] Pat Tryson gave me."
Team owner Roger Penske thought it was more than that. It was his driver.
Perched high atop the grandstands with the spotters, Penske saw that "Kurt ran a foot off the wall all day long, and kept the car underneath him."
Come to think of it, Busch admitted, "Right up by the wall, I was grinning ear to ear. This place, I love it, because it feels like Darlington, it feels like the old Rockingham. You race the racetrack.
"At times it got a little loose, and at times I overdrove it and got into trouble -- brushed the wall, scraped the wall. That's when you've got to refocus, and get back to racing the racetrack."
However he did it, he won this race every which way. He dominated, leading far and away the most laps (234). Then when the race went into green-white-checkered overtime, with Edwards leading, Busch second and Gordon third, Penske thought to himself: "We've led the most laps, so we won't win."
That's the way it often turns out.
But on that final restart, Busch blasted around Edwards to retake the lead for keeps on the first lap of overtime, and then held off Gordon's onslaught on the last lap.
Gordon, making his strongest bid this season to break a losing streak that dates back to October 2007, was Busch's most serious challenger in the second half of the race.
[+] Enlarge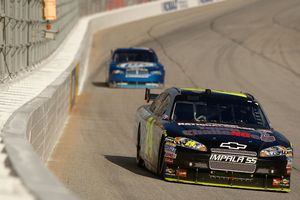 Chris Graythen/Getty ImagesJeff Gordon, front, was able to get ahead of Kurt Busch at times on Sunday, but he wasn't able to stay there.
Gordon could get to, and sometimes around, Busch, and then Gordon would slip-slide away.
Going into the overtime, "I felt like I had a real shot at it," Gordon said. "I certainly would have liked to have beaten that 2 [Busch] off the pit road. I was pretty sure [Busch and I] were going to get around the 99 [Edwards, who led going into the final restart]."
Even sitting in third, "I got a run on the 2 on the restart, and he saw me coming, and we about got into the fence going into [Turn] 1."
Then Gordon fell in behind Busch, and after they passed Edwards, Gordon went slip-sliding away.
"Don't put all the blame on Goodyear," Gordon admonished. "I will challenge any tire manufacturer out there to build a tire for this car, at this racetrack.
"It's impossible."
AMS is one of the fastest tracks in NASCAR, but its surface is worn, and it eats up tires. And the controversial new car design puts extreme stress on tires, especially on the right side.
So Goodyear was trying to make the tire tough enough to withstand the speeds and the grinding at this place, and wound up with a mystery tire.
Brother Act
The Busch brothers sure know how to share. Kurt Busch followed up brother Kyle's win at Las Vegas last weekend with a Cup victory of his own Sunday. The Busch brothers have now won back-to-back races four times, the most by any brother duo in NASCAR history.
Back-To-Back
Victories
Kurt, Kyle Busch
4
Tim, Fonty Flock
3
Bobby, Donnie Allison
2
Tim and Bob Flock
2
Bobby, Terry Labonte
2
Brett, Geoff Bodine
1
Bob, Fonty Flock
1
Donald, Herb Thomas
1
"I give them credit for trying," Gordon said. "They were trying to do some things with the construction, based on some comments drivers made about how much the cars were moving around on the straightaways and getting into the corners.
"It didn't pay off. We didn't, at least with the 24 car, have any real wear issues where we were going to blow tires. We just didn't have any grip. It had grip for one lap, and that was about it. Kind of like the old Darlington, except the tires aren't wearing out.
"It's a strange thing. I really don't know how to explain it."
Vickers was running Busch down before the lengthy debris cleanup that forced the race into overtime. But Vickers had a bad pit stop under the final caution, and fell out of reach of Busch for the finish.
"We fought all day, and lost it there at the end on the pit stop," Vickers said.
Could he really have given Busch a run? "I think we definitely had the car for it," he said, but acknowledged that "we were running the same line, so it wasn't going to be easy to pass him."
But Vickers said his car was better in the middle of, and late in, runs. With a lengthy caution period cooling off tires before the green-white-checkered, well …
Vickers, rather than Gordon, might have been the last guy to go slip-sliding away behind Kurt -- repeat, Kurt -- Busch, who was either on a rail Sunday, or just better at slip-sliding than 42 other drivers.
Has Kurt felt disrespected this past year or so, in the shadow of his younger brother?
"Not at all," Kurt said. "The kid has been dominant, and been on the gas. … When you're good, you're good.
"And we hope we've turned a corner."
Ed Hinton is a senior writer for ESPN.com. He can be reached at edward.t.hinton@espn3.com.
SPONSORED HEADLINES
MORE RACING HEADLINES
MOST SENT STORIES ON ESPN.COM