Commentary
In an off week, common sense prevails
Updated:
March 19, 2009, 1:27 PM ET
By
Ed Hinton
| ESPN.com
Five things I wish NASCAR had done during the off weekend:
Note: Normally I would have said NASCAR did precisely what it should have done -- absolutely nothing. Even Brian France and Mike Helton need time off occasionally.
But then, just at the threshold of a peaceful weekend came last Friday's disaster at Lowe's Motor Speedway, clearly warranting emergency action.
So, I wish NASCAR had ...
• Deliberated all weekend and come out this week with penalties against Lowe's Motor Speedway for violations under section 12-4-A of the NASCAR Rulebook, "actions detrimental to stock car racing" -- the blanket rule that covers 95 percent of all competitor violations.
[+] Enlarge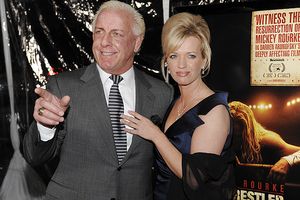 AP Photo"Nature Boy" Ric Flair promises to shake up All-Star weekend at Lowe's Motor Speedway.
If ever there was an action detrimental to stock car racing, it was LMS's naming of retired pro wrestler "Nature Boy" Ric Flair as "honorary race director" for the All-Star race in May.
NASCAR is already viewed as a non-sport by enough people as it is. Now LMS hires a symbol of the most fixed non-sport there is, with the most knuckleheaded demographics, and calls him "race director" for what should be an honorable event.
This was an LMS promotion all the way, without NASCAR involvement.
Penalties? You bet.
Order LMS to refund 50 percent of the price of all tickets sold thus far for the All-Star race, and enclose with the checks a written apology to fans for insulting their intelligence.
Place LMS on promotional-stunt probation until Oct. 18, 2009, the day after the speedway's second points race of the year, the Bank of America 500.
• Seized the occasion to issue a general apology to NASCAR fans everywhere, and unveil a plan to make reparations, for "actions detrimental to stock car racing" in recent years by NASCAR itself, and many of its member tracks.
Apologize for the new car -- the most generally despised mechanism among NASCAR fans that I've ever seen. Admit there's no turning back now, due to the expense of replacing the cars. But pledge to alleviate the situation however possible under the circumstances, from easing up on that god-awful minute multiple template called "the claw" to relaxing rules on shocks and springs.
Admit the rush uptown to the big markets was too hasty and too insensitive to NASCAR's core audience. For openers, cut the indifferent Los Angeles market back to one race a year.
Formally ask all tracks to reduce ticket prices by 50 percent, regardless of any price cuts that have already occurred. NASCAR ticket prices, before the economy crashed, were much like housing prices -- artificially sky high. They're still too high, and need more "correction," as economists would say.
There should be no ticket to a NASCAR race anywhere that costs more than $50. That's the high end of what it's worth to see a NASCAR race live nowadays.
• Used this "Mea Culpa Week" to declare a general amnesty on all competitor suspensions and penalties, except for those for failing controlled-substance testing.
Mainly this would give a break to Jimmy Watts, the crewman for Marcos Ambrose who ran into the tri-oval grass to retrieve a rolling tire during the Atlanta race on March 8.
At first I thought a four-race suspension was just about right, because the move was so dangerous.
But the poor guy has suffered enough, with all the publicity -- NASCAR publicists worked hard to get his name out to the media while the race was still going on -- and has apologized publicly.
Surely, Watts has learned never to do that again. Further suspension will not help.
• Announced that beginning in 2010, the Southern 500 will be held at old Darlington Raceway on Labor Day Weekend, and that the race date will never, ever be moved again.
No other single gesture of goodwill and contrition would go so far in letting fans know they are heard and appreciated than undoing the greatest single blasphemy of tradition in stock-car racing.
Other than the new car, the removal of Darlington's Labor Day weekend race date -- first to California in a clear folly, and now to Atlanta in another folly -- has been the most constant complaint I've gotten from fans.
Besides, regardless of the crowd size at Darlington, the old, true-egg-shaped track makes for absolutely fabulous studio racing -- it's made for TV.
The ratings would be excellent, NASCAR fans would again feel anchored to a place, and the old "Lady in Black" -- roundly considered by drivers their greatest challenge -- would go a long way toward separating those who deserve to be in the Chase from those who don't.
• Announced that beginning in 2010 there will be more off weekends like this -- let's say six, spread throughout the season, even if it means cutting the Cup schedule back from 36 races. As few as 30 would be plenty.
Currently there are but four off weekends in the Cup schedule, and that includes Easter. This is the most grueling schedule in sports, crisscrossing the nation from February right up to Thanksgiving.
The killer schedule needs to be broken up more. I get the impression even the fans need a break here and there.
Most of all there should be at least one weekend off during the Chase, and all team shops, especially those of the Chasers, should be required to shut down completely for that weekend.
Oh, and one hard-and-fast rule: Absolutely no promotional announcements to be made by any tracks whatsoever during or going into an off weekend.
Epilogue to the dream
NASCAR won't do any of the above. It can't dictate ticket prices or even promotional procedures to the tracks, which are independent contractors. It's not about to cut the number of races. Old Darlington is too much a part of the past that NASCAR, for whatever misguided reasons, would rather forget.
It's just that on these rare weekends off, my brain stops spinning in my head -- or at least slows down under caution. Rational thought creeps in. Semi-sanity is restored.
And I yield briefly to that bygone concept, common sense.
But only for a little while, and on we go.
Ed Hinton is a senior writer for ESPN.com. He can be reached at edward.t.hinton@espn3.com.
SPONSORED HEADLINES
MORE RACING HEADLINES
MOST SENT STORIES ON ESPN.COM