Commentary
NASCAR needs a rivalry … bad
Updated:
June 24, 2009, 4:48 PM ET
By
Ed Hinton
| ESPN.com
Humpy Wheeler has uttered some profound sentences in his time, but this one struck like lightning.
The other night on a Speed TV talk show, the retired Speedway Motorsports Inc. president -- long recognized as the maestro of racing promoters -- was asked about rivalries in NASCAR.
"There aren't any," he said without hesitation.
That simple truth resonates with me. I've known it, but haven't said it lately.
Conflict is the crux of all drama. Rivalries are the red blood cell count of any sport, and without them, anemia is chronic.
So why aren't there any in NASCAR?
Because NASCAR and corporate sponsors don't allow it. They don't expressly forbid rivalries, but they create conditions that nip them in the bud.
Let's consider the elements of rivalry in NASCAR.
[+] Enlarge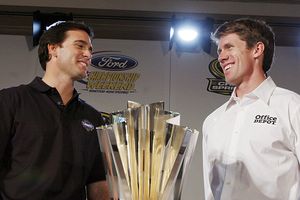 AP Photo/Wilfredo LeeJimmie Johnson, left, and Carl Edwards had a pretty good duel last season, but it never got close to being a rivalry.
First, two drivers should stand out on the track, regularly. Both should be running up front, winning races. They should be racing each other, finishing 1-2 once in a while, or maybe 1-14 or 1-26, if one or the other is wrecked out of the occasional duel.
Second, the conflict should be enough to polarize all of NASCAR fandom into two camps. No neutrals. Your favorite driver can be somebody else, but when these two rivals break out front at the end of a race, you have to be for one or the other.
Third, it helps but isn't necessary that their relationship is chronically adversarial, that they trade some paint, trade some verbiage, with some regularity.
But NASCAR's 20-year obsession with parity has made for too many winners. NASCAR's goal -- that every fan believe his favorite driver has a chance to win on any given Sunday -- essentially is sporting socialism. It is fragmentation and dilution of conflict.
So rarely do two drivers stand out at one time.
Even when they do, e.g., Jimmie Johnson and Carl Edwards last year -- Edwards with nine wins, including three of the last four, and Johnson with seven wins and a third straight championship -- the personalities aren't strong enough to delineate the conflict clearly, let alone polarize the fan base.
It's not the drivers' fault. It's the corporate-sponsor brainwashing, the personality-sculpting into the robotic salesmen that drivers have become.
Don't be real. Sell the product. Winning isn't everything; image is.
That's the indoctrination NASCAR drivers get on the way up, to the bone, if tacitly.
Johnson has told me more than once that, climbing through the ranks, he always had to watch what he said, always with sponsors foremost in his mind. Such thorough training left it difficult to let his real self show through.
Even now, when he's candid, it's in a soft voice … and he's already been labeled vanilla by the public.
Edwards is off the same assembly line, except for his occasional unguarded scuffle, and you've seen the rush of the conflict-starved public and its proxies, the media, to those incidents.
Likewise, we all rushed headlong to the previous flicker of rivalry, Edwards versus Kyle Busch at Bristol, Tenn., late last summer. Busch dominated the race until Edwards shoved him out of the way to win. Busch bumped Edwards on the cooldown lap, and Edwards hit back, spinning Busch out.
NASCAR put both drivers on probation. Don't be real. Image is everything.
The spark of rivalry was doused, and Busch's onslaught of winning sputtered and died in the fall … just as this season, Edwards is winless and Johnson has won but twice, so the bedrock element of rivalry hasn't been sustained.
Even as we speak, there is one seed of rivalry: the humble oldster Mark Martin, age 50, and the brash youngster Busch, age 24, lead the league in wins with three each. But it will never bud, let alone blossom.
They're not running close enough together at the ends of races. And Busch hasn't thrown any of his patented verbal barbs at Martin. Even if he did, do you think we'd get anything stronger than "I was young once myself" from Martin?
You get the occasional flare-up, Edwards tussling with Kevin Harvick or Jimmy Spencer punching Kurt Busch. But those are only feuds, not rivalries, and they're extinguished right away.
Sponsors. Officials. Obsession with parity and "family sport." I've said for years they ought to rename the league, so that the acronym stands for "National Association for Squeaky Clean Auto Racing."
Which, they ought to know by now, doesn't sell.
Drama sells. And drama cannot arise without conflict.
If only they'd paid attention to their high school literature teachers, NASCAR moguls might never have drifted into this woeful misunderstanding of human nature.
To illustrate the kind of drama that can grab and hold the NASCAR public's attention, for months and even years, here are my top five rivalries in NASCAR history, in countdown order.
[+] Enlarge

Focus on Sport/Getty ImagesWatching the 3 and the 24 run side-by-side on a regular basis was good for NASCAR.

5. Dale Earnhardt versus Jeff Gordon, 1993-2001. It was the Intimidator versus Wonder Boy, and Earnhardt's constant public riding of the kid polarized the fan base clearly. The only flaw was that rarely did they go head-to-head for wins on the track. The two most memorable times they did, in the Daytona 500s of 1997 and '99, the kid outdueled the tough guy.

4. Bill Elliott versus Darrell Waltrip, 1985. Elliott won the most races, 11, but Waltrip won the championship, crowing all season that the point system was unfair to Elliott -- tough luck -- and doing impromptu impersonations of Elliott's mountain-boy persona. Elliott was the bashful country boy, adored from the grandstands, while Waltrip was the cavalier mouth. Down the stretch toward the championship, Waltrip's car owner, Junior Johnson, produced T-shirts that read, "Elliott's a-chokin'."
3. Bobby Allison versus Richard Petty, 1967-71. They banged fenders across America for years, so that it got to the point that one would rather wreck the other than win the race, and their crews even fought. In modern-day NASCAR, this one wouldn't have been allowed to last a month, let alone four years.
2. Richard Petty versus David Pearson, 1961-79. For two drivers standing out and polarizing the crowds at the finishes of races, this was the masterpiece. They finished 1-2 an amazing 63 times, with Pearson coming out on top 33-30. But they rarely argued or bad-mouthed each other, so by and large it was a friendly rivalry.
1. Dale Earnhardt versus Darrell Waltrip, 1979-89. This one had it all. Waltrip started it in Earnhardt's rookie year, '79, mouthing that "with Earnhardt, every lap is a controlled crash." From there, Earnhardt's bitterness was always evident. They won, they beat on each other's fenders, they ripped each other in public.

Waltrip would jaw about how Earnhardt and his crewmen couldn't read. He cracked that in the point system, "You ought to get 10 bonus points for taking Earnhardt out" of any race. Earnhardt would say Waltrip was skittish about running the superspeedways: "Everybody knows Darrell don't like to run that fast."

It all came to a head at Richmond, Va., in 1986, when Waltrip tried to pass Earnhardt for the win, and Earnhardt stuffed Waltrip head-on into the third-turn fence, wrecking them both. Waltrip came walking back through the infield white as a sheet, and car owner Junior Johnson called it "no different than if [Earnhardt] had put a loaded gun to Darrell's head and pulled the trigger."

Nearby, Earnhardt leaned against his car and clucked, "Helluva show, wasn't it?"

Waltrip never had the same fire after that, and the rivalry burned out. The last flicker was the 1989 Daytona 500, when Waltrip held on to win on fuel mileage, after Earnhardt had to pit for gas.
Gordon has said publicly for years -- and he and Dale Earnhardt Jr. have discussed it -- that a rivalry between Gordon and Junior would be the best thing possible for NASCAR.
But it hasn't happened, what with Gordon's fading from the pinnacle and Junior's never quite getting there.
And so NASCAR slogs on, with a glimmer of rivalry here and there that always flickers out so that we grasp at straws.
Lately I've been criticized for writing about Busch's light barbs at Junior, and even that Tony Stewart might be threatening Junior for No. 1 in merchandise sales, by some measures.
Silly me. I keep searching for a heartbeat in NASCAR.
Nowadays, that requires an awfully sensitive stethoscope.
Ed Hinton is a senior writer for ESPN.com. He can be reached at edward.t.hinton@espn3.com.
SPONSORED HEADLINES
MORE RACING HEADLINES
MOST SENT STORIES ON ESPN.COM