Commentary
Finally, Petty back in the hunt
Updated:
September 11, 2009, 2:40 AM ET
By
Ed Hinton
| ESPN.com
It's good to see the old boy on the scent again.
Richard Petty hasn't so much as sniffed a championship on the wind since his seventh and last one as a driver, in 1979. Now he has a chance again -- not a great chance, but a chance.
He's close to making the hunt he's never made before, the Chase.
He senses it. You can tell as he speaks again of "circumstances," his favorite word for the fatalism that has ruled his career and his life, through the triumphs and the tragedies.
Listen.
"No matter how good you run or how bad, circumstances are beyond anybody's control. Circumstances fell our way on that last caution flag, and that put us in a position for the pit crew to do their job and the driver to do his job."
He happened to be speaking in the wee hours of Labor Day, after his top driver at Richard Petty Motorsports, Kasey Kahne, had sprinted away from Kevin Harvick and Juan Pablo Montoya in the final 10 laps to win at Atlanta and leap from 11th to sixth in the points standing with one more regular-season race to go, bringing the old King to the brink of the newfangled hunt, NASCAR's playoffs.
[+] Enlarge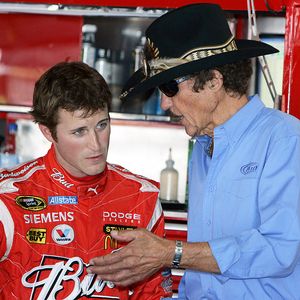 AP Photo/Rick HavnerKasey Kahne, left, gives Richard Petty his first shot at a championship -- albeit a long shot -- since 1979.
But he as easily could have been speaking in 1967, after one of his record 27 wins that season, or '75, after one of his modern-era-record 13 wins (tied by Jeff Gordon in 1998).
"How many times," I asked him rhetorically when he stopped by to talk, with his shirt still wet from the spewed beer in Victory Lane, "have I heard you say in the press box after you won, 'Circumstances just fell our way today'?"
As of yore, he launched into his lecture that avoided all the other words -- the breaks, the luck, the fate -- that reward preparation and effort, but if and only if they all fall together as "circumstances."
I laughed a little, mainly from nostalgia, but for the umpteenth time down through the decades, he sensed I wasn't taking "circumstances" seriously, and he pleaded again, telling me one more time, "There's only so much you can do."
"That's not what I mean," I said. "I mean that when you start saying 'circumstances,' I start paying attention."
Kahne is by no means the favorite to win the title this year. He has to finish 21st or better Saturday night at Richmond just to make the hunt, the playoffs.
Stacked above him in the standings are the Chase-seasoned Tony Stewart, Gordon, Jimmie Johnson, Denny Hamlin and Carl Edwards.
But Kahne's Atlanta victory hints at some promise, because it came on an intermediate-sized track -- the type that accounts for five of the 10 Chase races and that has been his career strong suit.
"Anybody that has the last part of the season good," Petty said, "has a chance to win the championship.
"This is a good start of the last part of the season."
The old demeanor is back, the nearly serene resignation to the supremacy of circumstances. This isn't his first time as a long shot, perceived as long over the hill. It was much that way in 1979, when the fiery, flamboyant young Darrell Waltrip tore a swath through the first half of the season and then stumbled, faltered, was scented by the old King -- indeed on Labor Day weekend, when Waltrip carelessly crashed while dominating at Darlington -- and the autumn hunt began.
"Before you know it, Richard Petty is breathing down our neck," Waltrip recalled not long ago as if it were yesterday. "And he ends up winning the championship by 11 points."
That was the last time Petty hunted. You can't count 1992, when his son, Kyle, entered the season finale with a distant shot at the championship. Kyle finished fifth in the dogfight won by Alan Kulwicki that day, and anyway was driving for another team, owned by Felix Sabates. Richard had no part in it.
Maybe you question the part the King will play in this hunt, if he makes it, for he is largely the figurehead of otherwise-struggling Richard Petty Motorsports, which is of course a merger of the struggling Gillett Evernham Motorsports with the desperate Petty Enterprises.
But the King already has played enormously in this ongoing effort, just by persevering, enduring, staying as long as he has, through three decades with no peaks, mostly valleys, even chasms.
The Petty name seemed poised to rise again at the dawn of this millennium as his grandson Adam Petty beamed with promise, even looked and walked like the lanky King himself. The dynasty was snuffed with Adam's death from a crash at New Hampshire in 2000.
Out at Kyle's horse farm on the afternoon of Adam's memorial, Richard Petty did not attribute the tragedy to circumstances -- "It's written in the book," he said, in the old religious connotation, the book of life and who shall live it and who shall die, the book of fate.
In the King's eyes, tragedy is meant to be. Triumph is the good fortune of circumstances, and you should be humbled by your success.
It was a litany of yore, as each of the 200 wins came, one by one. He would come up to the press box, take the microphone and begin: "Course we was real fortunate to win. … Circumstances just fell our way today …"
Should the long-shot Kahne come in, then no one, ever, will have earned a Cup more than Richard Petty has, these past three decades since last he hoisted one.
Ed Hinton is a senior writer for ESPN.com. He can be reached at edward.t.hinton@espn3.com.
SPONSORED HEADLINES
MORE RACING HEADLINES
MOST SENT STORIES ON ESPN.COM