Commentary
Johnson wills his team to finish
Updated:
November 9, 2009, 2:05 PM ET
By
Ed Hinton
| ESPN.com
FORT WORTH, Texas -- You want to know how championships are won, not lost? How dynasties are built? How blink-of-an-eye disasters can be largely salvaged?
How Jimmie Johnson, the individual, the person, will deserve four championships in a row if he wins this one, which he probably still will?
Here's how:
You don't quit, won't quit, even when your coach is telling you to. You keep your whole team going on your own sheer will.
Johnson would not obey the man his detractors say is handing Johnson guided missiles and is all but driving the No. 48 -- the brilliant, ice-nerved, calculating crew chief Chad Knaus, the guy who never quits but was about to this time.
"At one point, Chad told me to hop out of the car -- he says, 'It's done; we're gonna have to put it on the truck.'"
That was just minutes into their 1-hour, 8-minute stay in the garage, after Johnson had been crashed out less than three laps into Sunday's Dickies 500 by the dueling mistakes of Sam Hornish Jr. and David Reutimann.
Chase Standings

The Chase looks a whole lot different after Jimmie Johnson's wreck on Lap 3 at Texas Motor Speedway. His lead has been cut dramatically with two races left in this season.
| | Driver | Points | Behind |
| --- | --- | --- | --- |
| 1. | Jimmie Johnson | 6297 | -- |
| 2. | Mark Martin | 6224 | 73 |
| 3. | Jeff Gordon | 6185 | 112 |
| 4. | Kurt Busch | 6126 | 171 |
| 5. | Tony Stewart | 6119 | 178 |
| 6. | Juan Pablo Montoya | 6061 | 236 |
| 7. | Greg Biffle | 6050 | 247 |
| 8. | Denny Hamlin | 5975 | 322 |
| 9. | Ryan Newman | 5973 | 324 |
| 10. | Kasey Kahne | 5898 | 324 |
| 11. | Carl Edwards | 5857 | 440 |
| 12. | Brian Vickers | 5777 | 520 |
Knaus' pronouncement of the car as DOA in the garage was understandable, in that the 48 was a serious mess, front and back -- "The sway bar had been slammed shut," Johnson said of Knaus's diagnosis. "Everything was twisted up so bad he wasn't sure we'd be able to get it back straight and be able to hang suspension on it."
Told to get out, Johnson just couldn't bring himself to do so.
"I didn't want to hop out and let the crew guys think it was done," Johnson said. "I was going to stay in it until they pushed it up on the ramp [into the transporter].
"I wanted them to keep working on it, find a way to get it on the track."
From there the 48 team's crewmen never hesitated, never showed so much as a frown or any other display of dismay on their faces, as they turned from diagnostics to massive reconstructive surgery with cutting torches, hammers, patches and replacement parts.
Predicated on Johnson's refusal to quit, the 48 team returned to the track, ran to the finish, wound up 38th and salvaged 15 precious points -- just how precious won't be clear until the NASCAR finale at Homestead-Miami on Nov. 21, but remember that Johnson lost the inaugural Chase by only eight points in 2004.
Yes, his lead over teammate Mark Martin was lacerated by 111 points, from 184 coming into Texas to 73 leaving.
But "It's a nice points lead," Johnson maintained after the race, in a somewhat chipper mood for a man who'd been through such a race-long ordeal. "It's not as bad as it could have been."
Johnson is now unlikely to snuff all the suspense in the Chase by clinching next week at Phoenix. He'd have to gain 122 points on Martin there, which is as unlikely as -- well, as unlikely as it was that Martin would gain 111 on Johnson here.
So Johnson still has to be favored to win the Sprint Cup, with Martin his only realistic threat. Another Hendrick Motorsports teammate, Jeff Gordon, now trails by 112 points, and Sunday's race winner, Kurt Busch, is 171 back.
To assure himself of four-peating, Johnson needs an average fourth-place finish at Phoenix and Homestead, regardless what his pursuers do.
The 48 team undertook and completed a more massive repair job than most teams face after they've crashed out early. They essentially rebuilt the car except for the driver compartment and the engine. They went about it with the precision, the urgency and yet the cool calculation of a crack surgical team in a trauma center.
[+] Enlarge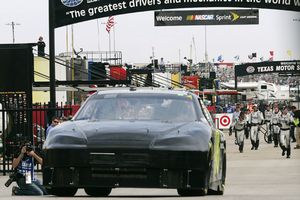 AP Photo/Ralph LauerWith the 48 crew in tow, Jimmie Johnson drives his rebuilt Chevrolet from the garage to the racetrack.
From the time Johnson nursed the devastated car into the garage stall until he backed out and returned to the track, by my count crewmen stumbled over each other exactly once -- once in 68 minutes of frantic duty by more than a dozen people, all told -- and that was just a minor bump that didn't cost more than half a second.
It was such clockwork that Knaus himself barked out very few orders -- mainly he would walk around the car again and again, somewhat in the manner of a golfer lining up a putt, and every time Knaus saw something that needed doing he would begin doing it himself -- with a mallet or a piece of sheet metal or a patch -- until a crewman would pick up the task in midstream without so much as a word being uttered.
Sitting in that seat, all that time, as the car went up and down and up again on jacks and jack stands, Johnson "was just trying to play through my mind what I could have done differently at the start of that race," to avoid getting smacked into the wall by Hornish, who appeared to be sent swerving by a nudge from Reutimann.
"I don't think I could have done anything different -- 77 [Hornish] lost it," Johnson said, though he acknowledged he hadn't reviewed the video of the way the wreck started.
"I wish he could have waited a few more laps before he lost control of his car," he said of Hornish. "I think he did [a] second time [Hornish did wreck again later]."
Hornish claimed mitigating circumstances: "I got hit by the 00 [Reutimann]," he said, "and was trying to catch it and then got into Jimmie. I feel bad for him because I didn't want to take him out. I was doing everything I could just to try and keep the car moving forward."
But Hornish did indicate he was already in trouble before he was tapped, acknowledging, "As soon as I was correcting it … I felt myself get hit. But the time I knew that I was hit, the car was already sideways."
So maybe Johnson's charges stand as stated.
After so many hours of ordeal, from the shock of a huge points loss to the struggle and mitigation to a moderate setback, I wondered whether Johnson in the aftermath still was thinking "Ouch," or had decided things worked out decently under the circumstances.
"There's still an ouch to it," he said. "Again, this could take place at the start of the race next weekend. You just never know. That's the stuff that worries me."
Even with his 184-point lead after Talladega last week, Johnson had refused to consider himself a lock. This time, he reminded us all that "all along we've been trying to tell everybody this thing is far from over, what our mindset has been.
"Luckily we've raced for every point throughout this Chase," he said, and so Sunday in its way was no different than the other playoff races for the 48 team.
"We still have a decent points lead right now," he acknowledged. "We need to dust ourselves off, head to Phoenix, get a good one in the bank there."
In circumstances other than his usual ones, Jimmie Johnson never let up Sunday in his rush to four-peat.
It's just that getting crashed out made his quest a little more interesting heading to the wire.
Ed Hinton is a senior writer for ESPN.com. He can be reached at edward.t.hinton@espn3.com.
SPONSORED HEADLINES
MORE RACING HEADLINES
MOST SENT STORIES ON ESPN.COM