Commentary
Bowyer still left wondering
Updated:
November 19, 2010, 3:21 PM ET
By
Ed Hinton
| ESPN.com
HOMESTEAD, Fla. -- You'll pardon Clint Bowyer if he can't help thinking of what might have been.
Just to see him is to feel for him here, now.
[+] Enlarge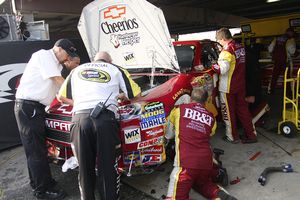 AP Photo/Russ Hamilton Jr.Clint Bowyer's car failed inspection after winning at New Hamphsire and the face of the Chase instantly changed.
He might have been in the thick of this Chase, might be joining in the mind games and smack talk with the three contenders … had not NASCAR knocked him flat so soon out of the gate of the playoffs.
Ah! You say. Stop crying for Bowyer. Even if he hadn't been docked 150 points for an illegal car after winning the Chase opener, he'd still be a woeful 284 points out of the lead at this point.
Not necessarily.
That's only what the math shows.
It's more that he's now 434 points behind, 11th in the Chase field of 12, because the penalty knocked him and his team for a loop, sent them into a free fall, changed their mindset, changed the way they raced.
"Not only was it a 150-point hit, it was devastating to the momentum, your mojo," Bowyer said Friday. "Everything that happens [after] something like that happens, it takes the wind out of your sails big-time.
"You lost your crew chief [Shane Wilson, to suspension as part of the penalty] for four weeks that ultimately led to us losing our over-the-wall pit crew."
He'd fallen so far behind by Martinsville, four races ago, that his crew was reassigned to his championship-contending teammate at Richard Childress Racing, Kevin Harvick.
"That was our ace in the hole, all season long," Bowyer said of the crew that had originally worked for Harvick, but had been given to Bowyer this season to help his Chase chances.
All in all, "There are so many things [other] than just 150 points that we lost," Bowyer said. "The two weeks after that, we ran terrible [25th at Dover, and an especially disheartening 15th at his home track, Kansas Speedway].
"Our focus wasn't there; we didn't have our eye on the ball. Our focus was distracted, and we ran poorly because of that."
What might have been?
"You never know where you can be, but I can promise you we would be a lot farther ahead than we are," Bowyer said. "We'd have been somewhere in the top five."
But now, rather than joining Harvick and second-place Jimmie Johnson in the unprecedented and relentless needling of leader Denny Hamlin, here sits Bowyer in 11th place, hoping only to beat Kurt Busch, whom he trails by five points, to make the top 10 and at least get a seat at the head table for the NASCAR awards banquet at Las Vegas in December.
"It is just a frustrating end to a pretty good season," Bowyer said.
"A lot of the things we were able to accomplish, winning two races [he won a second Chase race at Talladega on Oct. 31, beating Harvick by a blink of NASCAR's electronic scoring system] … were all good things. But when you're sitting here at Homestead, you want to be competing and have a shot at the championship."
"Certainly feel bad for Clint," said Jeff Burton, the third RCR teammate, the one worse off than Bowyer in the standings -- Burton is 12th, last -- but without the agony over what might have been. Burton simply has been on a steady, slippery slope of bad luck through the playoffs.
"That whole thing was obviously a difficult chapter in his career," Burton said. "I do really feel bad for Clint and his entire team -- really, everybody at RCR for us being 11th and 12th.
"We've got one that's contending for the championship," Burton continued, "and we've got the other two that are 11th and 12th. That's not the kind of balance we need. We don't need to pull the 29 [Harvick] down, we need to raise the other two."
As the cellar dweller, Burton realizes it might sound "stupid to say, because numbers are numbers, but I don't feel like we're a 12th-place team. I feel like we're better than that, which is really what's frustrating …"
Harvick, aside from merrily mixing it up verbally with Hamlin and Johnson, acknowledged he has some sympathy for his two teammates mired at the bottom -- "obviously, the way the 33's [Bowyer's] Chase got started, where they had to deal with some controversy," Harvick said. "The 31 [Burton] has run great and just had a lot of crashes and things go wrong."
Harvick has run well, steadily all season. "Those guys have run just as good," he said, "but they haven't had the results at the end of the days to make it happen. It's been kind of a different year for everybody [at RCR] from different ends of the spectrum."
And now, with much being made of the mindsets of Hamlin (nervously confident), Johnson (dry-ice cool) and Harvick (devil-may-care), "I guess," said Bowyer, "the mindset for me is, one more. Finally. It has definitely been an up-and-down season."
Ed Hinton is a senior writer for ESPN.com. He can be reached at edward.t.hinton@espn.com.
THE END OF THE ROAD

The 2010 Sprint Cup season came down to three drivers -- Denny Hamlin, Jimmie Johnson and Kevin Harvick -- with a shot at the championship trophy. Only one was left standing at Homestead-Miami Speedway.

Columns
•
Hinton: Six in a row for Johnson?
•
Blount: Hamlin falls short
•
Newton: Harvick serves notice
•
Hinton: Sunday should be fun
•
Newton: Chase for Cup too close to call
•
Blount: Sunset dreams at Homestead
•
Newton: Are Chase changes needed?
•
Hinton: Bowyer still left wondering
•
Hinton: Johnson's back to the wall
•
Blount: Harvick channeling his inner-E
•
Newton: Hamlin one cool customer
•
Blount: Is Hamlin jinxed?
•
Newton: Hamlin's crew chief ready to roll
•
Newton: Chase drama trumps Edwards' win
Racing Live!
•
Homestead on ESPN.com: Rewind
Blogs
•
Smith: A candid conversation with Hamlin
•
McGee: Trash talk is good
•
Willis: Is it Kevin Harvick's turn?
•
Newton: Owners kick-start Homestead week
•
Willis: Does Hamlin have confidence?
Practice, qualifying and news
•
JJ qualifies ahead of Harvick, Hamlin
•
Earnhardt unsure crew chief change needed
•
Denny Hamlin car at fuel disadvantage
•
NASCAR open to Chase changes
More weekend coverage
•
Edwards wins; Johnson rolls to title
|
Results
•
Kyle Busch takes Nationwide finale
•
Kyle Busch rolls in Trucks race
•
Danica's Double 2010: End of the line
NASCAR Video
•
Homestead highlights
•
Jimmie Johnson celebrates again
•
Hard to swallow for Denny Hamlin
•
Sprint Cup qualifying
•
Have at it boys remix
•
Denny Hamlin's long road back
•
Hamlin's crew chief Ford ready
•
NASCAR Now: Is the pressure off JJ?
•
SportsCenter: Tricky for contenders
•
The Final Chase: Kevin Harvick
•
The Final Chase: Denny Hamlin
•
The Final Chase: Jimmie Johnson
•
EA Track Preview: Homestead
•
Tale of the tape
Podcasts
•
Jayski: Ford 400 preview
•
Rusty Wallace on Mike & Mike
•
Denny Hamlin with Doug Gottlieb
•
Jimmie Johnson on Mike & Mike
•
Jayski: Jimmie, Denny and Kevin
•
Jayski: Around the sport
Chats and wraps
•
Sunday: Garrow on fantasy, 9:30 a.m. ET
•
Thursday: Ed Hinton wrap
•
Wednesday: Terry Blount wrap
•
Tuesday: David Newton wrap
•
Monday: Ryan McGee wrap