Commentary
We're in for a fun ride
Updated:
November 21, 2010, 9:34 AM ET
By
Ed Hinton
| ESPN.com
HOMESTEAD, Fla. -- There'll be no riding around to a championship this time. No conservative setups in the cars, no tiptoeing through traffic to a title-clinching umpteenth-place finish.
This time, there'll be three championship contenders all going all-out to win Sunday's final race of the Chase.
"Without a doubt," said Jimmie Johnson, who hasn't had to do that before in the finales to his four straight championships.
"From listening, that seems to be everybody's plan," Kevin Harvick said. "I think that's the only way you can control your destiny is to go out and win the race."
[+] Enlarge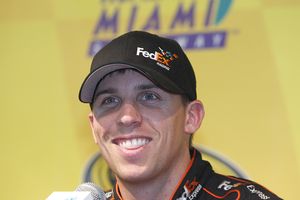 AP Photo/Wilfredo LeeDenny Hamlin is saying the right things as the finale looms.
For all the mathematical scenarios as to how leader Denny Hamlin could be knocked out of the championship, "If we win the race, it's a moot point," said Hamlin, who leads Johnson by 15 points and Harvick by 46.
Sunday's Ford 400 at Homestead-Miami Speedway (1:15 p.m. ET, ESPN) promises to be the best NASCAR season finale since the first year of the Chase, 2004, when Johnson and Kurt Busch battled to the last lap and Busch won the title by only eight points.
Busch didn't win the race, but had then-teammate Greg Biffle to win and keep Johnson at bay with a second-place finish.
Busch now is relegated to the role of expert observer, having fallen back early in this Chase. But he senses a kind of urgency not felt since '04.
"The atmosphere that the Chase was supposed to be all about is going on right here, unfolding in front of us," Busch said. "In 2004, it was a storybook of how you write the Chase. And so these guys are definitely feeling the pressure."
Two of the three -- Johnson and Harvick -- have been exuding cool all weekend, smirking, saying they're just fine and sleeping great, and that all the heat is on Hamlin with the championship his to lose.
Yeah, well … "Those three guys are worrying themselves to death," Busch said.
"Those guys are racing each other heads-up," Busch continued, "and Harvick has nothing to lose because he can't finish worse than third in points. It's interesting to see the three of them going at it."
So maybe this time we'll be able to watch a championship run unfold on the racetrack, up front -- rather than staring at the scoring monitors all afternoon to see which contender is running seventh, or 11th, or 18th, and what those safely played scenarios would mean in the points.
If two, or all three, contenders are up front at the end, how rough might things get?
"I know what my approach will be," Harvick said, with a mischievous little smile that implied a lot about going for broke. "You do whatever's best for your team to try to win a championship. That's whatever it takes."
"At this point, the dreams of winning a championship that we all have, you'll do anything you can to win," Johnson said. But he stopped short of predicting a sheet-metal brawl.
"I know you want to hear it," he told one media gathering: "'If the 11 [Hamlin] is in front of me, we're coming to the line, I'm going to dump his ass.'" But, he quickly added, "You can't say."
On the starting grid, Johnson is in by far the best position -- he'll start sixth -- to go to the front early.
Hamlin has the worst starting spot of the three, 37th, and Harvick will have to work traffic precariously too, starting 28th.
But, "I think that by the end of the day, you'll see the same guys up front," Hamlin said.
"I'm not sure of the aggressive nature. I don't know how much more aggressive you could be [than the recent races of the Chase, where he has gone all-out] without just really putting yourself at a huge risk of wrecking or getting in an incident on a restart.
"There's a limit there," Hamlin continued. "We can all say that we're going to be more aggressive, but we're really pushing it to the edge every single week. There's not much more to get except for possibly restarts."
Restarts … hmmm … some interesting possibilities for bedlam there, with the double-file fury that has become common … maybe late in the race.
What about a season championship being decided on one slam-bang scramble with, say, 30 laps to go? Or 20? Or 10?
Or the ultimate scenario, if fights to the finish are what you want: A championship decided on a green-white-checkered restart … or maybe even the maximum third green-white-checkered.
Would that be close enough for you?
Regardless of how it ends up, this will be a finale unlike any since '04: one in which no championship contender can ride around.
Ed Hinton is a senior writer for ESPN.com. He can be reached at edward.t.hinton@espn.com.
THE END OF THE ROAD

The 2010 Sprint Cup season came down to three drivers -- Denny Hamlin, Jimmie Johnson and Kevin Harvick -- with a shot at the championship trophy. Only one was left standing at Homestead-Miami Speedway.

Columns
•
Hinton: Six in a row for Johnson?
•
Blount: Hamlin falls short
•
Newton: Harvick serves notice
•
Hinton: Sunday should be fun
•
Newton: Chase for Cup too close to call
•
Blount: Sunset dreams at Homestead
•
Newton: Are Chase changes needed?
•
Hinton: Bowyer still left wondering
•
Hinton: Johnson's back to the wall
•
Blount: Harvick channeling his inner-E
•
Newton: Hamlin one cool customer
•
Blount: Is Hamlin jinxed?
•
Newton: Hamlin's crew chief ready to roll
•
Newton: Chase drama trumps Edwards' win
Racing Live!
•
Homestead on ESPN.com: Rewind
Blogs
•
Smith: A candid conversation with Hamlin
•
McGee: Trash talk is good
•
Willis: Is it Kevin Harvick's turn?
•
Newton: Owners kick-start Homestead week
•
Willis: Does Hamlin have confidence?
Practice, qualifying and news
•
JJ qualifies ahead of Harvick, Hamlin
•
Earnhardt unsure crew chief change needed
•
Denny Hamlin car at fuel disadvantage
•
NASCAR open to Chase changes
More weekend coverage
•
Edwards wins; Johnson rolls to title
|
Results
•
Kyle Busch takes Nationwide finale
•
Kyle Busch rolls in Trucks race
•
Danica's Double 2010: End of the line
NASCAR Video
•
Homestead highlights
•
Jimmie Johnson celebrates again
•
Hard to swallow for Denny Hamlin
•
Sprint Cup qualifying
•
Have at it boys remix
•
Denny Hamlin's long road back
•
Hamlin's crew chief Ford ready
•
NASCAR Now: Is the pressure off JJ?
•
SportsCenter: Tricky for contenders
•
The Final Chase: Kevin Harvick
•
The Final Chase: Denny Hamlin
•
The Final Chase: Jimmie Johnson
•
EA Track Preview: Homestead
•
Tale of the tape
Podcasts
•
Jayski: Ford 400 preview
•
Rusty Wallace on Mike & Mike
•
Denny Hamlin with Doug Gottlieb
•
Jimmie Johnson on Mike & Mike
•
Jayski: Jimmie, Denny and Kevin
•
Jayski: Around the sport
Chats and wraps
•
Sunday: Garrow on fantasy, 9:30 a.m. ET
•
Thursday: Ed Hinton wrap
•
Wednesday: Terry Blount wrap
•
Tuesday: David Newton wrap
•
Monday: Ryan McGee wrap
MOST SENT STORIES ON ESPN.COM