Commentary
Johnson couldn't be stopped ... again
Updated:
November 21, 2010, 11:50 PM ET
By
Ed Hinton
| ESPN.com
HOMESTEAD, Fla. -- Five championships and counting, and there is no end in sight to Jimmie Johnson's years upon years of onslaught.
"The 2010 season ended two hours ago," his crew chief, Chad Knaus, said after the fireworks and hoopla had died down. "And 2011 started two hours ago.
"And we've started preparations at Hendrick Motorsports for next year, and we're working full force to make sure we take a better product to the racetrack next year."
The clockwork continues, just as it picked up through Sunday's season-ending Ford 400, after a few weeks of missed beats here and there.
And yet, just as you'd think Johnson would have gotten all jaded and blasé about this stuff, well, in the moments after he finished second to Carl Edwards in the race to seal the five-peat, Johnson …
[+] Enlarge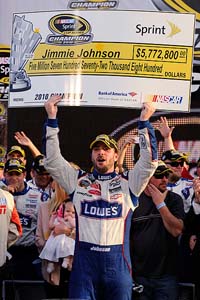 John Harrelson/Getty ImagesIt was a big payday for Jimmie Johnson at Homestead-Miami Speedway on Sunday.
Howled.
And screamed.
And shrieked.
All joy, all elation, all euphoria -- all primal.
That's all there was coming over his radio channel, before he bothered with words.
This one, he said two hours later -- while Knaus was already pondering 2011 -- was even sweeter than their first Cup, in 2006.
"I've always told you guys the first championship was the one that meant the most to me," Johnson said to assembled media.
"This one, I think, takes the lead. The circumstances, the fact that the other teams were more competitive. We were stronger, I think, in the previous two Chases, and maybe all four [we had won]."
He had come into this finale trailing Denny Hamlin by 15 points, with Kevin Harvick hovering in third as the dark horse.
But as soon as the green flag dropped, the NASCAR computers showed Johnson in the points lead, because he started sixth with Harvick 28th and Hamlin 37th.
So immediately, Johnson was 103 points ahead of Hamlin and 76 ahead of Harvick at the start. The 48 team was where it's used to being: in control.
That would vary and grow tighter as the race wore on, but only briefly in midrace did the computers show Johnson lower than first. And that was after one of two bad pit stops by his crew had dropped him to 13th.
But his second-place finish, compared with Harvick's third and Hamlin's 14th, left Johnson finally ahead of Hamlin by 39 points and Harvick by 41 to end the season.
Thus the overwhelming question: If Hamlin and Harvick, Johnson's closest competitors in his five magnificent years, couldn't beat him this time … then who can … and when?
The only glimmer of resistance to Johnson's six-peating, seven-peating, whatever, was offered by Edwards after he dominated and won his second straight race to end the season.
"Five championships in a row -- that's unreal," Edwards said. "But the way we're going here, if we can start like this, our team will have a shot at him next year."
Edwards' strong finish and high hopes sniffed of déjà vu from 2008, when Edwards won this race and finished second to Johnson in the points, and was immediately anointed as the favorite to dethrone Johnson in '09.
But between that '08 win and last Sunday at Phoenix, Edwards went 70 races and nearly two years with nary a Cup victory.
So what makes this glimpse of 2011 different from then?
"I feel a lot better now, going into 2011, than I did going into 2009," Edwards said. "That's because I feel like we [at Roush Fenway Racing] have a lot of momentum, things are getting better, we have a new [Ford] engine that we're working on.
"That's the best performance I've had in a long time, today."
Of making him the favorite again to break Johnson's streak next year, Edwards was more than half sincere as he cracked, "Oh, please don't do that."
With the Hendrick dynamo already rolling for '11, does Edwards feel the Roush resurgence will be enough to overtake the usual progress by the 48 team next season?
"I think that's a question everybody's going to ask themselves when they go home: 'How do we beat those guys?'" Edwards said. "I believe our [upward] slope is a little steeper than theirs right now. The question is, can we keep it going?
"Because, on average, they've just been better than everyone else. They've proven that. We've been better at times. Other people have been better at times."
Edwards was better last week, winning at Phoenix. Hamlin had been better the week before, winning at Texas.
But on average Sunday, the 48 team was better after Hamlin began the race with a car that was "unbelievably fast in the beginning," before he tangled with Greg Biffle on only the 24th lap, spun, and damaged the front of his car.
"We did our best to try to repair it, but it just wasn't as fast as before," Hamlin said.
At one time Harvick was better than Johnson. Harvick's crew got him out of the pits in first place with 78 laps left in the race, but Harvick was immediately penalized for speeding in the pits, dropped back to 29th and had to fight his way back through the field.
At one point in Harvick's frantic comeback, he tangled with Kyle Busch and sent Busch slamming into the wall so hard that Busch's car caught fire.
"We went down swinging," Harvick said. "And that's what we came here to do, was to go as fast as we could and do everything we had to do to try to win."
But on average, as always for lo, these past five seasons, the 48 was better.
And even with the glimmer from Edwards, there is no real end in sight.
Ed Hinton is a senior writer for ESPN.com. He can be reached at edward.t.hinton@espn.com.
SPONSORED HEADLINES
MORE RACING HEADLINES
MOST SENT STORIES ON ESPN.COM
THE END OF THE ROAD

The 2010 Sprint Cup season came down to three drivers -- Denny Hamlin, Jimmie Johnson and Kevin Harvick -- with a shot at the championship trophy. Only one was left standing at Homestead-Miami Speedway.

Columns
•
Hinton: Six in a row for Johnson?
•
Blount: Hamlin falls short
•
Newton: Harvick serves notice
•
Hinton: Sunday should be fun
•
Newton: Chase for Cup too close to call
•
Blount: Sunset dreams at Homestead
•
Newton: Are Chase changes needed?
•
Hinton: Bowyer still left wondering
•
Hinton: Johnson's back to the wall
•
Blount: Harvick channeling his inner-E
•
Newton: Hamlin one cool customer
•
Blount: Is Hamlin jinxed?
•
Newton: Hamlin's crew chief ready to roll
•
Newton: Chase drama trumps Edwards' win
Racing Live!
•
Homestead on ESPN.com: Rewind
Blogs
•
Smith: A candid conversation with Hamlin
•
McGee: Trash talk is good
•
Willis: Is it Kevin Harvick's turn?
•
Newton: Owners kick-start Homestead week
•
Willis: Does Hamlin have confidence?
Practice, qualifying and news
•
JJ qualifies ahead of Harvick, Hamlin
•
Earnhardt unsure crew chief change needed
•
Denny Hamlin car at fuel disadvantage
•
NASCAR open to Chase changes
More weekend coverage
•
Edwards wins; Johnson rolls to title
|
Results
•
Kyle Busch takes Nationwide finale
•
Kyle Busch rolls in Trucks race
•
Danica's Double 2010: End of the line
NASCAR Video
•
Homestead highlights
•
Jimmie Johnson celebrates again
•
Hard to swallow for Denny Hamlin
•
Sprint Cup qualifying
•
Have at it boys remix
•
Denny Hamlin's long road back
•
Hamlin's crew chief Ford ready
•
NASCAR Now: Is the pressure off JJ?
•
SportsCenter: Tricky for contenders
•
The Final Chase: Kevin Harvick
•
The Final Chase: Denny Hamlin
•
The Final Chase: Jimmie Johnson
•
EA Track Preview: Homestead
•
Tale of the tape
Podcasts
•
Jayski: Ford 400 preview
•
Rusty Wallace on Mike & Mike
•
Denny Hamlin with Doug Gottlieb
•
Jimmie Johnson on Mike & Mike
•
Jayski: Jimmie, Denny and Kevin
•
Jayski: Around the sport
Chats and wraps
•
Sunday: Garrow on fantasy, 9:30 a.m. ET
•
Thursday: Ed Hinton wrap
•
Wednesday: Terry Blount wrap
•
Tuesday: David Newton wrap
•
Monday: Ryan McGee wrap