Commentary
Brickyard winners not just paying lip service with traditional postrace smooch
It's all about the milk at the Indy 500. The Allstate 400? It's all about the kiss. With apologies to Snow White, the most meaningful smooch happens this time every year at Indianapolis Motor Speedway, writes David Newton.
Updated:
July 27, 2008, 1:03 PM ET
By
David Newton
| ESPN.com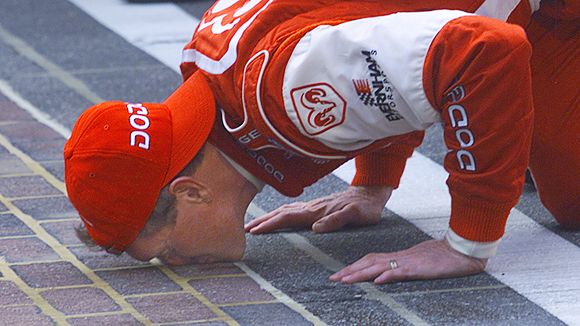 AP Photo/Frank PolichKissing the bricks had already caught on by the time Bill Elliott did it in 2002.
INDIANAPOLIS -- Todd Parrott was standing in Victory Lane at arguably the most famous racetrack in the world. Flashbulbs were blinding him and the rest of the No. 88 team as photographers documented
Dale Jarrett
's victory. He was almost in a daze as he looked across the front straightaway toward the flag stand.Then it hit him."I saw those rows of bricks and thought, 'Man, it sure would be cool to go over there and turn our hats around backwards and get a picture of us kissing the bricks,'" Jarrett's crew chief recalled. That was in 1996.Twelve years later, the 3-foot-wide row of bricks is still being smooched by the winning Sprint Cup team at Indianapolis Motor Speedway. It's become almost as big a tradition as the winner of the Indianapolis 500 drinking milk.Many 500 winners have made kissing the bricks a part of their traditions as well.
Sam Hornish
, making the transition from Indy to stock cars, laid a big one on the bricks in 2006."The kissing the bricks was a pretty cool deal," he recalled. "I just wanted to lay out there forever. I figured they'd come and scrape me up if I didn't get up eventually."One could make a case that kissing the bricks is the biggest winning tradition in NASCAR."It would have to be first on the list," Jarrett said. "There's nothing you do special for winning the Daytona 500. I know Tony [Stewart] climbs the fences and things, but they also kiss the bricks, too.
[+] Enlarge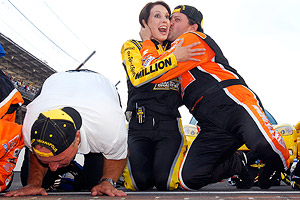 AP Photo/Tom StricklandTony Stewart figured why stop at the bricks when he won at Indy for the second time last year.
"So it has to be at the top of the list as far as what you do when you win that race."And it all began on a whim by an emotional crew chief."I had no idea that would become a tradition," said Parrott, now with the No. 38 team at Yates Racing.Nobody did for sure until
Ricky Rudd
's team got on its knees, turned the caps backward and kissed the bricks a year later. Then
Jeff Gordon
did it in '98 and Jarrett again in '99.Now the moment is as anticipated as the beginning of the race.And it never seems to get old. Gordon seemed just as excited after winning his fourth race at Indianapolis in 2004 as he did when he won the inaugural Cup event here in 1994."Let's go kiss those bricks, yeah!" he shouted over his radio as he crossed the finish line.Even those who have been skeptical of the tradition come around. Crew chief Chad Knaus swore he wouldn't kiss the Yard of Bricks if
Jimmie Johnson
ever won. He called the tradition "cheesy."But there he was in 2006, kneeling beside Johnson and the rest of the No. 48 crew, loving every minute of it."It's fun to watch other teams do it now," said Jarrett, who now serves as an analyst for ESPN.
[+] Enlarge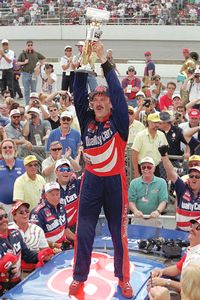 AP Photo/Tom StrattmanDale Jarrett won his first Brickyard 400 in 1996, and that celebration started atop his car. A few moments later, Jarrett and crew kicked off the brick-kissing frenzy.
It's particularly fun to watch the expressions when the participants come up with a mouthful of dirt and tire rubber. Johnson said he hadn't had so much dirt in his mouth since he was a kid fighting with his little brother.His wife, Chandra, looked like she'd just drunk a chocolate milk shake. "We were in the position right where I did a big burnout," Johnson recalled. "And we came up and our face was covered. … Just black all in her lip gloss. We were laughing pretty good about that."But it didn't stop them from taking a second dip."The first kiss we had out there you're like, 'Wow, this is dirty,'" Johnson said. "The second kiss you're like, 'I don't know if I'll ever be here again. I better enjoy this moment and enjoy the taste of this.'"So exactly what does a mouthful of brick taste like?"They tasted like brick," Parrott said. "Let me tell you something: After winning that race I didn't care what the bricks tasted like."Jarrett agreed. "It wasn't the cleanest thing, but at that point in time you didn't really care," he said. "What mattered was we were the only ones that had that opportunity."
Kevin Harvick
felt the same way after taking the checkered flag in 2003."Kissing the bricks is a cool part about winning at Indy," he said. "Those bricks are one of the oldest parts of the track, and to kneel down to kiss them is just an awesome feeling."Perhaps. But Jarrett did question his crew chief's sanity when he first suggested the kiss."I didn't know if we'd get in trouble or not," he said. "That was hallowed ground we were talking about. I wasn't too sure [track officials] would go along with it." Jarrett said it was a bit "chaotic" when the team started making its way to the bricks."They like to keep things kind of structured up there," he said. "They had their procedure on what was going to happen. When we got the whole team together you could see them start to panic at what was happening there. "Todd told them, 'Look, we're just going out to the start-finish line to kiss the bricks.'" Now the kiss is as much, or more, a part of the structure as the winner's taking a victory ride around the track. But not all of Parrott's ideas have become so popular. "When we won the Daytona 500 in 2000 I remember walking out to the infield and kissing the grass," he said. "Nobody picked up on that one."
David Newton covers NASCAR for ESPN.com. He can be reached at dnewtonespn@aol.com.
ESPN Carolina Panthers reporter
Covered Panthers, NFL for 11 years
More than 25 years experience covering NFL, college football and NASCAR
Joined ESPN in 2006
SPONSORED HEADLINES
MORE RACING HEADLINES
MOST SENT STORIES ON ESPN.COM