Commentary
Earnhardt says he's communicating the best way he knows how
Dale Earnhardt Jr. wishes he had a do-over after last week's radio-chatter tirade at New Hampshire became a controversy. Still, he says he's communicating the best way he knows how, writes David Newton.
Updated:
September 24, 2008, 2:52 PM ET
By
David Newton
| ESPN.com
DOVER, Del. -- Dale Earnhardt Jr. is surrounded by a hoard of reporters behind his No. 88 hauler on Friday at Dover International Speedway. He's so crowded there's no room to turn.
Psychology in NASCAR

What's the best route to success in a sport that can wear down the strongest minds? Hiring a sports psychologist -- and channeling a little John "Animal House" Blutarsky -- might not hurt. Inside The Hauler
• Hendrick wants gentler Dale

This is a microcosm of his life.If he's calm behind the wheel he gets called lackadaisical. If he's too fiery, he's out of control and not communicating.No room to turn."Regardless of how I act somebody is going to criticize me one way or the other," NASCAR's most popular driver said.Earnhardt spent most of this 15-minute media session talking -- and often defending -- his radio communication with crew chief Tony Eury Jr. and team owner Rick Hendrick last weekend at New Hampshire Motor Speedway.Hendrick has been monitoring his driver's radio chatter the past few weeks, hoping to bring a calming effect to a relationship with his crew chief cousin that often sounds volatile. Hendrick figures if Earnhardt can better maintain his poise he'll be able to better help Eury and the rest of his team improve the car.It all came to a head at New Hampshire when a bad set of tires took Earnhardt from a five-second lead to a deficit from which he never fully recovered. Earnhardt became so angry he talked of cutting the car in half."I need to be calmer," said Earnhardt, who finished fifth at Loudon to enter Sunday's race fourth in the standings. "If I could go back and do New Hampshire over I would have chosen my words a little more wisely and tried to sound more productive."
[+] Enlarge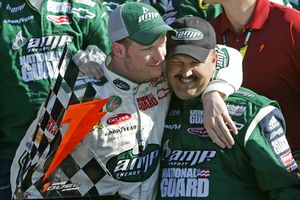 AP Photo/John RaouxDale Earnhardt Jr. and Tony Eury Jr. have already celebrated some good times this year.
At the same time Earnhardt doesn't want to change. He doesn't want people saying he's lackadaisical, as was the case a few years ago when he was being compared to his father, seven-time champion
Dale Earnhardt
. He doesn't want to lose the enthusiasm or intensity he believes helped get him into the Chase during his first season at Hendrick Motorsports."I think it's all because I'm so focused on the opportunity, and I see how good the opportunity is," Earnhardt said. "It's real easy to get frustrated when you're not realizing that potential every weekend. We're a great team that should really be in the thick of this."I don't want to be sitting there five races in, 150 points out, going, 'What the hell did we do wrong? We've got everything we need.'"As much as Earnhardt claims he understands the boss' message, as much as he knows he needs to choose his words more wisely over the radio, he insists he can't communicate any better."I only know the car as good as I know it and I'm only going to be able to explain it to them the best way I can," he said. "I feel like I do that. I don't think when I get hot I communicate worse."He says that, and then in the same breath acknowledges that when the situation gets as heated as it did at New Hamsphire, "Tony Jr. is not listening to what I'm saying and thinking about how to fix the car.""He's hearing me raise hell and wanting to raise hell back," Earnhardt said.Again, no room to turn.Eury laughed. He recalled how last year Earnhardt said he was going to open a store in Mooresville, N.C., with the only furnishing a single chair."He said he'd sit in there so if anybody had any advice on what people they needed to hire or what they needed doing, they could get it from him," Eury said with a laugh. "That's what we're dealing with."Eury said ultimately Earnhardt will listen to Hendrick because he respects him too much not to. He welcomes Hendrick's involvement."Rick just looks at it as the other two [
Jimmie Johnson
and
Jeff Gordon
] don't need help," Eury said. "He's seen we've kind of struggled when Dale Jr. loses a little and he's just trying to keep things calm."For the record, Earnhardt hasn't seen the sports psychologist who routinely works with Hendrick drivers."Nah, I haven't," Earnhardt said with a laugh. "But I could probably teach him a thing or two." Translated, Earnhardt and Eury Jr. have a fiery relationship that isn't about to change no matter how much Hendrick intervenes."I don't really want to change because I don't want to lose my enthusiasm and I don't want it to matter less," Earnhardt said. "I want it to matter as much as it matters to me. If that means it's going to get me excited when things don't go right, then I need to get in better control of that."I want Rick's input on exactly what he thinks I'm doing every day I'm on the job. Even some of the things that I choose to do in my personal life I want his opinion on it because I trust him that much. I believe what he says. I wouldn't argue with him."


I don't really want to change because I don't want to lose my enthusiasm and I don't want it to matter less. I want it to matter as much as it matters to me. If that means it's going to get me excited when things don't go right, then I need to get in better control of that.

-- Dale Earnhardt Jr.
He just doesn't think the relationship with Eury needs a face-lift. He insists it's better than ever."We were really immature back in the day," he said, referring to a few years ago when they went their separate ways at Dale Earnhardt Inc. to see if the grass was greener. "We were a lot worse, a lot more stupid about it when we were just starting out. Stupid. We would be spiteful back and forth."Now they get frustrated, more for the situation than at each other."There's a whole lot less FUs and that sort of stuff going back and forth these days," Earnhardt said.As much as Hendrick might want Earnhardt and Eury to have a relationship similar to that of two-time defending Cup champion Johnson and his crew chief, Chad Knaus, it's not likely to happen. "They have a professional relationship strictly," Earnhardt said. "They're not family, so there's a lot of cheerleading and lifting each other up. Where me and Tony Jr. are family. I expect him to be the best every weekend and he expects the same of me. Those expectations are too high."Earnhardt has no room to turn with the relationship. It is what it is and if people don't like it, then too bad."I think Rick likes being in the middle of it because it's fun," Earnhardt said. "I don't know of any other driver on the track that doesn't get hot under the collar. I don't do it every race. I've had some real good ones y'all missed apparently, because last week's wasn't my best."
David Newton covers NASCAR for ESPN.com. He can be reached at dnewtonespn@aol.com.
ESPN Carolina Panthers reporter
Covered Panthers, NFL for 11 years
More than 25 years experience covering NFL, college football and NASCAR
Joined ESPN in 2006
SPONSORED HEADLINES
MORE RACING HEADLINES
MOST SENT STORIES ON ESPN.COM