Commentary
Yellow-line rule would have wiped out greatest finish in NASCAR history
Imagine if NASCAR had enforced the yellow-line rule during the 1976 Daytona 500. One of the most exciting finishes in Cup history would have been ... history, writes David Newton.
Updated:
October 11, 2008, 5:06 PM ET
By
David Newton
| ESPN.com
CHARLOTTE, N.C. -- Suppose for a moment that in 1976 NASCAR had a yellow-line rule like the one that took a victory from rookie
Regan Smith
on Sunday and gave it to
Tony Stewart
at Talladega Superspeedway.Suppose the governing body didn't allow cars to pass below the yellow line back then. Period, as officials like to say now.The greatest finish in NASCAR history never would have happened.Let's refresh.
David Pearson
passed
Richard Petty
coming off the final turn of the Daytona 500, but before he could completely clear the seven-time champion, Petty clipped his rear end and both went spinning into the infield.Petty slid the farthest, coming to a stop in the grass only 25 yards from the finish line. Unfortunately for him, he couldn't restart his famous blue No. 43 until after Pearson limped through the grass and passed him below where the yellow line is today to take the checkered flag.Fortunately, nobody screamed foul."Neither one of us would have [won] because we both went below the yellow line," Petty said Friday as he made the 1967 Plymouth in which he won a record 36 races the first exhibit donation to the NASCAR Hall of Fame that will open in 2010.
[+] Enlarge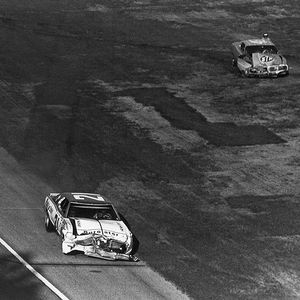 AP PhotoDavid Pearson limps across the finish line to win the 1976 Daytona 500 as Richard Petty can only watch. The two drivers tangled heading for the finish line.
"We were on pit road, man. At that time they said, 'You can win the race on pit road if you are the first one to that start-finish line. We don't care if you're in the infield, on pit road -- if you get there first, you don't have to be on the racetrack.'"OK, so maybe NASCAR would have allowed that win because the wreck started above the yellow line. Maybe NASCAR would have said Petty forced Pearson below the line.Whatever, the sport's all-time wins leader (200) believes it should be the same way today."Once they throw that white flag, man, all hell should break loose," he said. "They should just say, 'OK, whatever it takes. If you've got to knock the guy out of the deal, if you've got to [go] through the infield to get him, whatever.' That's what it's all about, man."He's right. If NASCAR wants to bring back the traditional fan, as chairman Brian France said was the mission at the start of this season, then it should bring back some of the traditional rules -- or lack thereof -- that made the sport great.That doesn't mean the governing body should throw caution out the window and put drivers' lives in danger. But it does mean an outcome shouldn't be decided because it is the judgment of officials that a driver was or was not forced below a line. "If I was running the show I would have said, 'Last lap, anything goes. If you have to go through the infield, go for it,'" Petty said. "Again, I'm not making the rules." For those who liked racing the way it was, the Hall will afford them the opportunity to relive those moments.
Bobby Allison
,
Donnie Allison
,
Ned Jarrett
and several other all-time greats were on hand with Petty for Friday's ceremony.

Once they throw that white flag, man, all hell should break loose. They should just say, 'OK, whatever it takes. If you've got to knock the guy out of the deal, if you've got to [go] through the infield to get him, whatever.' That's what it's all about, man.
-- Richard Petty
They relived many of the good ol' days that will be featured through interactive exhibits and videos. Bobby Allison talked about the 1979 Daytona 500 finish that ended with Petty in Victory Lane and him exchanging fisticuffs with
Cale Yarborough
in the infield grass like it was yesterday. "I'm afraid I questioned his ancestry," Allison said of Yarborough, who accused Bobby of starting a wreck that ended his chances of winning when it actually was brother Donnie. "And Cale went to beating on my fist with his nose."That's my story and I'm sticking with it."Allison and Pearson laughed about the amount of attention the physical exchange between
Carl Edwards
and
Kevin Harvick
received Thursday at Lowe's Motor Speedway."This used to happen every week," Petty said. "Ten, 15, 20 years ago nobody paid any attention to it. Now, NASCAR has tried to clean up stuff so much this is a big deal. Fifteen years ago they could have got in a fight and nobody would have paid no attention to it. "They could have rolled around in the infield and just another day. Times have changed. Everybody looks at things different."Bobby Allison says confrontations are a part of what humanized the sport and made it so popular. "I'm proud of both of them," he said of Harvick and Edwards for not hiding their emotions. "If you've got something you want to say, don't walk around and let it boil and boil. Go ahead and say it. "The only thing I strongly suggest is both of them, Harvick and Edwards, listen to what the other guy says. They may not like it more or less. At least if I'm going to put my 2 cents out there the other guy is entitled to his 2 cents' worth, too."Maybe one day Harvick and Edwards will be as friendly to each other as Petty and Allison, at one time two of the fiercest rivals in the sport, were Friday. Maybe one day NASCAR will allow passing below the yellow line again and great finishes won't be so controversial.Thank goodness they allowed it in 1976. "NASCAR," Bobby Allison said, "can do a lot of things different than they are doing now."
David Newton covers NASCAR for ESPN.com. He can be reached at dnewtonespn@aol.com.
ESPN Carolina Panthers reporter
Covered Panthers, NFL for 11 years
More than 25 years experience covering NFL, college football and NASCAR
Joined ESPN in 2006
SPONSORED HEADLINES
MORE RACING HEADLINES
MOST SENT STORIES ON ESPN.COM