Commentary
Don't bet on it? Vegas has spoken, and JJ will be your champion
Jimmie Johnson is the Sprint Cup champion. OK, it hasn't actually happened yet, but Las Vegas oddsmakers are so confident, they've taken the championship proposition off the board, writes David Newton.
Updated:
November 5, 2008, 6:23 PM ET
By
David Newton
| ESPN.com
LAS VEGAS -- Casinos along the Las Vegas strip are full of people putting hard-earned dollars on the NFL, the NBA and college football. You can bet on what the halftime score will be in Sunday's NFL game between the New York Giants and the Philadelphia Eagles. Or how many first downs No. 1 Alabama will have against No. 16 LSU in Saturday's Southeastern Conference showdown.
NASCAR?As far as Vegas is concerned, go ahead and crown
Jimmie Johnson
for the third straight year. Oddsmakers have taken the championship chase off the board, saying the odds of anyone other than the driver of the No. 48 winning are too astronomical. They did this even though
Carl Edwards
trimmed Johnson's lead from 183 to 106 with his victory Sunday at Texas Motor Speedway to remain mathematically within striking distance with two races remaining.But the only math that matters here is statistics, and they show this race is over."There's not that much interest when somebody checks out like that," says Fred Crespi, who sets the odds for The Palm. "There's more interest for the first 26 races than the last 10."In other words, Johnson has taken the fun out of gambling on NASCAR. "For the Sprint Cup, he has," says Jay Rood, who sets the odds for properties of The Mirage. "We're not offering anything on the championship. I would rather have it [off the board] than have it up there where you have to lay 10 dollars down to make a dollar on Johnson and you're giving crazy odds on drivers that have no shot at winning it."You're not giving the public a fair shake by doing that."This isn't right. Just like gamblers treat the Super Bowl, the Final Four or any other sports finale like it is Christmas, this should be a time those who like to toss money around on NASCAR relish.Perhaps that was what
Dale Earnhardt Jr.
was alluding to this past weekend when he talked about how much better the NFL is at creating drama."I hate to keep using them as examples, but they do the best job," NASCAR's most popular driver says. "They give you just enough to keep wanting more. The season ends before you want it to. You get just enough to keep you excited, then it's all over."
What Were The Odds?
These are the odds the MGM Mirage posted for the 2008 Sprint Cup championship when they opened betting (Dec. 4, 2007) and and again before the Chase began (Sept. 14, 2008). All bets on the championship are now off the board.
The NASCAR season, particularly this one, is like a New Orleans jazz funeral -- a slow march toward the inevitable."It's a pretty foregone conclusion," says Micah Roberts, who sets odds for properties under Palace Station Casino. "Johnson would have to wreck or finish 35th or worse to have the last race have a huge impact."In case you're wondering, there are no odds on whether Johnson or anybody else will crash over the final two races. That really has never been an option because a driver can wreck, repair his car and get back on the track, so the official box score won't say "crashed."But had this race been tight, there could have been a lot of other fun stuff -- props, they call them here, as I learned through extensive research during a pit stop on the way to this weekend's race at Phoenix -- on which to wager. Like the number of cautions, the number of laps led by the winner or even which drivers will be sent home."[In 2003], when
Terry Labonte
was using provisional starts every time out to get in the field, I had a proposition bed on whether he would use a provisional for the Vegas race," Roberts says. "Anything you can have a statistic on, we throw down."Except for now. About the only wagers left are who will win at Phoenix and Nov. 16 at Homestead-Miami Speedway."It's totally in reverse from other sports," Crespi says. "Even if there is interest, there's not enough of a good value interest out there for players or fans to put a side wager on their favorite driver -- or even Jimmie."If Johnson doesn't win, it will be a monster, monster upset."For the record, Vegas predicted Johnson would win the title before the season. Roberts had him as a 4-1 favorite, followed by
Jeff Gordon
at 9-2, and
Matt Kenseth
and Earnhardt at 8-1.Yes, Junior Nation came out in droves, predicting their driver would win the title in his first season at Hendrick Motorsports."Junior should have been closer to 20-1," Roberts says. "Because he has so many people betting, odds get decreased."Those who put money on
Greg Biffle
in January had to be feeling pretty good after he won the first two Chase races at New Hampshire and Dover to climb into contention. His odds were set at 35-1 way back then, which still makes him the best long shot (he's in third place, 143 back).
Kyle Busch
opened at 22-1, but his odds dropped after he dominated the first 26 races with a series-high eight wins. Now that he's in 10th place, 428 points back, the opening odds look pretty right on.Edwards also would have been a good bet at 15-1.Unfortunately for NASCAR, there's not a good bet the next two weeks. "It's a unique sport where Johnson can basically lock everybody out before he gets to the final game," Rood says. "In any other sport, you still have to show up and play the final game. You may not win and may not get the crown.
[+] Enlarge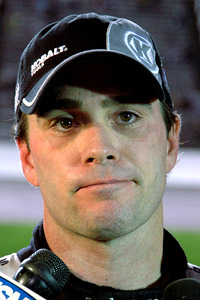 AP Photo/Randy HoltJimmie Johnson took all the fun out of the Chase for Las Vegas oddsmakers, but he probably doesn't mind that.
"He could lock it up this week and may not have to race in the final race to win."So if you want to bet on something besides the winner in NASCAR, turn to the Nationwide Series, where oddsmakers believe Edwards still can make up 91 points on
Clint Bowyer
."Oh, that's great," says Bowyer, in Vegas for the Specialty Equipment Marketing Association Show. As for the Cup race, where Bowyer is in sixth place, he only hopes to crack the top five."As for the gambling aspect of it … Jimmie is spoiling a little bit of the fun for everybody," he says with a laugh.So how does NASCAR fix this? It could start eliminating a car or two after each Chase race and have a winner-take-all showdown between two to four drivers in the final race.Maybe then there would be side bets, such as whether
Michael Waltrip
will hit the wall more times than Shaquille O'Neal blocks a shot on the same day."That would be more exciting than seeing a guy that has to log some laps to lock it up in the final race," Rood says. "NASCAR is kind of backwards. Daytona is the biggest event they have all year. The first couple of weeks leading to Daytona, we're putting up all kinds of different props and odds such as, will a guy qualify, where he will qualify and all of that jazz."Then after that, it's sort of business as usual."
David Newton covers NASCAR for ESPN.com. He can be reached at dnewtonespn@aol.com.
ESPN Carolina Panthers reporter
Covered Panthers, NFL for 11 years
More than 25 years experience covering NFL, college football and NASCAR
Joined ESPN in 2006
SPONSORED HEADLINES
MORE RACING HEADLINES
MOST SENT STORIES ON ESPN.COM