Commentary
Sorry, Carl and Kyle -- JJ is NASCAR's driver of the year, hands down
Three straight Cup titles trump anything Carl Edwards and Kyle Busch have accomplished in 2008. Driver of the year? David Newton says it's gotta be Jimmie Johnson -- period.
Updated:
November 12, 2008, 4:12 PM ET
By
David Newton
| ESPN.com
CHARLOTTE, N.C. -- Let's put an end to this ridiculous debate now.
Jimmie Johnson
is NASCAR's driver of the year. Period. Unless, of course, he somehow blows his 141-point lead to
Carl Edwards
in Sunday's Sprint Cup finale at Homestead-Miami Speedway and Edwards wins the championship.Then Edwards would be the driver of the year.But since Johnson has a better chance of being eaten by an alligator in the Florida Everglades than losing his cushion -- he only has to finish 36th, and he's finished worse than that just once all year -- he's the only choice. Many will argue the honor should go to
Kyle Busch
, who has 21 victories between the Cup, Nationwide and Truck series. But to count any statistics outside of Cup would be like counting numbers racked up by a major leaguer while rehabbing in the minor leagues.This award should be about who had the best season in the top series, not what he does in the junior varsity games.The fact that Busch is 11th in the Cup standings doesn't help his case, either. This award should be based on the entire work of art, not just the first 26 strokes of the brush.Still, Busch is getting a lot of votes."Kyle Busch would be my choice,"
Jeff Burton
said. "When you say 'driver,' I look at a broader scope and what he's done in all three series. Ultimately, I just think Kyle has done a remarkable job this year even though he's not going to win a championship.
[+] Enlarge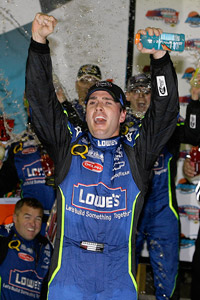 AP Photo/Paul ConnorsSure, Carl Edwards and Kyle Busch deserve consideration for driver of the year, but a three-peat performance by Jimmie Johnson, above, trumps all.
"He walked into a new situation, a situation that hadn't really had success for a while, and immediately that car started winning and running in the front. And everything he's sat in this year has run fast, so to me, that would be who I would award it to."
Denny Hamlin
, Busch's teammate at Joe Gibbs Racing, agrees."I think Kyle without a doubt," he said. "He's performed for three-quarters of the season or more to a higher level than anyone. It's just the last 10 races he's had some problems."Hmm. Last time anybody looked, the last 10 races count.During that span, Busch has no wins and four finishes of 28th or worse, and has led only 40 laps.Case closed. He's eliminated.Moving on, two-time Cup champion
Tony Stewart
would have you believe
David Ragan
deserves the award "for his growth." Stewart makes a lot of points that would make Ragan a great candidate for most improved driver. He did jump from 23rd to 13th in points in only his second full season.But driver of the year? Ragan has no wins, six top-5s and 14 top-10s, and has led only 27 laps. Saying he had the best season makes about as much sense as saying Stewart looks good with long hair.That would be like naming
Joe Nemechek
the top driver in 2005 (when Stewart won his second title), because he got the most out of inferior equipment.Still, Stewart makes his case."He's probably demonstrated the most growth and patience of any of the young drivers out there," he said of Ragan. "If you have to pick off of performance, you have to throw three guys in that category -- and that's Jimmie, Kyle and Carl."Of course you have to throw in performance. That's what the sport is all about. If it weren't, Stewart would be happy with the subpar season he's had -- and he's most definitely not.
Inside the numbers
A statistical breakdown of the leading candidates for driver of the year:
Leaders of the pack

| | | | | |
| --- | --- | --- | --- | --- |
| Driver | Wins | Top 5 | Top 10 | Laps led |
| Jimmie Johnson | 7 | 15 | 22 | 1,953 |
| Carl Edwards | 8 | 18 | 26 | 1,125 |
| Kyle Busch | 8 | 17 | 21 | 1,673 |
Based on performance, Edwards makes the strongest case outside of Johnson. His eight wins are tied with Busch for the most in the series. He has more top-5s (18) and top-10s (26) than anybody, and he's second in points."It's between Carl, Kyle and Jimmie,"
Kasey Kahne
said. "You can look at everything they each have done this year and make a case for each of them. Personally, the guy who seems just to make it happen -- and he lost some points earlier in the year -- Carl has been driver of the year."
Greg Biffle
, who is third in points, admits Edwards has had a "great season." But asked to pick the driver of the year, he replied, "Oh, I'd pick myself."Yes, he was joking.To name anybody but Johnson at this point is a joke. Sunday's victory at Phoenix was his seventh of the season and third in the Chase. He has led by far more laps than any driver, with 1,953, and his 22 top-10s are second only to Edwards. And, oh, he's going to win his third straight championship, something only one other driver (
Cale Yarborough
, 1976 to '78) in the history of the sport has done. If there's a tiebreaker between him and Edwards, that's it.Johnson's problem when it comes to getting accolades is everybody expects him to do well. It's like Dean Smith not being named the Atlantic Coast Conference coach of the year from 1980 to 1988 even though he won five conference titles and a national title during that span.People often don't like giving awards to those who seemingly have it all. But this isn't a popularity vote. If it were,
Dale Earnhardt Jr.
would be the driver of the year every year. This is a vote on who had the best overall season. This is a vote that rewards excellence.It doesn't get more excellent than three straight titles.So the debate is closed. Johnson is the driver of the year.Period.
David Newton covers NASCAR for ESPN.com. He can be reached at dnewtonespn@aol.com.
ESPN Carolina Panthers reporter
Covered Panthers, NFL for 11 years
More than 25 years experience covering NFL, college football and NASCAR
Joined ESPN in 2006
SPONSORED HEADLINES
MORE RACING HEADLINES
MOST SENT STORIES ON ESPN.COM