Commentary
Maybe there is an offseason in NASCAR
Actual downtime for Sprint Cup teams? The testing ban NASCAR implemented late last season means more family time in the offseason for drivers and crew members, writes David Newton.
Updated:
January 9, 2009, 1:35 PM ET
By
David Newton
| ESPN.com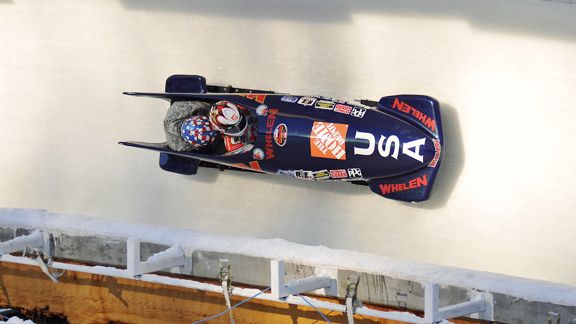 AP Photo/Lou ReuterHow did Sprint Cup rookie Joey Logano spend his downtime? He and brakeman Kenneth Stout took second place Sunday at the Bodine Bobsled Challenge in Lake Placid, N.Y.
CHARLOTTE, N.C. -- Gil Martin will be in the stands at LP Field in Nashville, Tenn., with his 13-year-old son for Saturday's AFC divisional playoff game between his hometown Titans and the Baltimore Ravens. The weather forecast is for cold showers with the potential for snow flurries.Brrrrrr!!!"A long ways from Daytona Beach," Martin says with a laugh.Yes, a very long way. Martin will be at the game instead of Daytona International Speedway, where the forecast is for sunny and 77, because late last season the governing powers ruled there would be no testing at NASCAR-sanctioned tracks to help Sprint Cup teams save money in these tough economic times. So instead of spending the weeks leading up to Christmas and the ensuing weeks preparing cars for January testing trips to Daytona, Las Vegas and California, those who weren't among the 700 or so laid off have found other ways to spend their time. "I'd rather be in Daytona where it's warm, but since that can't happen, we're going to make hay out of sunshine," Martin says.Some good things are coming out of this no-test rule. Team members are spending more time with their families and feeling less guilty for it. Greg Zipadelli, who will begin his first season with rookie
Joey Logano
after a 10-year run with
Tony Stewart
, recently took his son to his first NBA basketball game in Charlotte. He also took the entire family to New York last week for a snowmobiling trip.
[+] Enlarge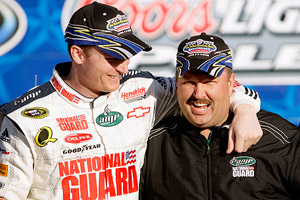 AP Photo/Matt SlocumTony Eury Jr., right, spent his off time chilling in Hawaii and hunting in Missouri.
"Normally I would be, 'Ah, we can't do that,' " Zipadelli says. "I relaxed and enjoyed my week of Christmas more because I didn't feel guilty we should have been working to get ready for the Daytona test."Tony Eury Jr.,
Dale Earnhardt Jr
.'s crew chief, spent a week in Hawaii last month, and last week went hunting in Missouri.
Mark Martin
, who will drive the No. 5 car at Hendrick Motorsports this season, on Monday opened his home to "CMT Cribs" to tape a show scheduled to air before the Daytona 500.So not everybody has been in such a panic to get things done as Petty Enterprises and Gillett Evernham Motorsports, which on Thursday announced they were merging into a four-car team. Or Stewart-Haas Racing, where employees of the newly formed company are still busy getting to know each other.Or the new Earnhardt-Ganassi Racing team that still is trying to figure out who is in charge of what division."It's just quite a bit different than it has been in the past," says Larry Carter, who moved from being
Jamie McMurray
's crew chief at Roush Fenway Racing to
Paul Menard
's crew chief at Yates Racing. "There's not a sense of urgency. "The season will come like it always comes. It'll just be delayed a little bit."Zipadelli agrees."It feels completely different," he says. "We're talking about Daytona, when in the past you'd be testing right now and then come home and [working] for two weeks trying to figure out what you need."Now you're just guessing."But just because there's no testing and the economy has forced cutbacks doesn't mean teams are sitting on their hands looking for things to do. Many are taking the opportunity to focus on details that normally might fall through the cracks."We're actually doing a little more planning and trying to calculate what we're going to do and be more precise in what we're doing and doing things the way they ought to be done," Carter says.Zipadelli understands. "I feel like I'm just catching up," he says. "You're doing all the things you were supposed to do last year, going through the stack of files that didn't get sorted through or the details you wanted. Just getting your desk cleaned off.

There's not a sense of urgency. The season will come like it always comes. It'll just be delayed a little bit.
-- Larry Carter
"There's been plenty to do. There's no bored moments."But almost everybody -- particularly guys like Gil Martin, Zipadelli and Carter who will be working with new drivers -- would rather be testing. All the wind tunnel and seven-post tests and simulations orchestrated by beefed-up engineering staffs can't replace actual on-the-track experience. "I wish I was testing and worrying about the shop when I was on the road," Zipadelli says. "I don't know if it's the easiest, but it's certainly the quickest and best way to go learn things, especially with a new driver."Since that can't happen, teams are adjusting. Gil Martin is spending as much time as possible with Casey Mears, who went to Richard Childress Racing from HMS. "Not just Casey and myself, but Casey and the whole team," Martin says. "We go to lunch a lot as a group."Martin even has plans to attend the upcoming Rolex 24 Hours of Daytona even though the cars and conditions are nothing like the Cup Series."We just want to go down and listen to what's going on, be with him and be there to support him," Martin says. "That's going to be as important as anything now: the chemistry of the team. Everybody is going to have to have a lot of confidence in each other showing up at the track."Martin wouldn't have thought twice about going to the endurance race in the past."It's not something I'm actually interested in," he says. "But I am interested in seeing Casey gets everything he needs."Zipadelli hasn't gone to that extreme. He worked some with Logano testing Cup cars and in the Nationwide Series last season and feels he has a pretty good understanding for what the 18-year-old phenom needs.Zipadelli is spending a lot more time getting all three cars at Joe Gibbs Racing more alike than they were last season, when crew chiefs were throwing things against the wall to get them suited for their individual driver.He has also moved around people on his road crew, hoping to improve performance."We're getting back to some basics a little bit," Zipadelli says. "A, because Joey doesn't have the experience Tony did. B, I need to be able to have a feel and understanding of what we have and where we're going."Until we get to some of the tracks we have to race at and see how he responds to things, that's what we need. To me, a lot of it's going to be wait and see and hopefully we can react as we go."Carter is taking a similar approach, double- and triple-checking data collected by the Roush and Yates teams last season to see if anything was overlooked."There have been some things in the past where we've said, 'Man, I wish I had a little more time to do that,' " he says. "Now we actually have a little more time to do it. We sent some stuff back through the system to get changes made that we might not have been able to do in the past."Everybody is just taking more time with their cars and making sure their cars are prepared as best as we can."And for the larger teams, spending hasn't been cut as dramatically as one might think. Money that was allocated for tires and testing a year ago has been reallocated to engineering and other things."If you have a sponsor and your sponsor spends $10 million, you figure out where you're going to spend it," Carter says. In some ways, the responsibility of the crew chief has changed without testing, at least for this time of the year."Before we knew we had a plan, we were going to Daytona to test and we had all this we had to do," Martin says. "Now the job is to make sure everybody doesn't get complacent and is really geared up and focused on the right direction."Make sure, whether it's brakes or aerodynamics or engineering, they carry their job to the next level … a level we've probably never carried it before."Crew chiefs also must be cheerleaders more than ever before. Most of the people around them have friends looking for jobs, or were worried about losing their own jobs. It has tempered the excitement and energy one normally sees this time of the year."It's almost a little depressing," Carter says. "There are guys coming in here every day looking for work and there's just not any jobs out there. That's not good when we're still trying to focus on what we have to do with the racing. "It's definitely different that it's been in a while."And it likely won't change until everybody's back at the track, where the focus will return to racing. "Guys are like, 'Time to go to the racetrack yet?' 'Nah.' 'Time to go to the racetrack yet?' 'Nah,' " Carter says. "Everybody is starting to get a little stir-crazy, and that will probably set in more over the next couple of weeks."
David Newton covers NASCAR for ESPN.com. He can be reached at dnewtonespn@aol.com.
ESPN Carolina Panthers reporter
Covered Panthers, NFL for 11 years
More than 25 years experience covering NFL, college football and NASCAR
Joined ESPN in 2006
MOST SENT STORIES ON ESPN.COM