Commentary
Did Stewart cross line with tire blowup?
Updated:
February 20, 2009, 12:56 PM ET
By
David Newton
| ESPN.com
DAYTONA BEACH, Fla. -- Everybody who follows the Sprint Cup Series knew there would come a time this season when the volatile temperament that occasionally flares in Tony Stewart the driver would overrule the lovable "how can I help you?" personality of Tony Stewart the owner.
Everybody knew there would come a time when the two-time Cup champion would unleash a tirade, be damned with how the sponsors and other supporters he now has a bigger stake in might take it.
But before the first race? That's what happened Saturday at Daytona International Speedway when Stewart and new teammate Ryan Newman lost both of their cars in the final practice before the Daytona 500.
Both drivers blamed Goodyear for the blown right-rear tire that started the two-car accident, saying the manufacturer supplied a poor product. Stewart was the angrier of the two, saying, "Don't bring them [Goodyear officials] anywhere near me. Don't let them come close. I don't want anything to do with them."
He then called a reporter -- no, not this one, not this time -- who asked if the tires were safe a "f------ idiot."
"We'll talk about that when we get home," said Bobby Hutchens, the director of competition at Stewart-Haas Racing, before Sunday's race. "You can't do that. That's where being an owner and a driver you've got to have some kind of line in the sand there, and you've got to figure out what that is.
[+] Enlarge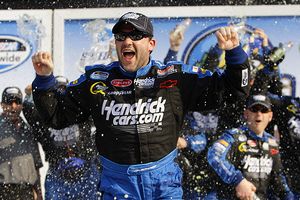 AP Photo/John RaouxSpeedweeks wasn't a total loss for Tony Stewart, who won Saturday night's Nationwide Series race in a Hendrick Motorsports car.
"We'll work on that with him. He was upset like everybody was."
That moment aside, it was a great debut for the owner/driver of Stewart-Haas Racing. He finished eighth in the 500 and likely would have contended for the win had rain not shortened the race by 48 laps. He was second in his 150-mile qualifier and third in the Budweiser Shootout, and also won the Nationwide Series race in a Hendrick Motorsports car.
But as an owner, can he really afford to have any aside? Can he really afford to bash Goodyear -- which, by the way, insisted the blowout was the result of a puncture and not wear -- a company that puts so much money into the sport?
The opinions are mixed. Some say Stewart gets a pass as a driver/owner because of the emotions one faces while behind the wheel. Others say it's refreshing to hear an owner voice exactly what he's thinking without worrying about consequences. Others say Stewart had better tone it down.
One thing is certain: You never would hear Rick Hendrick, Joe Gibbs, Jack Roush, Richard Childress or arguably any other owner in the garage react so harshly so quickly in that situation.
They likely would have taken their complaint to Goodyear or NASCAR. They may have met behind closed doors and never voiced an opinion.
That doesn't mean owners shouldn't speak their mind or that it's not all right for them to lose their cool. Jack Roush was quite dramatic in his complaint that NASCAR unfairly punished Carl Edwards this past season when it was discovered that a loose lid to the oil tank gave him a competitive advantage at Las Vegas.
He went so far as to bring the offending piece to a press conference the following week at Atlanta to show how a "malfunction" might occur.
He also used a reference to the Japanese bombing Pearl Harbor when it was announced the foreign manufacturer Toyota would join the Cup Series.
But he never raised his voice nor spoke as though he needed an anger-management class. And you seldom if ever hear owners bashing a series partner or sponsor, particularly during an economic crisis when partners and sponsors are so hard to come by.
"I never would," said Felix Sabates, a minority owner of Earnhardt Ganassi Racing. "If you've got a company like Goodyear that tries its damnedest to be fair to NASCAR, I would not want to piss them off. Tony has been doing this for years as a driver, but he'd better start wearing his car owner's hat."
Sabates loves Stewart's attitude as a driver. It reminds him of how he was many years ago -- feisty.
It's hard not to like that side of the man nicknamed "Smoke."
"But when you're a car owner you have to be careful what you say," Sabates said. "You don't only hurt your team, you hurt everybody else around you. He should act as a car owner and reserve his comments.
"He'll learn. I know one thing, NASCAR needs Goodyear. NASCAR don't need Tony Stewart."
Robby Gordon agreed. He's been through enough similar situations as a driver/owner to know the owner side of you has to respond differently than the driver side.
"

He should act as a car owner and reserve his comments. He'll learn. I know one thing, NASCAR needs Goodyear. NASCAR don't need Tony Stewart.

"

-- Felix Sabates
Case in point: Two years ago in the Nationwide Series race at Montreal, Gordon spun out leader Marcos Ambrose and was ordered off the track by NASCAR. He refused, completing the final two laps and then celebrating with burnouts as though he'd won.
He remained contrite about the matter during a postrace powwow with the governing body. He was suspended for the following Cup race at Pocono.
There have been other moments as a driver/owner that Gordon wishes "I didn't say" what he said.
"That'll come with time for Tony," he said. "I'm sure next week we'll see another apology to Goodyear like we always do. It'll be, what, the fifth time? He'll learn with time."
There have been no apologies from Stewart as there were none last year when he said the Atlanta tire was the worst he'd competed on and that Goodyear didn't have enough talent to correct the problem. There's been no word from Stewart, period, other than his weekly release.
"I've learned my lesson," Gordon said. "I would have thought Tony would not have said that. … I was watching. I was curious to see what he was going to say. He's a brave one."
Gibbs, Stewart's boss the past 10 years, laughed when asked about Stewart's behavior.
"I don't have to worry about that now," he said. "I couldn't stop him when he was with us."
But Gibbs did have to sit Stewart down a time or two and set him straight. And at least once he made the driver apologize to his primary sponsor, Home Depot, which had concerns about the behavior.
"From an ownership standpoint, you've got a lot of lives that count on your decision," JGR president J.D. Gibbs said. "That'll weigh on him. In the future, he'll be a lot more thoughtful by how he reacts."
For the record, there has been no reaction from Stewart's new sponsor, Office Depot, over the matter. NASCAR officials were OK with it as well.
"All people have different personalities and they deal with situations differently," said Robin Pemberton, NASCAR's vice president of competition. "It doesn't make it good or bad. Tony was upset. He tore up a quarter of a million dollars worth of race cars. It's OK to vent.
"They can be critical if they thought they had a tire that went down and they felt it didn't need to go down for any reasons. They all lose their tempers from time to time."
The difference is most lose it behind closed doors. Stewart, because he's vulnerable climbing out of a car, doesn't always have that luxury.
"The difference in an owner and a driver, when he gets out of that car, he's still a driver," Childress said. "He's thinking more about what just happened to it. An hour or two later, you would probably say something about what his feelings are, but it may be different.
"I did a lot of that, too, say the wrong thing at the wrong time. Then after I think about it I'll say, 'S---, why did I say it like that?'"
Childress learned from experience. He admittedly is more cautious with his words as an owner than he was as a driver/owner in the 1970s and early '80s.
"I will never forget one night I had Billy McGinnis in a car and I was driving the other car," he said. "It was the first time I put somebody in my car and they wrecked at Atlanta. I went over and grabbed [then-NASCAR CEO] Bill France Jr. by the tie, telling him he should have called that race a lot earlier.
"So it happens."
And it likely will happen to Stewart a few more times as well. It could happen this weekend at California. But in time, most agree, he'll learn.
Or do we really want him to?
"I would never do what he did, but I'm not a two-time champion and a guy that is wheeling it, so that puts it in a little different perspective," said Doug Yates, the soft-spoken co-owner of Yates Racing. "It was his first [race] on the job as a team owner.
"Will he adjust as he goes? Maybe, maybe not. It's kind of nice to hear people have candor every once in a while."
David Newton covers NASCAR for ESPN.com. He can be reached at dnewtonespn@aol.com.
ESPN Carolina Panthers reporter
Covered Panthers, NFL for 11 years
More than 25 years experience covering NFL, college football and NASCAR
Joined ESPN in 2006
SPONSORED HEADLINES
MORE RACING HEADLINES
MOST SENT STORIES ON ESPN.COM