Commentary
Gant happy to see Martin thriving
Updated:
April 24, 2009, 10:21 PM ET
By
David Newton
| ESPN.com
CHARLOTTE, N.C. -- Harry Gant's head was numb Wednesday. He didn't have time to talk, having just pulled up to the hospital near his farm in Taylorsville, N.C., for a second opinion on the lick he had taken four days earlier to what many would describe as a very hard head.
A few hours later, he returned the call and explained he had six stitches removed from a gash above his eye suffered Saturday when he was floored by a cherry picker, otherwise known as an engine hoist.
"They said it jarred up the nerves in the eyebrow that runs right back across the head when that bar hit me," said Gant, 69, recalling what happened while he moved the engine from a Chevrolet Suburban into a trailer. "I ain't never had that big of a lick in a car wreck.
"I'm telling you, it was like somebody electrocuted you for about three or four minutes before I could see."
It didn't keep Gant down for long. Nothing does.
By that night, he was fit enough to see Mark Martin win at Phoenix International Raceway, a victory that made Martin, at 50 years and 89 days old, the third-oldest driver to win a Sprint Cup event.
Gant, by the way, holds the record. He was 52 years and 219 days old when he won at Michigan in 1992 in the No. 33 Skoal Bandit car he made famous.
"I've been pulling for him all the time," Gant said. "I knowed he was going to win sooner or later. He's going to win more, too. Age ain't got nothing to do with it."
[+] Enlarge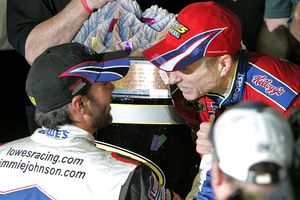 AP Photo/Jason BabyakMark Martin, right, received congratulations in Victory Lane from many drivers Saturday, including teammate Jimmie Johnson. Harry Gant, still the oldest driver to win a Cup race at 52, was sitting at home and just as proud of Martin, 50.
Actually, age has everything to do with it. It had been 16 years -- Morgan Shepherd at Atlanta in 1993 -- since a driver 50 or older had won a race. Only Gant, Shepherd and Bobby Allison, who won the 1988 Daytona 500 at age 50, had won a race at that age.
It was a common belief that somebody old enough to get an AARP card didn't have the physical skills or mental toughness to compete with the so-called young guns.
Look at the facts. Richard Petty, NASCAR's winningest driver with 200 victories, didn't win in eight full seasons past age 47. He had only two top-10s in his final four seasons.
David Pearson, second on the win chart with 105, won his last race at 45. Allison won five times after 45. Three-time champion Darrell Waltrip went winless eight seasons after his last win at 45. He had only six top-10s in four seasons after turning 50.
Martin has four top-10s and a win in the past four races and likely would have more through the first eight events if not for blown engines at Las Vegas and California.
So what Martin did at Phoenix was all about age.
Or better yet, it was about fitness.
Nobody knows that more than Gant, who set NASCAR's standard for 50-year-olds. He won a record eight times after entering his golden years. He finished fourth in points at ages 51 and 52 and went to the final race at age 52 only 97 points out of first place.
If there is an expert to talk about what Martin did, Gant's the man.
"Stamina," he said. "That's the key. Basically keeping your wind."
Secret to success? Roofin'
Gant got up at 4 a.m. Wednesday, just as he does about every morning, and headed to work on his farm.
Martin arguably is the fittest driver in the garage today. He has a daily workout routine in the gym that would make most half his age hurl.
But when it comes to being in shape, Martin has nothing on Gant. Instead of three-hour workouts using weights, he had a daily 10- to 12-hour routine he called "roofin'" years ago when asked the secret to staying in shape.
The driver known as "Handsome Harry" didn't care whether there was snow on the ground or temperatures in the 100s, he would haul heavy loads of shingles up ladders and hammer from sunrise to sunset.
When he wasn't doing that, he was building a barn or putting up 15 miles of fence around his 300 acres.
He still does a lot of that and has added weights to his routine to keep up with his 16- and 18-year-old grandsons who are big into football. They can climb 30 feet of knotted rope, he says, but they can't last as long as he can in the hot sun.
"So [if] you work three or four days and head out to Talladega, it don't matter how hot it is, that heat won't bother you," said Gant, who at age 51 held off Waltrip and Dale Earnhardt to win at Talladega Superspeedway, the site of this weekend's race. "Heck, I hardly had time to race I was so busy."
Gant believes staying in shape during the week is the key to successfully handling 3,500-pound machines on the weekend, particularly later in life. He hopes Martin's win will send that message to younger drivers.
Martin's presence at Hendrick Motorsports already has gotten Dale Earnhardt Jr. into a weekly routine and helped team owner Rick Hendrick lose 20 pounds.
"If they don't rethink what they're doing after watching Mark, they should," said ESPN analyst Andy Petree, who was Gant's crew chief in his later years. "A lot of drivers don't take it serious enough.
"The car has to be refined to a thousandth of a second. The driver is a major part of that machine. Why would you want to give anything up?"
It is particularly key with the new car, which most drivers say is a handful to handle compared with the old one. The list of winners since it was introduced two years ago bears that out.
Jimmie Johnson, Carl Edwards and Kyle Busch, three of the fitter drivers in the series, combined for 24 of the 36 wins last season. Jeff Gordon earned his first win in more than a year at Texas after starting a daily workout program in the offseason.
But nothing reinforced the importance of being physically and mentally fit the way Martin's win did.
"It was a big statement for NASCAR," said Greg Biffle, a former teammate of Martin's at Roush Fenway Racing. "If you're in reasonably good shape, you have good equipment, you're a great driver, you're going to win races well into your 50s."
[+] Enlarge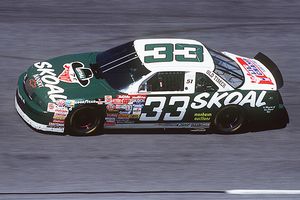 Steve Swope/AllsportHarry Gant made the Skoal Bandit famous -- and a winner -- despite not getting to race at the Cup level until he was 42 years old.
Dale Jarrett, the only other driver in the past 10 years to win a title past age 36, will attest to that.
"Someone that keeps himself in as good of shape as Martin does, that opportunity is there," said Jarrett, who captured the 1999 title at age 43. "I said all along, when I was still driving at 50, there was nothing physically holding me back."
Alan Gustafson, Martin's crew chief, said age is irrelevant where his driver is concerned.
"I've been asked a thousand questions about Mark and Mark's age, and I can tell you I don't even think about it," he said. "Mark's enthusiasm, his energy, his drive … make up for anything, any other shortcomings that he may have, which are very, very, very few, if any at all."
Petree said the same things about Gant. Why shouldn't he? Gant won five times at age 51, including a September sweep of Darlington, Richmond, Dover and Martinsville to tie a modern-day record for consecutive wins and earn the nickname "Mr. September."
"I never saw him as an older guy," Petree said. "Even though his age was 50, he didn't act like that. He looks the same now as the last race we won together. He had a younger mindset.
"And obviously his genetics were pretty good."
New trend
Numb head and all, Gant was busy preparing for Kyle Petty's 15th annual charity motorcycle ride that will begin May 8 in Stevenson, Wash., and end May 17 in Randleman, N.C.
"I remember the first time I ever drove a cycle in one day," he said. "I left Texas at five in the morning and drove 1,375 miles. Took me about 22 hours. I run out of gas in Greenville, S.C. It took me some time to get somebody to take me to get a Coca-Cola bottle full of gas."
Most would call riding a motorcycle that many hours in a row hard work. Gant calls it a mini-vacation.
Martin was the same way about his win at Phoenix. He had so much adrenaline after the final pit stop that he could have driven a hundred more laps and not been tired.
"My dad bought me a book called 'Strength Training' by Mark Martin when I was a kid, and I was like, 'Man, this guy is built like a brick,'" Kurt Busch said after his third-place finish at Phoenix. "The guy has been at the top of his game for 30 years in this sport. It's unbelievable to watch.
"If I'm halfway as competitive as he is when I'm in my 50s, that would be an accomplishment."
"

How many guys are going to be that fit and capable of doing it at 50? Then you have the championship he wants to win. That drive keeps him going.

"

-- Denny Hamlin
Many were inspired by Martin's win. Marcos Ambrose called him his "idol." Bobby Labonte, who is more fit than most at 44, called it a relief because it gave him hope of winning again.
The recent trend has been for drivers to shorten, not lengthen, their careers. And although the win might encourage more drivers to improve their physical condition, the trend likely won't change.
Denny Hamlin, the 2006 Cup Rookie of the Year, says Martin is a special case.
"How many guys are going to be that fit and capable of doing it at 50?" he said. "Then you have the championship he wants to win. That drive keeps him going. How many people are going to be in that situation where they actually can, and know they can, win a championship?
"That number is going to be very small."
One also has to consider that most of today's top drivers began competing when they were 5 or 6. Many get burned out by 40, thanks to the demands of a 36-race schedule and appearances.
Gant didn't get into the top series until he was 38 and he didn't win his first race until he was 42.
He raced until he was 54 because he still had something to prove. That's where he believes Martin is.
"Mark's got a good car and good people there, and it shows right up on TV," he said. "It won't be no problem for him to win a championship, easy. If I was going to bet now, I'd bet on him."
Martin, only nine points out of the top 12 that qualifies for the 10-race Chase, has one thing going for him that Gant never had toward the end of his career. That's a top organization behind him.
Gant's team had 14 people on payroll when he retired, and that included the secretary, truck driver and man who swept the floor. It had three race cars.
Richard Childress Racing, then led by the senior Earnhardt, had a huge complex with 85 employees and 30 new Monte Carlos.
"How could we win a championship?" Gant said.
That he accomplished all he did still makes Gant the real authority on life after 50, and he'll remain that until Martin surpasses his totals.
"If anybody can break that record, it would be Mark," Petree said. "He has the same attitude and toughness. It's a physical and mental toughness."
It's the kind of toughness that will get you off the ground when you've just been coldcocked by a cherry picker at age 69.
"I just stay active," Gant said. "It's all I know. I hope to do the same thing as long as I live."
David Newton covers NASCAR for ESPN.com. He can be reached at dnewtonespn@aol.com.
ESPN Carolina Panthers reporter
Covered Panthers, NFL for 11 years
More than 25 years experience covering NFL, college football and NASCAR
Joined ESPN in 2006
SPONSORED HEADLINES
MORE RACING HEADLINES
MOST SENT STORIES ON ESPN.COM