Commentary
Logano is growing up fast
Updated:
July 1, 2009, 8:52 PM ET
By
David Newton
| ESPN.com
CHARLOTTE, N.C. -- Joey Logano typically goes to his hauler instead of his motorcoach during rain delays to be closer to his car in case the weather lets up. He is often a half-hour early for meetings with crew chief Greg Zipadelli.
Logano is one of the few Sprint Cup drivers -- maybe the only one -- who goes back to his hauler and has lunch with crew members after the drivers' meeting and gets ready for the race there.
On race mornings he's always ahead of schedule with sponsor appearances. Hardly an hour of the day goes by that he doesn't ask: "Is it time to go yet?"
To say the kid is anxious is a bit of an understatement.
"You hit that one dead-on," Logano said. "I don't know why I'm like that. Getting antsy, I guess. I don't want to miss anything."
He hasn't.
One could argue the 19-year-old phenom is ahead of schedule in his quest to be a superstar. On Sunday at New Hampshire he became the youngest driver to win a Cup race, thanks to smart fuel mileage strategy by Zipadelli that allowed Logano to stay out just before rain halted the event 28 laps from the finish.
He moved to 21st in points, only six out of the top 20 and only 111 out of the top 17.
But getting here hasn't come easy. Not long ago Logano was struggling to stay in the top 35 guaranteed a spot in the field each week. He was struggling so badly rumors emerged that Martin Truex Jr. would replace him before midseason.
The low point came seven races in when Logano finished 30th at Texas, four laps down without a scratch on his car.
"We just ran awful there," Zipadelli said. "Frustrating. Disappointing. Embarrassing. It was at that point everybody, including [team owner Joe Gibbs], realized it wasn't going to be easy."
[+] Enlarge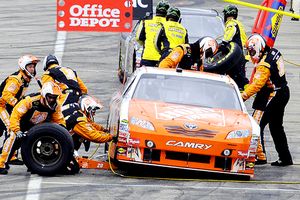 AP Photo/Gil TalbotJoey Logano spends a lot of time hanging around with his crew, who have helped him to four top-10 finishes so far this season.
Not that anybody expected it would be easy, even though Logano entered the sport with arguably the best credentials of any rookie in a decade. Mark Martin, if you recall, said he was the "real deal" -- when Logano was 15.
"I am high on Joey Logano because I am absolutely, 100 percent positive, without a doubt, that he can be one of the greatest that ever raced in NASCAR," Martin said at the time. "I'm positive. There's no doubt in my mind."
Randy LaJoie later nicknamed Logano "sliced bread," meaning he's the best thing to come around since that invention.
Management at Joe Gibbs Racing agreed, which is why they signed Logano before he was old enough to enter the armed forces. But they didn't plan on putting him in a Cup car full-time for at least another year.
Two-time Cup champion Tony Stewart sped up that process when he announced last season that he was leaving JGR to become the driver/owner at Stewart-Haas Racing.
"They expected it would be tough for me this year," Logano said. "You haven't seen a rookie come in since this new car was introduced [three years ago] and take off.
"And when they put me in this car they expected us to have testing. That got thrown away. Now it was, 'All right, here we go.' "
Said Gibbs, when asked if he expected Logano to win this season, "Do I need to tell the truth on that?"
Some might say Logano still should be winless, that Sunday was a fluke of circumstances. In a way it was. He needed the free pass twice to get back on the lead lap after blowing a tire that sent him into a spin.
Because he was so far back he had the luxury of stopping for fuel at every opportunity, putting him out of sequence with the leaders and in position to stay out when the rain came.
But that Logano was in position to win was no fluke. Since a disastrous start that saw him with an average finish of 29th through the first eight races he has proved to be worthy of the hype.
The win was his fourth top-10 in the past nine races, giving him an average finish of 14.3 during that span. That's better than teammates Kyle Busch (17) and Denny Hamlin (17.4), both solidly in the Chase.
It's better than last year's series runner-up, Carl Edwards (14.5), also solidly in the top 12.
With a little luck, that average could have been even better. Logano made a mistake at Sonoma that dropped him from the top five to 37th, which eventually resulted in 19th.
He led 19 laps and appeared in position to win at Darlington, arguably the toughest track on the circuit, but fell back late pitting for fuel and finished ninth.
"We were really looking for just constant improvement, and that's really what we've seen," Gibbs said. "We all feel like at the end of the race he's always better, running much harder, and that's going to bode well for us as we go forward and come back to these places a second time."
The second time around begins Saturday at Daytona International Speedway. Logano finished last there in the season opener, crashing 80 laps into the 200-lap event after contact from fellow rookie Scott Speed and Greg Biffle sent him sliding sideways off the track off Turn 4.
"They've clearly had their stuff together for a while now," Speed said. "More experience in the car, I would say [has been key]."
Again, it took a while. Little happened over the next seven races after Daytona to convince critics that the preseason hoopla was deserved. With the exception of a 13th at Las Vegas, Logano finished 26th or worse.
That started the Truex rumors, although Logano wasn't aware of them for almost a week, until Gibbs assured him they weren't true.
Still, he said, "It wasn't good back then."
He says this as if he meant a lifetime ago. And for a 19-year-old, weeks probably can seem like a lifetime.
"I try not to think about that anymore," Logano said. "Always think of the future."
Zipadelli likes that about Logano, particularly after 10 years with the high-strung Stewart. He also understands Logano wouldn't be where he is today were it not for the past. Given the opportunity to start the season over this weekend and make a run at the Chase, he would turn it down.
"Because we all need to learn and need to grow," Zipadelli said. "That's what makes us better. If we were starting over where we are now then we would take for granted some of the growing pains and things we've gone through as a team."
The season hasn't been easy on Zipadelli, either. He was used to going to the track every weekend with a chance to win, collecting 33 victories and finishing no worse than 11th in points with Stewart.
"This is a completely different challenge," Zipadelli said. "To a certain extent it's been real energizing. It's put more pressure on me to see what I'm made of and how I respond to different things.
[+] Enlarge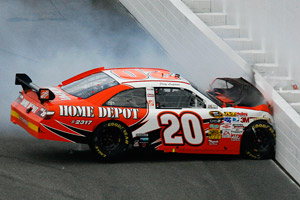 AP Photo/Glenn SmithJoey Logano is ready for his second time around Daytona International Speedway and hoping it goes much better than his first one in February.
"Part of it has been frustrating at times, but it's certainly been rewarding."
Zipadelli didn't have to say much to Stewart, whether it was over the radio during a race or in meetings. With Logano he's always talking and explaining, and Logano has soaked up most of what he's said, like a sponge.
The best advice came after the Texas race when the Truex rumors peaked. "I told him it was his car, if he wanted it then he needed to step up and do what God gave him the talent to do," Zipadelli recalled.
A few weeks later Logano started a string of three top-10s in four races. You could see the confidence growing, particularly after the ninth-place finish at Darlington.
"That was probably the biggest race we've had all year for me as far as a confidence-booster," Logano said. "That was the last place I was expecting to run good."
Exactly what began to click he doesn't know. Logano credits a lot of it to experience, pointing out that it took almost a year in the Nationwide Series before he felt he could win every time he went to the track.
"Everywhere I went, even in the Nationwide car, it was loose entry, loose entry," Logano said. "Everywhere. No matter what I did. All the time. I couldn't figure it out.
"We got through the first four or five races this year and all of a sudden I'm not loose in anymore. Why is that? I can't even explain why. It's a feel. It's experience out there. It's knowing little things that you figure out."
This isn't to suggest Logano has all the answers now. He's still skeptical about his return to Daytona, recalling a tire test in which "I was freaking sideways."
But if that happens Saturday, Logano is confident he can correct the situation, something he "wasn't capable of" in February. He's also confident that if the season started this week he could make a run at the Chase that begins in 10 weeks.
"We'd be close," Logano said. "I don't think we'd be solidly in it, but we'd be closer to being in the mix of it. I'm looking forward to next year already, but let's get through this one first."
He doesn't want to miss anything.
David Newton covers NASCAR for ESPN.com. He can be reached at dnewtonespn@aol.com.
ESPN Carolina Panthers reporter
Covered Panthers, NFL for 11 years
More than 25 years experience covering NFL, college football and NASCAR
Joined ESPN in 2006
SPONSORED HEADLINES
MORE RACING HEADLINES
MOST SENT STORIES ON ESPN.COM