Commentary
Is Atlanta race safe? No guarantees
Updated:
September 3, 2009, 4:51 PM ET
By
David Newton
| ESPN.com
CHARLOTTE, N.C. -- A conversation with Speedway Motorsports Inc. chairman Bruton Smith is like a game of cat and mouse. No matter how hard you try to corner him into saying what you think is on his mind, he always finds a way to escape.
This conversation was no different.
The theme for the day was two-pronged. First premise, NASCAR fouled up by moving the Labor Day weekend Sprint Cup race out of its traditional spot at Darlington Raceway to California just so it could say it spends one of the biggest holiday weekends of the season in one of the biggest markets in the country, even if the track is more than an hour away from Los Angeles.
Second premise, NASCAR did the right thing in moving the race to Atlanta Motor Speedway this weekend, returning it to its rightful place in the South. But will that be enough to save the track from losing a race when Smith finally gets a Cup date at Kentucky in, let's say, 2011?
Here's where Smith became the mouse.
"Wait a minute," he said. "I didn't know Atlanta needed saving."
After it was suggested in as many ways as possible that Atlanta's struggles the past 10 years to get close to capacity in a facility that seats 125,000 and holds up to 150,000 made it the best candidate to lose one of its two race dates to Kentucky, Smith became more slippery.
"I thought when you called me you would want to be talking about that demolition derby we saw the other day," he said.
He was referring to the Nationwide Series race in Montreal, which became nothing more than a stream of cautions once the cars switched to rain tires for the final laps.
"I've never seen as many race cars torn up -- ever -- and I've been in this business for a long time," Smith said. "Will they ever race there again? Will NASCAR insist they make a lot of changes so we don't tear up a lot of race cars?
"It became so sickening I watched something else."
All of the sudden the interviewer was the interviewee and the topic had switched from Atlanta Motor Speedway to a Nationwide race in Montreal.
Game on.
In an attempt to regain control, Smith was asked why one of Atlanta's dates keeps coming up as a solution for Kentucky, which already would have had a date had the former owners dropped a lawsuit against NASCAR.
"A lack of knowledge," he said. "Whoever is doing the writing, they just don't do their homework."
He then got on his soapbox about the history surrounding AMS and Atlanta in general as it pertains to racing. He reminded that two-time Cup champion Tim Flock, one of NASCAR's first champions, was from Atlanta. He ran off a list of several other prestigious drivers from the Dogwood City.
He then reminded that a hundred years ago Asa Candler, the founder of Coca-Cola, put on one of the first major races in the United States on a track where the Atlanta airport is now.
He reminded that Atlanta had one of the largest crowds of the 1999 season, 150,000, as the final race of the season before NASCAR moved that date to Homestead, Fla., or as Smith called it, "Home and Stead."
By the time Smith was finished, you'd have thought AMS was the Lambeau Field of stock car racing.
He even suggested that the AMS records don't show a big drop in attendance, even though NASCAR's records, which are somewhat exaggerated, do. For the record, 80,000 showed for this race a year ago, and 94,000 were reported for the spring race.
[+] Enlarge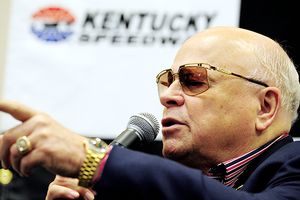 David Allio/Icon SMIWhat will Bruton Smith do to get a race date at Kentucky Speedway? He isn't tipping his hand.
"Our records don't reveal that," Smith said. "Now, we've had situations with weather … but I think it's been exaggerated by some of the news media."
Told he could squelch speculation of a switch with Kentucky simply by saying Atlanta will keep two races, Smith went into full mouse mode.
"You said that, I didn't," he said. "That's speculation. That's all that is. You need to treat that as speculation. It's kind of like if you're waiting for the fat lady to sing, and she's not even warming up yet."
He added that lots of options exist for a date in Kentucky, including purchasing another track with a Cup date even though attempts to purchase Pocono and Dover already have failed and no other track currently is on the market.
"Maybe ISC will give me [a date] from California," Smith suggested, referring to rival track-ownership group International Speedway Corporation, run by NASCAR's France family.
When I pointed out that seemingly the only thing ISC has given him was a hard time, he laughed and said, "You're probably right on that one."
That's one for the cat. I'm right on the Labor Day weekend Cup race belonging in the South as well.
Growing up in South Carolina, you learn several things right away. University of South Carolina football fans are hopelessly optimistic to the point of being unrealistic. Clemson football fans to this day won't let you forget they won the 1981 national championship.
And the Southern 500 at Darlington Raceway on Labor Day weekend was as much a part of the state's -- and South's -- culture as fried green tomatoes.
One of NASCAR's biggest mistakes was taking that date away in 2004. Despite lagging attendance, sometimes unbearable humidity, mosquitoes large enough to carry off a small dog and a market no bigger than Hooterville in "Green Acres," this weekend was as much a part of the sport's history as the Daytona 500.
The governing body got it half right by moving that date to Atlanta. Only half because the race should have gone back to Darlington, although officials there will tell you they're quite happy with their Mother's Day weekend race that has revitalized interest in the old track built on a peanut field.
Atlanta hopes it got it all right. A lot of empty seats Sunday night almost certainly would doom the track to lose one of its two dates to Kentucky.
That may happen anyway, although everyone from Smith to AMS president Ed Clark says that has never been discussed.
The good news for Atlanta is fans have responded to the new date and moving under the lights. Officials say ticket sales are up 28 percent from the October race a year ago, which means at least 102,000 fannies will be in the stands.
That's still way below capacity, but it would be at least 30,000 more than attended last year's Labor Day weekend race in California and would rank among the top 12 attended races this season.
"What NASCAR is finding is the key major markets, in the South in particular, are very crucial to them from a fan perspective and a brand perspective," said Gary Stokan, the president of the Atlanta Sports Council. "You have to go back to your core, and the core for NASCAR is in the South and Southeast."
Say what you want about NASCAR's national movement, but the most hard-core fans remain below the Mason-Dixon Line.
Atlanta is doing its best to prove that and in turn save itself from losing a race date as Darlington did in 2005. Stokan understands the logic that suggests his city is vulnerable. Smith already has made it clear he won't take a date from Bristol, Charlotte, Texas, Las Vegas, New Hampshire or even Sonoma.
But should Atlanta be the loser in this game because attendance has dropped? Hardly. Even at 70 percent capacity, it sells more tickets than six or seven other venues. And it's in a key Southern market, one that hosts more Fortune 500 companies than Pocono and Dover combined.
"I've been here 17 years, and I've probably been dealing with this for 16 years and 51 weeks," Clark said of rumors that AMS will lose a race. "The only thing I know to do is every time we have an event is promote it as hard as we know how to promote, and whatever happens is going to happen.
"I can tell you we don't plan to let an event leave Atlanta Motor Speedway."
If so, this weekend is critical. A crowd of 100,000-plus in a tough economy with so many other events -- a Taylor Swift concert Thursday night and the Alabama-Virginia Tech college football opener Saturday night -- would be a step in the right direction.
If that happens, and it likely will, the date change will earn much of the credit. Moving the race under the lights should get just as much or more. Fans love night races, seeing sparks fly and the lights flicker off special paint schemes. One easily could argue Darlington's revitalization has more to do with being under the lights than a spot on the calendar.
If this doesn't work, Atlanta will have no more excuses. It has fixed the unbearable traffic-flow problem that kept some fans away, and the new date will assure fans won't need a parka or even a heavy sweater to combat the temperature.
Rain? There's nothing anybody can do about that.
"We've already sold more tickets for the Labor Day weekend than Darlington ever, ever sold in their history," said Smith, knowing Darlington can't fit many more than 70,000 fans into its facility. "It'll be far superior to whatever happened at Darlington."
The game continued. Smith remained too coy to be trapped.
So it was time to toss in the white flag and ask how things were going in the rest of Smith's world.
"Fantastic, thank you," he responded.
Naturally.
David Newton covers NASCAR for ESPN.com. He can be reached at dnewtonespn@aol.com.
ESPN Carolina Panthers reporter
Covered Panthers, NFL for 11 years
More than 25 years experience covering NFL, college football and NASCAR
Joined ESPN in 2006