Commentary
JGR: Hendrick Motorsports beware
Updated:
May 6, 2010, 11:56 AM ET
By
David Newton
| ESPN.com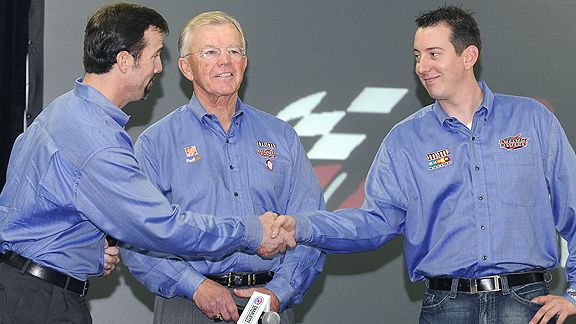 AP Photo/Mike McCarnKyle Busch, right, not only expects to make the Chase in 2010, he hopes to win a Cup championship for JGR president J.D. Gibbs, left, and team owner Joe Gibbs.
DAYTONA BEACH, Fla. -- Denny Hamlin suffered a torn ACL in his left knee playing basketball. Kyle Busch became engaged in his motor coach. Joey Logano beat "Brick Breaker" on his cell phone and won a bobsled challenge.
Needless to say, it's been an interesting offseason for the Joe Gibbs Racing drivers.
The 2010 season could promise to be that much more interesting, as Hamlin and Busch are expected to contend for the Sprint Cup title and Logano for a spot in the Chase.
Hamlin has been voted by many as the driver most likely to knock four-time defending champion Jimmie Johnson off his throne. He's coming off a four-win season in which he captured three of the final 11 events.
Were it not for three DNFs -- two engine failures and one crash -- in the Chase while running well, we might be talking about Hamlin as the defending champion.
Joe Gibbs Racing
The 2010 driver lineup for Joe Gibbs Racing:

Kyle Busch
Car No.: 18
Crew chief: Dave Rogers
2009 finish: 13th
2010 outlook: Obviously a disappointment not making the Chase a year ago. Will work on consistency with new crew chief Dave Rogers to make sure that doesn't happen again. When he has equal equipment there's no better driver. He has 12 wins in last two seasons. Look for him to be top dog at JGR and put the heat on Jimmie Johnson's run at five in a row.

Denny Hamlin
Car No.: 11
Crew chief: Mike Ford
2009 finish: Fifth
2010 outlook: The preseason pick by many to replace Jimmie Johnson as NASCAR's top dog. Had four wins last season, including three of the final 11, and might have been a threat to Johnson had it not been for two engine failures and a crash in the Chase. Torn ACL in his left knee shouldn't keep him from shining.

Joey Logano
Car No.: 20
Crew chief: Greg Zipadelli
2009 finish: 20th
2010 outlook: Was impressive after a rough start with five finishes of 30th or better in first seven starts. Look for him to continue to improve and double his top-10s of seven in 2009. I consider him a sleeper to make the Chase. He's still driving with the same equipment and crew chief Tony Stewart had, and he has a ton of talent.
-- David Newton
Busch didn't make the Chase, but he won four races and was in position to win a fifth with new crew chief Dave Rogers in the final three events. A few more finishes in the top 15 and he'll be championship material.
Then there's 19-year-old Logano, who overcame five finishes of 30th or worse in the first seven races to win rookie of the year and position himself to be a breakthrough driver for 2010.
If the three improve enough to share notes and setups more, Hendrick Motorsports had better beware.
"That's where Hendrick, I feel like, is very, very strong," Hamlin said. "They have four very experienced drivers that have very similar styles, and it's really helping them."
Otherwise, Hamlin doesn't believe the gap between JGR and NASCAR's top organization is that wide.
"The thing for us is that we're going to work our way into the season," Hamlin said. "I don't foresee us really lighting up the racetrack the first five months of the season, just because we have some things we're working on and we want to come to the racetrack with our best stuff when we need to.
"You'll see that when the Chase starts."
Confidence isn't a problem. Busch always has had it, and Hamlin has taken his to such a level that he doesn't mind the pressure of being picked to win the title.
"Last year the quote was, 'I didn't want to be a contender any more; I wanted to be a champion,'" Hamlin said. "I was sick of having expectations with no results to back it up.
"We did that last year. We just didn't have the reliability to win the championship. That's the bottom line. We just didn't have the parts and pieces right. We know how to win a championship, and now it's just going to be executing it."
As far as pure driving ability, the gap between Hamlin and Johnson isn't much.
"I feel like I'm as good as he is," Hamlin said. "I could be better in a lot of different areas to get equal to him, but I think I'm 90 percent of what Jimmie is right now. … As far as just being a better driver than him, it's just going to come with experience.
"He's been in the sport twice as long as I have, so that will give me a little bit of a break."
Busch doesn't mince words about how he compares. Give him equal equipment and he doesn't believe there's a driver on the planet who can beat him.
"When this new car came in, when everybody was working on it and everything, I felt like I was the best driver, outdriving everybody else with what they had," he said, referring to his eight-win season.
The difference between Busch and Johnson is consistency. The 24-year-old driver learned in winning the Nationwide Series titles that it's all right to top-10 people to death, as he did with 30 in 35 events, compared to 13 in 36 Cup races.
"It isn't all about wins," said Busch, who also had nine wins in the Nationwide Series. "It is about being consistent and finishing races and being able to finish those races top-5 or top-10. Not finishing 25th or worse, but actually taking an 11th through 16th finish.
"You want to have those. Ultimately, it takes some of those in the year to make you capable of getting into the Chase in order to contend for the championship."
Logano is equally confident, but knows he needs a little more experience to challenge the top dogs.
"I'm twice the driver that I was at the beginning of the season," he said. "I'm excited about that. I feel like me and the team are working better together. Between all that, we should be a better race team in general."
JGR in general should be better. The tweaks made last season, particularly with Rogers replacing Steve Addington, have management and drivers anticipating 2010 more than any in recent history.
"When the Chase comes, I look for us to really perform, and that's just going to take a lot of patience from me, because I expect to win every single weekend," Hamlin said. "If we go out there and perform good early like I know we can, then we're going to be pretty tough."
David Newton covers NASCAR for ESPN.com. He can be reached at dnewtonespn@aol.com.
ESPN Carolina Panthers reporter
Covered Panthers, NFL for 11 years
More than 25 years experience covering NFL, college football and NASCAR
Joined ESPN in 2006
SPONSORED HEADLINES
MORE RACING HEADLINES
MOST SENT STORIES ON ESPN.COM
2010 Daytona 500

The 52nd running of the Daytona 500 is in the books. Live the thrill all over again.
Daytona 500 Raceday
Features
Nationwide: Drive4COPD 300
Gatorade Duels
Driver Rankings
Team Rankings
Chats
Video