Commentary
Hamlin latest hotshot to falter early
Updated:
May 6, 2010, 12:01 PM ET
By
David Newton
| ESPN.com
CHARLOTTE, N.C. -- Denny Hamlin was the talk of NASCAR before the season. The confidence and maturity he showed in 2009, particularly winning three of the final 11 races, turned heads. Many predicted he was the chosen one to knock Jimmie Johnson off the top of the Sprint Cup hill and win his first championship.
Hamlin seemed to embrace the role, too, shrugging off comparisons to Carl Edwards, who fell flat after being picked to win the title in 2006 and 2009 coming off stellar seasons.
[+] Enlarge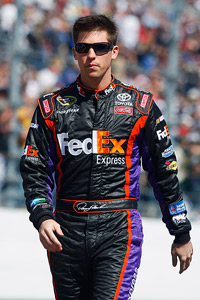 AP Photo/J Pat CarterDenny Hamlin, picked by many to dethrone four-time defending Cup champ Jimmie Johnson in 2010, is off to a rocky start.
"I've been compared to Carl before," Hamlin said during the preseason media tour. "He had a really good rookie year and then had a sophomore slump and didn't make the Chase.
"But I am not Carl Edwards and I am not with Roush Fenway [Racing]. I am Denny, I am with Joe Gibbs Racing and with an organization that does a really good job of minimizing the peaks and valleys. So I don't foresee any of the expectations being too far off."
Maybe not.
But Hamlin, like many before picked to follow a great season with a championship one, is off to a rocky start. He is 22nd in points with no finish better than 17th, although to be fair he did have a potential winning car at Atlanta before two blown tires left him 21st.
We've seen this before. Edwards had four wins and was tied with teammate Greg Biffle for second in the standings in 2005. He had no wins and was 12th in points the following year.
In 2008, Edwards had a series-high nine wins and was second in points. He finished 2009 with no wins and in 11th.
Other favorites have gone through this, as well. Mark Martin had a win and 22 top-10s while finishing second to Tony Stewart in 2002. He followed that with his worst full season in Cup, finishing 17th with no wins and 10 top-10s.
Kyle Busch won eight races in 2008. Like Edwards, he was picked by many to succeed Johnson. He missed the Chase in 2009 and was in such disarray that crew chief Steve Addington was replaced with three races remaining.
Jeff Gordon won six races and finished second to Johnson in 2007. He followed that with no wins and a seventh-place finish in 2008.
The examples are endless. It seems the only one not affected by the favorite role is Johnson, the four-time defending champion.
Maybe it's pressure. Maybe it's rotten luck. Maybe Johnson simply is better than everybody else.
"We talked a lot about it before the season started last year," Edwards said. "Everybody said, 'Hey, what about all this pressure?' I learned in 2006 it doesn't matter what you did the year before. It doesn't matter what everyone expects of you.
"This sport comes down to how fast your race car is and how your luck goes. You can have all the hope in the world, and 2006 proved it to me. The 2009 season galvanized it. You have to go to the job and you have to be fast."
[+] Enlarge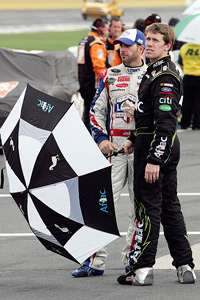 AP Photo/Jim R. BoundsCarl Edwards, right, has been standing in Jimmie Johnson's shadow for much of the past five seasons.
Edwards admitted he got somewhat wrapped up in his own press clippings prior to the 2006 season. It happens to a lot of young drivers who never have been in the center of the spotlight.
Not being able to produce made the struggles tougher to swallow.
"It screwed up my head," Edwards said. "When I first realized it wasn't going to be the type of season it looked like it should have been, I kind of had to scramble. Eventually I thought, 'OK, wait a second. You need to be more realistic here.'
"Some of that was based on you're a young guy, you see your name there, people are saying this is the pick for the championship. You don't want to get ahead of yourself is what I'm saying."
Edwards isn't saying that has happened to Hamlin or any other driver who falls short of expectations. He's just saying it happens.
And when it happens, until you realize why it did, you often make up excuses. Hamlin already has experienced that to a degree, saying "Toyota is behind on their motors" in a recent USA Today diary.
"If you buy into that stuff people say, then you're setting yourself up for possibly bigger disappointment," Edwards said. "I guess whenever the media [picks a guy] I always think, 'That's fine, but if the guy buys into all of that he can be a bigger failure.'
"I started feeling maybe a little bigger than I should have in 2006. This sport will humble you very quickly. That season we did not meet the media's expectations, the fan's expectations. We were so far off of that it really did teach me a good lesson."
Edwards tried to warn us prior to 2009 not to base predictions on what he did the year before. Many did anyway. It's as natural as picking the Super Bowl or World Series runner-up to win it all the following season.
There are plenty of examples of failure there, as well.
"I remember telling you guys, 'Hey, this could go either way, there are no guarantees,'" Edwards said. "And it didn't go well. But the thing I can say is it wasn't because I was screwed up in my head.
"Again, I'm not speaking about Denny, but for a driver who hasn't been through that, it can be a little bit overwhelming when you're not having the kind of success you can."
The good news for Hamlin is he still has time to recover. He's only 73 points out of the 12th and final spot for the Chase with a lot of drivers a lot less experienced and talented ahead of him.
He's also gotten off to slow starts before and rallied to make the Chase. He was 14th at this point a year ago, 19th in 2008, eighth in 2007 and 20th in 2006.
He's also coming up on a couple of short tracks -- Bristol and Martinsville -- where history tells you he can make up ground quickly.
So will he become the one to knock Johnson off? Or will he become another statistic of favorites who failed?
Stay tuned.
David Newton covers NASCAR for ESPN.com. He can be reached at dnewtonespn@aol.com.
ESPN Carolina Panthers reporter
Covered Panthers, NFL for 11 years
More than 25 years experience covering NFL, college football and NASCAR
Joined ESPN in 2006
SPONSORED HEADLINES
MORE RACING HEADLINES
MOST SENT STORIES ON ESPN.COM