Commentary
Buckle up, flight risk still real
Updated:
May 6, 2010, 11:55 AM ET
By
David Newton
| ESPN.com
TALLADEGA, Ala. -- NASCAR doesn't want to hear certain things after a Sprint Cup race, particularly at Talladega Superspeedway, a track that puts on one of the most popular events on the circuit.
Like after the 2009 spring race when Carl Edwards, after his car flew into the catch fence and injured seven spectators, said, "We'll race like this until they kill somebody and then they'll change it."
Or after the 2009 fall race when Ryan Newman, after his car flipped several times and landed on its hood, said, "We have crashes all year at every track, but only at Talladega do the cars leave the ground."
Yep, death and airborne are near the top of the list of attention getters.
They get everybody's attention, from drivers to fans to those of us who cover the event. To NASCAR's credit it has spent a ton of money and time working on ways to lessen the possibility that cars will take off like airplanes on the runway behind the back straightaway.
Wind tunnel tests show the spoiler that has replaced the wing, and what NASCAR calls a shark fin that runs along the left rear window and deck lid, and lowering the rear quarter panels, should help. The governing body also is looking at ways to improve the roof flaps that were introduced after Rusty Wallace went airborne here in 1993 in a last-lap incident involving Ernie Irvan.
"It's something we never quit looking at, but there's times that you work on it harder than others," said Robin Pemberton, NASCAR's vice president of competition, on a sunny Friday afternoon at Talladega.
In other words, NASCAR has been working overtime over the past year. Will the changes make the difference wind tunnel tests indicate? That will be on everybody's mind on Sunday.
It was on points leader Jimmie Johnson's mind when he entered the media center before practice.
"There's got to be a curiosity of what's going to happen when the car turns backwards, will it stay on the ground?" the four-time defending Cup champion said.
There is a lot of curiosity.
"It's not that I want to see it tested, but I guess all of us are interested to know how much of a change it's going to make," said Hendrick Motorsports teammate Jeff Gordon, speaking more specifically of the spoiler.
Going airborne has been in the back of drivers' minds since cars began running restrictor plates at Talladega. Or as Jeff Burton said, "It's in the front of your mind, I think."
How can it not be? The image of Edwards' car ripping through the catch fence, tossing debris into the stands like bullets from a gun, and then landing on the hood of Ryan Newman's car isn't something one easily forgets.
[+] Enlarge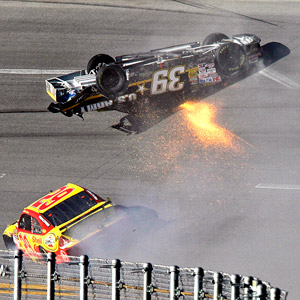 AP Photo/Mark YoungOn your hood and on fire is no way to race, as Ryan Newman can attest after last fall's Talladega race.
It evokes the same fear people had when Bobby Allison went airborne and turned his car into a crumpled mess in 1987, when Bill Elliott went airborne in 1996.
There is a certain fear factor here that isn't experienced anywhere else. Not every driver feels it, but every driver knows it's there.
"Definitely, the cars getting upside down was a bad thing," Burton said. "I think that caught [NASCAR] by surprise because they put a lot of work into it. I'm confident they've done the things they know to do.
"Will they be better, smarter three or four years from now? I hope so."
So does NASCAR. As much as fans watch Talladega races for the thrill of seeing spectacular crashes, nobody wants to see anybody get hurt. There was a collective sigh among the hundred-plus thousand here a year ago when Edwards got out of his car and jogged across the finish line.
But the truth is no matter what NASCAR does, barring slowing the cars to 100 mph, there's a chance a car will go airborne.
"Like I tell you guys all the time, there is nothing that you can do to simulate 43 cars on the racetrack pushing and shoving; things just happen differently than anything in a fixed environment," Kevin Harvick said. "It's just one of those things where you have to do the best that you can with the tools that you have to make things the best that you can and try to prevent things from happening."
Harvick's right. Wind tunnel tests told NASCAR that what it called "puppy ears" on the outer edges of the spoiler would make the cars handle better before a test here proved those conclusions wrong.
The spoiler might help create more drag when the car is spinning and slow the opportunity for lift-off, but Pemberton insists the wing wasn't the problem many insisted it was.
There is a perfect storm scenario with the flow of air going under a car when it is spinning backward that can't be duplicated. The shark fin and lower quarter panel will decrease the odds of flight, with estimates that lift-off takes place around 167 mph, but there are no guarantees.
In a recent television segment on the top 10 NASCAR crashes of all time, most involved the spoiler and not the wing.
"Whether it's a wing or a spoiler, if you get this thing going just right it's going to lift off," said Kurt Romberg, the chief of aerodynamics at HMS.
That doesn't mean NASCAR will quit trying to find ways to keep cars on the ground or that drivers will stop worrying about going airborne when they come through the tunnel at this 2.666-mile facility.
It's as much a part of the culture here as beads and firewood.
"I used to tell people that going upside down and getting airborne in a car like that going that fast is an experience you can't really buy a ticket for," said Dale Earnhardt Jr., who went airborne and landed upside down in a Nationwide Series car at Daytona earlier this year.
Remember, used to. Going airborne the last two races at Talladega has seemed like a part of the ticket package. Many will come looking for it again on Sunday.
Perhaps Johnson has the best approach.
"If you're going to wreck and lose the race you want the thing to be spectacular," he said. "If you're going to go out, be upside down on fire and be spectacular."
That, NASCAR won't mind hearing.
David Newton covers NASCAR for ESPN.com. He can be reached at dnewtonespn@aol.com.
ESPN Carolina Panthers reporter
Covered Panthers, NFL for 11 years
More than 25 years experience covering NFL, college football and NASCAR
Joined ESPN in 2006
SPONSORED HEADLINES
MORE RACING HEADLINES
MOST SENT STORIES ON ESPN.COM