Commentary
Jimmie Johnson back in familiar territory
Updated:
September 26, 2010, 7:09 PM ET
By
David Newton
| ESPN.com
DOVER, Del. -- Jimmie Johnson and crew chief Chad Knaus stood off to the side on Saturday, grinning as Kevin Harvick and Denny Hamlin exchanged profanities in the Dover International Speedway garage.
They know the focus it takes to win championships, and that wasn't it.
Their grins were even bigger on Sunday as they celebrated a victory at the Monster Mile that let the Sprint Cup world know they are alive and well in their bid for a fifth straight title.
Did you really think the No. 48 would disappear after one so-so race in the Chase?
[+] Enlarge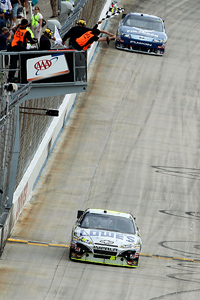 Nick Laham/Getty ImagesJimmie Johnson won Sunday for the third time in four races on Dover's concrete mile.
Those who did probably are sitting in front of a slot machine at the adjacent Dover Downs hotel believing they can turn a $5 bet into a million bucks. Either that or they've been stranded on a deserted island the past four years.
This is what Johnson and Knaus do.
"They're good," second-place finisher Jeff Burton said after watching Johnson lead 191 laps. "They're not good, they're great. That word is not being overused when I say that. They've won four in a row. You're not good when you do that. You're great.
"I expected them to come here and perform. This is one of their best racetracks. It didn't surprise me to see them run as well as they did."
Johnson, as he was reminded by Knaus shortly after taking the checkered flag for the sixth time at Dover, collected the maximum 195 points for winning the race and leading the most laps. He went from 92 points behind Hamlin in seventh place to second and 35 back.
The team never lost focus, taking what Knaus believed to be an average car on Friday and turning it into a great one. Johnson's only mistake came when he spun his tires on a Lap 292 restart, allowing Kyle Busch and Joey Logano to blow past him.
He then showed the patience it takes to be a champion, steadily working to get past Logano, running down Busch and pulling away to cap a relatively calm day after a wild Saturday in which Harvick took a few shots at Hamlin with his car in practice.
If you missed that, Harvick took offense to comments Hamlin made about Richard Childress Racing teammate Clint Bowyer's team, which was docked 150 points by NASCAR for having an illegal car in last week's Chase opener at New Hampshire.
Neither Hamlin (ninth), Harvick (15th) nor Bowyer (25th) was a factor on Sunday.
Johnson never really wasn't.
Is there a lesson to be learned here? If there is, it's being bland and focused like Johnson isn't a bad thing.
Hamlin's crew chief, Mike Ford, still was steamed after the race at his driver for getting into a battle that wasn't his. He rightfully said the focus should be on the championship, not another team, even though Hamlin escaped one of his worst tracks with a decent finish.
"It brings a negative light and a steeper hill for us to climb," Ford said. "We can't have these liabilities. … It's complete nonsense. Whether those guys are guilty or not, it's not our battle."
Sprint Cup Standings
Jimmie Johnson rose from seventh to second in the Chase for the Sprint Cup Championship with his win at Dover on Sunday.
1. Denny Hamlin
2. Jimmie Johnson (-35)
3. Kyle Busch (-45)
4. Kurt Busch (-59)
5. Kevin Harvick (-65)
6. Carl Edwards (-73)
7. Jeff Burton (-80)
8. Jeff Gordon (-83)
9. Greg Biffle (-140)
10. Tony Stewart (-162)
11. Matt Kenseth (-165)
12. Clint Bowyer (-235)
Full standings
It's all about focus, which nobody has more than Johnson and Knaus. Everybody knows that.
"If those teams [Hamlin and Harvick] get focused on that, then you're going to let the 18 and the 48 win, so we've got to focus," said Mike Dillon, RCR's general manager and the spotter for Bowyer. "We've got a championship to try to win."
No, they have a championship to try to pry away from Johnson and Knaus. It won't be easy after what we just witnessed.
"We've been through all that stuff," Knaus said of the Hamlin-Harvick drama. "We really don't pay a lot of attention to what goes on outside our four walls."
Johnson and Knaus are so focused that they showed little emotion in Victory Lane. They, as Johnson so descriptively put it, want to be the ones with the biggest hangover the Monday morning after the Chase finale.
"I don't know how to describe it," said Johnson, who has won 19 of 62 races in the Chase since it began in 2004. "Yes, today was a big victory and a step toward the championship, but it's not the prize we want. It's not time to celebrate."
Johnson seems more driven than he has all season to continue his run. It's almost as if he's been on cruise control waiting for the final 10 races. He said with more conviction than he has all season that "we want to win a fifth straight championship."
To do that you can't waste a lot of time making other teams angry, something Joe Gibbs Racing owner Joe Gibbs made clear to Hamlin before the race.
Knaus and Johnson even downplayed their interest in the heated confrontation between Hamlin and Harvick.
"We were watching them because it was entertaining," Knaus said. "Who wasn't watching? … Quite frankly, we didn't waste a whole lot of time being spectators at that point."
Said Johnson, "I haven't thought much about it. The reason I haven't thought much about it is I have to focus on my own team."
Exactly. He was focused on winning as much as we've seen all season. As Knaus said while explaining there wasn't a lot he could do to make the car better, "today the difference definitely was the driver."
Johnson, in case you haven't noticed, loves challenges. That continued after the race when he was told "bet you can't burn those tires off."
He came close, sending a cloud of tire smoke into the 48 pit box while Knaus did postrace interviews. He then told his team to "take a deep breath, let's enjoy this and do it again next week [at Kansas]."
Don't be surprised if he does.
David Newton covers NASCAR for ESPN.com. He can be reached at dnewtonespn@aol.com.
ESPN Carolina Panthers reporter
Covered Panthers, NFL for 11 years
More than 25 years experience covering NFL, college football and NASCAR
Joined ESPN in 2006
SPONSORED HEADLINES
MORE RACING HEADLINES
MOST SENT STORIES ON ESPN.COM