Commentary
Chad Knaus makes the gutsy call
Updated:
November 16, 2010, 2:27 PM ET
By
David Newton
| ESPN.com
CONCORD, N.C. -- Chad Knaus stood in front of a circular platform that holds replicas of the 24 and 48 cars, in front of the words Jeff Gordon picked to exemplify what he hoped this shop at Hendrick Motorsports would represent when Jimmie Johnson's team became an extension of his in 2002.
"Teamwork is the fuel that allows people to produce uncommon results," reads the quote below the cars.
Those words never rang more true than on Tuesday as Knaus explained why he benched his No. 48 pit crew in favor of Gordon's crew during Sunday's race at Texas Motor Speedway, why he opted to go make that swap permanent for the final two Chase races at Phoenix and Homestead-Miami Speedway.
Let me explain.
Behind the walls of the lobby where Knaus spoke, in the garage where cars for Johnson and Gordon are being prepared, there is only one team. An engineer or mechanic is as likely to be working on the 24 car as he is the 48. If the cars aren't painted, they don't know which car they're working on.
[+] Enlarge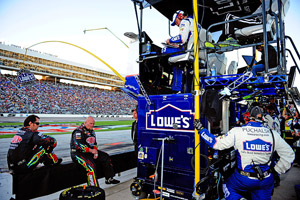 Rusty Jarrett/Getty Images/NASCARChad Knaus, top, maintains the crew swap between the 48 and 24 cars will reenergize both teams.
Most of the employees wear both a 24 and 48 logo on their shirts.
Knaus took that teamwork to a new level by swapping pit crews, one of the few places in the organization where a semblance of 24 or 48 loyalty existed. He did it to give Johnson, 33 points behind Denny Hamlin heading into Phoenix, the best chance to win a fifth straight title.
He did it without worry of hurting feelings or tearing his team apart, understanding the motto above has to work in all areas for it to work at all.
He did it for all the right reasons.
"If we win the championship, we all win," Knaus said over and over. "We all get the same rewards. There's no difference. These guys work together, play together, live together … cry together. You guys are going to see something you're not expecting to see come Sunday."
We already have.
Knaus often has been described as one of the greatest, if not the greatest, crew chiefs in the history of NASCAR.
His latest move may elevate him to the clear No. 1.
The only question: Was it too late?
Knaus has known for months that the 48 pit crew was underperforming. He considered making changes several times, but because Johnson was in control of the points standings and because of the relationship he has with most of the crew, things remain unchanged.
But when Gordon crashed out of Sunday's race, Knaus saw an opportunity to do something few other crew chiefs would have the guts -- or imagination -- to do during an event. Were it not for having to start behind Greg Biffle's car, down a gear, on the final restart, Johnson likely would have finished in the top 5 instead of ninth, and the move already would be called brilliant.
But was it too late?
Knaus doesn't think so. He plans to go to Phoenix, a track where Johnson is second to none, and win. He plans to do the same the next week at Homestead, where Johnson hasn't won.
Why?
"'Cause we're a badass team," Knaus said. "That's all there is to it."
And Knaus is a badass crew chief, even on a day when he was dressed like an ad for GQ magazine.
How the 48 team got into this position baffles many, but it shouldn't. We see it all the time in other sports. Players get comfortable with domination and don't perform at the level that put them on top. Some simply get older and can't perform the way they once did.
"There's a lot of wear and tear on people emotionally," Knaus said. "There's a lot of monotony that goes on. … I think maybe the grind got to them a little bit. That's OK. That's the way that it is.
"I'm not saying the 24 is our bullpen or anything like that, but this is a good way to introduce some new energy to both teams."
Knaus insisted pit crews from both teams were "stoked" with the change when he pulled them together to announce it on Monday afternoon. He insisted nobody quit or left mad.
When it was suggested there's no way a crewman could not feel slighted going from a team that has a chance to win the title to a team that has no chance, Knaus reminded again of how the organization works.
Gordon's crew chief, Steve Letarte, did the same.
"That's the problem, they didn't go from a team that couldn't [win a championship]," Letarte explained. "We're all still working on the same team. That's the whole problem, everybody on the outside, they don't see how the building runs."
It's the way the organization runs. When one team wins, the other three get a bonus. They all will attend the banquet in Las Vegas together as well.
It's a one-for-all, all-for-one mentality that other teams have tried to duplicate, but have fallen short.
It's why nobody should be surprised if Johnson wins the final two races to take home the championship once again.
"That's the thing that is coolest about our organization," Knaus said. "What everybody else perceives as negative we kind of take as a challenge. This is a positive thing. I'm telling you guys, it's a very positive thing for this team and organization to be able to make this switch seamlessly and breathe some new fire and new energy into this."
Hamlin's crew chief, Mike Ford, was right in some respects on Sunday when he called the swap an act of desperation. But it wasn't a desperate move. It was a calculated move that was made possible because of the way the organization is set up.
It was a move Ford likely wouldn't have made in the heat of the moment.
"

You're going to see energy from the 48 team that you haven't seen in a long time. I can assure you, if we pull this off, we'll all be celebrating just like we always do.

"

-- Chad Knaus
"I don't think it was an act of desperation by any stretch of the imagination," Knaus said. "It was an act of what we've got to do to win the race."
When he was told Ford insinuated what Knaus did had more to do with winning a championship for Hendrick Motorsports than the No. 48 team, Knaus threw it right back at him.
"Obviously, that's not a very good team over there, then," he said. "If we start to think about the individuals here, we don't operate as a team."
He's right. The best teams are able to put egos aside. Those that don't often self-destruct.
There are no signs of implosion here.
Some might say it was a heartless move because Knaus and Johnson often come off as cold and emotionless. But Knaus didn't do anything to his crew that he hasn't been through before.
He reminded them that in 1997 he was replaced as a tire changer on Gordon's crew right before the Daytona 500 because crew chief Ray Evernham hired somebody better from another team. He reminded he wasn't even at the track when Gordon won the 500.
"It was definitely tough," Knaus said. "I tried to explain to my guys they can't deal with emotions that I haven't been through. I've done it. It's real. I feel the pain. I have felt the pain, many times over. I know exactly what they're going through.
"I think that's why they're enlightened over this deal a little bit because they know it's not just some guy in a suit sitting up there saying this is what's supposed to be going on."
The only question is whether Knaus waited too long to make this decision. If not, if he's standing at Homestead with the championship trophy hoisted above his head, it'll go down as one of the greatest moves of all time by the greatest crew chief of all time.
Sometimes to achieve greatness you have to take chances.
"You're going to see energy from the 48 team that you haven't seen in a long time," Knaus said. "I can assure you, if we pull this off, we'll all be celebrating just like we always do."
David Newton covers NASCAR for ESPN.com. He can be reached at dnewtonespn@aol.com.
ESPN Carolina Panthers reporter
Covered Panthers, NFL for 11 years
More than 25 years experience covering NFL, college football and NASCAR
Joined ESPN in 2006
SPONSORED HEADLINES
MORE RACING HEADLINES
MOST SENT STORIES ON ESPN.COM