Commentary
Team ownership just natural progression in Stewart's Cup career
Does Tony Stewart's future lie in ownership with Haas CNC or as a driver with Joe Gibbs Racing? Either way, the two-time Cup champ would be foolish not to listen to potential suitors, writes Marty Smith.
Updated:
April 30, 2008, 2:27 PM ET
By
Marty Smith
| ESPN.com
Sometimes, you just need a diversion …
You're absolutely ridiculous, Marty!
I was one of the founding members of The Six, and you don't even give me the time of day! Instead, you give print space to wannabes who are all trying to become "The Seventh." I e-mail you a question just about every week, and you NEVER pick them! I guess I'll try one last time before I seriously consider giving up my spot as part of The Six (since you seem none too eager to repay our loyalty). All this talk of
Tony Stewart
and
Martin Truex Jr.
has me wondering, did
Dale Earnhardt Jr.
unknowingly set another precedent by starting Silly Season so early last year? Because 1) It's hard to imagine all this talk starting so early in years past, and 2) Part of me can't help but to think that these drivers wouldn't consider going through the extra headaches of switching teams (and possibly sponsors, car numbers, etc.) if they didn't get to witness the success of both
Kyle Busch
and Dale Jr. this year after having braved the same difficulties. Come on, Marty -- PLEASE answer at least one of my questions. You don't know how exciting it would be for me.-- Anna, Los AngelesThrow a party, Anna. You're in. T-shirt's in the mail. As for Junior's free agency affecting Stewart's current situation, no, I don't think there is any correlation whatsoever. (The Benjamins Junior got might be a different story entirely, however.) In all seriousness, the circumstances are wholly different. Earnhardt was miserable at DEI.
[+] Enlarge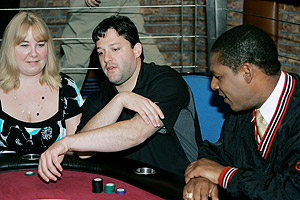 AP Photo/Carlos OsorioThe big question surrounding Tony Stewart these days: Is he showing us all his cards?
I believe Stewart when he says nothing is wrong at Joe Gibbs Racing -- Gibbs is winning everything but the local bingo pot and has the most gracious group of folks running the show that you'll ever have the pleasure to meet. I also don't believe this is a ploy to sweeten his JGR pot, which some folks allege happened during Stewart's previous contract negotiation. It's not about JGR. It's about Tony Stewart. Fact is, Stewart would be plumb nuts not to listen to suitors. He said so himself. Just because he has it all as a driver doesn't mean he can't have more in other capacities. Stewart is fully enveloped in racing, from track ownership to sprint car teams. This is a natural progression for him, and if someone's going to offer him an ownership stake in an established team with excellent equipment, that's kid-on-Christmas stuff. And Chevrolet equipment, at that. I can't stress enough how important that is to Stewart.Some folks have asked me, "Why Haas? For a marquee name like Stewart, wouldn't much better teams offer the same thing?" Haas has a ton of resources. It has a brand-new shop, complete with seven-post shaker rig. It has a rolling wind tunnel that costs more than a barrel of crude oil. (That's a gas price joke. A bad one.) The wind tunnel is a $40 million machine. There are only three like it in the world, and the two outside of Haas are positioned in confidential locations. Bottom line -- this deal's not done. Sources tell me things are progressing well between Stewart and Haas CNC Racing, but Stewart has several huge decisions ahead. It's a good place to be. And he might re-sign at Joe Gibbs Racing and make all this drama a big ol' waste of breath. Who knows? As Gibbs said last weekend, at this point in Stewart's life, it's about winning, and at JGR, he'll have a chance to win a whole handful of rings.
Marty,
You OK? You looked terrible at Talladega on Thursday. You were sweating, hair all over the place. And can you talk to someone at ESPN about those yellow earmuffs? You look like a cartoon, man. -- Jamie Mosley, Birmingham, Ala. If you think Thursday was bad, you should have seen me Wednesday, Jamie. When the Stewart story broke, my boss called to inquire whether I was close to a camera, so as to report on the story on TV.I told him I looked like Nick Nolte's mugshot. I wasn't kidding.And your cartoon line isn't original. Three or four people write each week to tell me I look like Woody from "Toy Story," and another 10 crack on my resemblance to Jimmy Neutron.
Marty,
I've got a historical question for you. What is the history behind the tri-oval shaped racetrack, and why do the track owners like it so much? I've been watching NASCAR for over 10 years, and something I still can't stand is the habit of calling one corner "turns 1 and 2."When I'm racing my buddies on the computer, we have always considered them one turn. To our way of thinking, the tri-ovals have three turns, one at each end of the track and the kink in the front stretch. Indianapolis is one of the few tracks that actually has four corners. Bristol, Martinsville, Loudon, etc., all have two turns. -- Matt Clark, Las VegasI was forced to seek out the expertise of my man Buz McKim on this one for you, Matt. Buz is the chief historian at the NASCAR Hall of Fame. He can tell you what brand of wing tip Dave Marcus ran in the 1984 Daytona 500.
Door-To-Door
with Marty Smith
Do you have a question for ESPN NASCAR analyst Marty Smith? Go to Smith's SportsNation page to submit your question or comment for Marty, and check back regularly for the column in which he will provide the answers.
Ask Marty
He tells me the tri-oval design was first thought of by Bill France Sr. when he was designing Daytona International Speedway. Originally, he wanted a 2.5-mile track to rival Indy, and the only way a track that size would fit on the land was to modify the shape of the track. It worked. Very well. And it gave the fans a panoramic view of the race. They could watch the cars come toward them, past them and away from them in a marvelous sweeping scene, instead of trying to look through the head of the guy next to them, as on a straightaway. Buz also made this interesting point -- Anne France sold tickets at Langhorne, Pa., for years, and she noticed the fans never requested specific seats. Each seat was a good one because the track was circular in shape, giving that same panoramic view in front of the stands. It appears Big Bill filed that info away in his mind to use years later.Pretty cool stuff. How's that for history, bro?
Hi Marty,
It's not a question I have for you, but I just wanted to tell you how much I agree on your remark that there is hardly anything on NASCAR in Europe. I live in the Netherlands and am a huge NASCAR fan. Wish I could watch more here on TV, but I have to fall back on my friends on NFF who show me the races on their webcam in the chat room. Wish there was more NASCAR on TV here. Oh, by the way, I don't like so much night races, because for me they are really "night races," but I will stay awake for it anyway. Thanks for all your good articles and comments. I really like them. -- Wil Wiebes, Breukelen, HollandWil made the show for several reasons, the biggest being that he's from Holland and I think it's cool as hell that a guy in Holland reads my column. Second, Wil might need to be checked out. Look, I love NASCAR, but I'm not about to trudge through the wee hours of the night, scrunched up in a ball in front of my laptop, squinting, head cocked, at a sketchy video feed on a 3-by-3 box in a Yahoo! chat room.Then again, I'd do it in a heartbeat to watch the Hokies play football. Never mind. I appreciate the devotion, Wil. I can't say I was initially surprised at the lack of NASCAR presence over the pond, but the more I thought about it, the more cognizant I tried to be of it, the more surprised I became. There's substantial room for growth in the sport. And NASCAR knows that. The key is successful growth globally while maintaining the crucial local appeal.That's my time for this week, folks. I have some stuff to take care of. Hug your young'ns and phone your folks -- tell them you love them.
Marty Smith is a contributor to ESPN's NASCAR coverage. He can be reached at ESPNsider@aol.com.
NASCAR
ESPN NASCAR lead reporter
Former NASCAR.com senior writer
15 years covering NASCAR
SPONSORED HEADLINES
MORE RACING HEADLINES
MOST SENT STORIES ON ESPN.COM