Commentary
Chase format is fine -- it's the schedule that needs changing
Shake up the Chase? Take out some cookie cutters, add a short track or two, and rethink Dega. Then the Chase is really on, writes Marty Smith.
Originally Published:
November 19, 2008
By
Marty Smith
| ESPN.com
NASCAR fans are like a Cinderella song: "Don't know what you got 'til it's gone ..."Amid the rigors of the race season it seems all who weigh in to The Six are disenchanted, frustrated by this or that NASCAR decision or ticked off at this or that race finish or miffed by this or that driver's attitude. But dang if it's not all peaches and kittens as soon as the checkers fall in Miami. Folks write in, all depressed that next Sunday falls silent. They can't wait for the green flag in Daytona, and the champagne plastered to
Jimmie Johnson
's Cup is only still tacky.It's human nature, I guess. One of the hardest things to do in life, regardless of context, is to truly live in the moment.The Six, postseason ...
Mr. Smith,
Faithful reader who you fielded a question from (pre-"The Six" days) after Daytona about Mr. Penske wearing a Hendrick hat in Victory Lane. Normally, I nod my head as I read your stuff. But I feel you partly missed the boat on your answer to Mike Hartley of Detroit last week.I agree that, no, they should not blow the Chase up over Jimmie's performance this year -- that previous Chases have not seen the same runaway supports the structure. But a realignment of the tracks could be done to minimize the risk of it occurring.Sir, as you know, half the Chase is the cookie-cutter tracks. It seems like recent history when one or two teams find the right "click" for the cookie cutters and they can't be stopped most of the year.Even if it doesn't always happen (last year, four drivers claimed the five cookie cutters), as the schedule is drafted 15 months ahead, such a shake-up would be one of the best methods for NASCAR to give itself variety and, hopefully, mix up the winners. Best of luck in the offseason.-- JB Anderson, Ottumwa, IowaFirst of all, JB, Mike complained last week about the format. The format is fine and the overall model works. Prove to me that
Kurt Busch
,
Tony Stewart
and Jimmie Johnson haven't been worthy victors. Oh, right. You can't. I had a guy Sunday morning at Homestead debate me on this subject, and he was all hung up on tradition, that it's unfair to reset the field and take away everything teams worked for in the first 26 weeks. Then he turned around and admitted being bored stiff in 2003 when
Matt Kenseth
won by 2 million points. When I broached that rebuttal, he grinned. I got him.And all anyone wants to do is compare NASCAR to other sports. Racing isn't like other sports. But OK, if that's what you want, let's try it. Is this not what happens in every other sport? A reset? The New England Patriots went 16-0 last year during the regular season -- a historic event. They didn't close the deal. Eli Manning and the Giants, a team largely considered mediocre and lucky to be there, executed when it mattered most and won a ring. Are they not worthy?
[+] Enlarge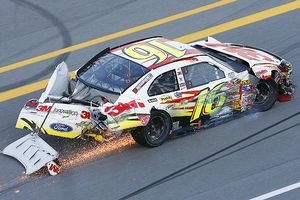 AP Photo/Glenn SmithThink removing Talladega from the Chase schedule would disappoint Greg Biffle? Think again.
However (after all that drivel), I don't disagree that the schedule could be altered to be a bit more diverse, more representative of the overall schedule structure. During the first 26 races, there are five events on 1.5-mile tracks. (Granted, if you throw in Darlington, Michigan and Fontana, which generally have similar setup characteristics to Lowe's, there are 10.) Therefore, high-speed intermediate tracks make up somewhere between 19 and 38 percent of the "regular season," compared to 50 percent of the Chase. By comparison, speedways (Daytona/Talladega) make up 12 percent of the regular season, and 10 percent of the Chase. Short tracks are 19 percent of the regular season and 10 percent of the Chase. There's one Dover race in the first 26 and one in the Chase. Same for Phoenix. Same for Loudon. Pocono and Indy are 12 percent of the regular season, and aren't represented in the playoffs. Road courses make up eight percent of the regular season and have no Chase presence. I've long been a proponent of having a road course in the Chase. But when they make up such a minimal portion of the schedule, drivers and teams don't feel there should be one in the Chase.So ultimately, by that math, 1.5-mile tracks certainly carry greater importance in the Chase than they do in the regular season. Should they? The kicker, to me, is Talladega. The Talladega fall race is the best event of the season for fans. Love plate racing or hate it, you simply cannot deny the entertainment value. But should a race that leaves so little of a driver's fate in his own hands have that much bearing on his overall season's outcome?
Door-To-Door
with Marty Smith
Do you have a question for ESPN NASCAR analyst Marty Smith? Go to Smith's SportsNation page to submit your question or comment for Marty, and check back regularly for the column in which he will provide the answers.
Ask Marty
"I'd rather say take Talladega out of the Chase and not worry about trying to get rid of your worst race, because it's happened every year,"
Greg Biffle
said back at Texas. "The same thing has happened every year at Talladega. "When you go in there and you penalize a team that's worked as hard as all of us have, and it was none of our doing, we're involved in a wreck because something happened -- a guy cut a tire or whatever. Put Bristol in there or something else versus throwing out one of your bad finishes. That's my opinion about what they should do with the Chase."Maybe it shouldn't be there. But one thing is for certain, that it does carry so much weight, and that you don't know what will happen, sure does make it awfully damn exciting.It wouldn't be easy for NASCAR to coax venues to fork over Chase dates. It is a coveted marketing opportunity, a built-in "this race matters" scenario. It would have to be extenuating circumstances, like the Atlanta/Fontana situation, to forego that. Both tracks suffered greatly from their previous positions, so a switch for them was elementary. But taking Chase dates from Kansas or Texas or Lowe's, just because they're 1.5-mile tracks, makes no sense. Look at the Kansas finish -- one of the best of the season.
Marty,
After the championship night, Cousin Carl and all the others kept saying that if they didn't mess up at Dega and Lowes, then he could have won. Well, assuming everything being equal, what about the 100-point penalty from Vegas? If they didn't have that to deal with, could they have won the Cup, or would it just have been the 10-point difference at the start of the Chase? John, Madison, Ala.Ten points, John. Everyone is reset to 5,000 points after Richmond, then given 10 points per victory in bonus points.
Hey Marty,
So now that NASCAR has done away with all testing at sanctioned tracks for 2009, how will this affect Goodyear tire testing? You would think that NASCAR would want the tires to keep improving, especially since the development of the new car is taking place at such a rapid pace. How would/could this be fair if only a few teams get chosen to participate like Goodyear normally conducts its testing?-- Matt, Muskego, Wis.Huge concern, Matt, no question. Teams have long coveted Goodyear tire tests because they provide invaluable information-gathering time subsequent to that which NASCAR offered. Now they are exponentially more important because, otherwise, testing at sanctioned tracks is outlawed. The topic was broached when NASCAR president Mike Helton addressed the media last Friday, after the mandate was announced."I think, obviously, the Goodyear tire testing will be important for two reasons -- one, it will be important to get the right tire at the event, and it will have some merit to it for the guys that are in the test," Helton said. Helton added that NASCAR has worked with Goodyear in the past to spread the wealth in tire testing, which is backed up by the fact that smaller teams like Haas CNC Racing and Yates Racing were involved in the Atlanta tire test. "We'll continue to do that and probably raise the bar on that a little bit in '09, to be sure that the participants of the tire test get those opportunities spread out," Helton continued. Some wondered whether a recently retired driver should test the tires, so as to ensure no advantage could be attained."I think we still are best served by the active teams and drivers in the garage area doing the tire tests, because those are the ones that will be using the tire at times, and they're the ones that know, hopefully, how to put the tire through the proper tests to come up with the right answer when it comes time for us to have the tire on the racetrack," Helton said. Some folks wondered, too, how NASCAR would prevent someone from simply building a racetrack in Greater Charlotte specifically for testing purposes. That, too, is a legitimate concern. In the free-enterprise world NASCAR has created, it is perfectly legal for someone to do so. In speaking with NASCAR officials, this rule is likely only temporary, until the economy recovers. So someone who spends $100 million to build a racetrack would ultimately be left with a nice test facility that loses considerable value if testing were reinstalled.Ultimately, the most important question is, what does it mean for competition? It has the potential to further separate the haves and have-nots. Small teams don't have seven-post shock dynamometers. Meanwhile, big teams have plenty of computer simulation to fall back on, and you can bet the house that Chad Knaus has his boys finding obscure non-sanctioned racetracks from coast to coast, several of which will host Team 48 next season.
Marty,
So with the merger of Chip and DEI, doesn't that open the top 35 so that Marco Ambrose can move up into this very important position?-- Scott, NorCalGreat observation, Scott. The Cakebread is sharpening your focus, man. Technically, yes. Presuming the No. 01 car, ranked 32nd in the owners' point standings, goes away, each team below it would simply move up in the standings accordingly. Therefore, the No. 47 team would rank 35th and thereby carry a guaranteed starting position into the 2009 Daytona 500.
Marty,
Are
Dale Earnhardt Jr
., Kelley and Kerry still planning to build the racing complex in Alabama? I know they had other partners, but as tight as money is, I wondered if it's still on? Enjoy your reporting.-- Brian, Murrells Inlet, S.C.Alabama Motorsports Park is definitely still a go, Brian. Kelley Earnhardt told me Tuesday they're waiting for final permitting approval from the corporation of engineers, and working through financing details right now. The projected completion of the racetrack is 2010, but the entire complex won't be completed at that time, Earnhardt said. Song of the Week: "Love," by Sugarland. Their performance at the CMAs was hair-raising, made me get up out of bed to watch and listen. Just sat there, awestruck. Very few bands elicit the type of emotion Sugarland does, at least from my perspective. I marvel at the writing. And the fact that Jennifer Nettles is finer 'n frog hair doesn't hurt, either.
Marty,
I just wanted to say as always it's a pleasure reading all your articles. Can't wait for next year. I would like to know, the trophy that the champion gets, does he get to keep it or is it like hockey where they give it back the following year? Enjoy your offseason.-- Ro, Plains, Pa.The real Sprint Cup trophy -- i.e., that is presented to the champion onstage at Homestead -- is always given back to Sprint that evening to be used for promotions, media tours and to be presented to the new Champion the following year. At a later date, the winning driver and car owner each receive duplicates of the trophy that are theirs to keep, and to do with as they choose. You could serve a mean salad in that thing. Or ice cream sundae. Or breath mints.That's my time this week. I have a lot on the docket: 1. Play ball with my son all day long; 2. Drink some beer; 3. Go see Eric Church in Greensboro. I'll figure the rest out later.
Marty Smith is a contributor to ESPN's NASCAR coverage. He can be reached at ESPNsider@aol.com.
NASCAR
ESPN NASCAR lead reporter
Former NASCAR.com senior writer
15 years covering NASCAR
MOST SENT STORIES ON ESPN.COM