Commentary
The key to Kahne's misery in 2008? Plain ol' bad luck
Don't blame Kasey Kahne and the 9 team for not making the Chase. Blame the two heartbreaking DNFs Kahne & Co. had to swallow at Michigan and Bristol, writes Marty Smith.
Updated:
September 17, 2008, 4:25 PM ET
By
Marty Smith
| ESPN.com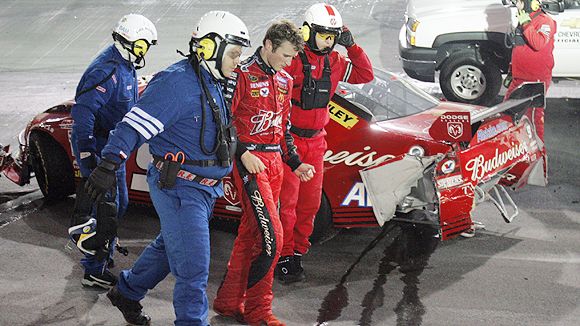 AP Photo/Wade PayneBack-to-back 40th-place finishes at Michigan and Bristol, above, cost Kasey Kahne a Chase bid.
Short 'n' sweet this week, Six. I'm attempting to play Mr. Mom and knocking D2D out during naptime. Oprah's right: Mother is the hardest job in the world. And it's not even debatable.
Marty,
Huge
Kasey Kahne
fan here, but I'm really disappointed at how his team just rolled over and missed the Chase. I can't believe it, really. Just a little while back they were talking about maybe winning the championship and now they're not even in the Chase. They haven't been running good and I'm just [upset] about it. Make me feel better, Marty.-- Monica Hale, La Grange, TexasThat is quite possibly the most ridiculous thing I've ever read, Monica. Though you're not alone. I received scores of e-mails from wadded-up Kahne fans questioning what went wrong. I actually called this about two months ago. I felt like Kahne would miss the Chase -- but my reasoning was incorrect. I predicted the performance would wane. I was wrong about that. He didn't miss the Chase because he wasn't running well. He missed the Chase because of plain ol' bad luck. Many folks, it seems, consider Kahne's season a failure, based largely on the fact that, as recently as one month ago, Kahne was solidly in Chase contention before ultimately squandering the opportunity to run for a title. Folks say the No. 9 bunch choked. Folks say they stink and their performance wasn't worthy of qualification anyway.How that conclusion is rendered is beyond my comprehension. Here's the truth:
Door-To-Door
with Marty Smith
Do you have a question for ESPN NASCAR analyst Marty Smith? Go to Smith's SportsNation page to submit your question or comment for Marty, and check back regularly for the column in which he will provide the answers.
Ask Marty
Five races ago, after the Pocono 500, Kahne was seventh in points and 89 points ahead of 13th-place
Matt Kenseth
. In the time since, he blew an engine at Michigan -- which is a fluke judging by the numbers; it has happened just twice in two years -- and got caught up in the Bristol melee when
Casey Mears
' spotter blinked at the wrong moment. He finished 40th in both races.You can coulda, woulda, shoulda any failure ad nauseam -- I do it in lunchtime hoops all the time. But Kahne's Chase bid failed with those back-to-back DNFs. When the engine blew up at Michigan, Kahne was running in the top 10. He likely would have finished there, too. Same deal with the Bristol wreck. If you replace those 40th-place finishes with 10th-place finishes, Kahne qualifies easily. And guess what? Had he gotten in, he'd stand fourth in the standings right now, based on his three points-paying victories in the first 26 races.The No. 9 team is good -- not championship-caliber, but good. And when you compare it to 2007 … well, there is no comparison. Last year, this team was abysmal, the biggest disappointment in the sport by a substantial margin. Some folks even picked Kahne to win it all, but the team members couldn't hit their rear ends with a 2-by-4. They were mediocre to start this year. But they hit it at Charlotte and have been a contender ever since. And they're continuing to improve. Kahne tells me they've uncovered some things recently that should produce more speed yet. Don't be surprised if Kahne doesn't make a run at a championship in 2009. It won't be easy because, again, this team isn't championship-caliber yet. And Gibbs and Hendrick and Roush aren't falling off anytime soon. But I have a feeling Kahne & Co. might come calling next season, too.
Quarter-mile, NASCAR style:
Had a random thought after watching
Michael Waltrip
and Ron Capps rocket down the zMax Dragway on Tuesday night in a No. 55 Toyota -- the burnout competition during All-Star Week needs to go. It is subjective. It was a nice thought, but it's no longer needed. Now that Bruton Smith has opened the state-of-the-art drag racing facility just across the street from Lowe's Motor Speedway, it's time the All-Star-qualified drivers drag-race one another. I know there's all manner of liability involved, and it probably never would happen. But, believe me, after what I saw Tuesday, it'd make for one hell of a show, and selling it out wouldn't be any problem whatsoever. Could you imagine
Dale Earnhardt Jr.
vs.
Kyle Busch
in the quarter-mile, in Cup cars? Ridiculous. Speaking of Junior …
Marty,
Junior has been in the top 10 all year and there is never a mention about him as a Chase contender. I know that Tony [Eury] Jr. hasn't been caught cheating this year -- unlike the boys ahead of him in the standings. ([Chad] Knaus hasn't yet, but is the king of bending the rules.)But do you think that the old "If you ain't cheatin', you ain't trying" mentality means that Tony Jr. just doesn't have it? He only has two Cup wins as a crew chief and has blown more than double that this year. Should Hendrick move him elsewhere in the organization and give someone else a shot? Oil cooler lids, pedal stops and chokers aside, I like the idea of something special on the Chase cars. How about something like the old "No Bull" days with different color numbers and wings?-- Matt Bottegal, PittsburghGotta be honest with you, Matt. I'm about sick and tired of these types of e-mails from Junior Nation. Did you ever stop to think that Junior makes mistakes, too? See: the Bristol banzai. And did you ever stop to think about the pressure involved in Eury's position? His is the most scrutinized job in the sport, excepting possibly Mike Helton's and Brian France's. Earnhardt backs Eury to the death, and until that changes, he isn't going anywhere. You can question the union until you pass out from lack of oxygen, you'll get nothing more than a glorified catnap. I don't disagree that Eury has made some suspect decisions this season on pit road. Heck, he acknowledges that. To his credit, he stood tall and took blame for the Watkins Glen debacle. But would Junior be more successful with another crew chief? Who knows? It's impossible to say. How do you know Earnhardt would have better chemistry with someone else? Any chemistry? Would someone else be willing to tolerate the ass-chewing Junior hands out every Sunday? Thick skin is requisite. Is Knaus a great crew chief? Absolutely. The best, in the eyes of many. But I don't see him being able to tolerate being cussed at for 500 miles.
Jimmie Johnson
doesn't operate that way, and it works. I just think there's a lot more to it than folks are giving Eury credit for.
Song of the week:
"Country Fried" by the Zac Brown Band. Absolutely spectacular lyrics. Here's a peek:I thank god for my life
And for the stars and stripes
May freedom forever fly, let it ring
Salute the ones who died
The ones that give their lives so we don't have to sacrifice
All the things we love
Like our chicken fried
Cold beer on a Friday night
A pair of jeans that fit just right
And the radio up
Well I've seen the sunrise
See the love in my woman's eyes
Feel the touch of a precious child
And know a mother's love …
Marty,
I just got back from the Sprint Cup race in Richmond, and what a good show it was. But I started watching the Nationwide race and something caught my attention as it did earlier in the week. Both qualifying sessions for Sprint and Nationwide got rained out so they then in turn set the field by points. How did
Joey Logano
get the pole in Nationwide if
Clint Bowyer
was the points leader?-- Jeffrey, Chesapeake, Va.In rainout situations, the field is set by owner points, Jeffrey, not driver points. The No. 20 Toyota team leads the No. 2 Chevrolet by 78 points in the owner standings. (And it would be much worse were it not for the 150-point penalty levied by NASCAR for the throttle-magnet issue.)
Hey Marty,
I have a question that I have had no luck getting answered. The scoring tower at every NASCAR track I have ever been to counts the laps up from Lap 1, with no indication of how many laps are going to be run. For example, I was at the ARCA race on Saturday in Joliet when my wife asked me how many laps were going to be run. I had to take the 200 miles and do the math. (It's a 1 1/2-mile track, so 100 laps is 150 miles, need 50 more miles, so I need 1/3 of the original 100, which makes 33 1/3 …) With some race distances being counted by laps, others miles and one race in kilometers (I think), shouldn't this be indicated somewhere? In this new world of massive scoreboards and multitudes of associate scoreboards, is it really necessary for me to do math exercises at a sporting event?Please put me in The Six so I can sleep tonight and cross "Be a member of The Six" off my bucket list.-- John Lesnik, Joliet, Ill.Your point is valid, John. Half the time, the drivers don't even know where they are in terms of lap progression, and they have spotters.Head on down to Texas, John. Eddie Gossage has your back. His track, Texas Motor Speedway, has a scoring pylon that counts laps up … and down. It is the only facility that does so.You're in The Six, man. Check.
Marty,
How does Clint Bowyer get seeded ahead of
Denny Hamlin
and
Jeff Burton
? I know there is no point difference, but he finished behind them in the regular season. I think he should be seeded last of the one-win teams, not that it matters points wise.-- ALZ in Jacksonville, Fla.Bowyer has more second-place finishes than Hamlin or Burton, ALZ. In the Chase-seeding process, drivers with the same number of regular-season victories are ranked according to second-place finishes, then thirds, fourths and so on.That's my time this week. I know it's brief and I'm sorry, but I have finger painting to do.
Marty Smith is a contributor to ESPN's NASCAR coverage. He can be reached at ESPNsider@aol.com.
NASCAR
ESPN NASCAR lead reporter
Former NASCAR.com senior writer
15 years covering NASCAR
SPONSORED HEADLINES
MORE RACING HEADLINES
MOST SENT STORIES ON ESPN.COM