Commentary
Regular-season leader needs big reward
Updated:
October 16, 2009, 4:35 PM ET
By
Marty Smith
| ESPN.com
I saw a sewage truck in Race City, USA, Thursday, just before I headed off to the airport for my flight to L.A.
It boasted the following: "We're No 1. in the No. 2 Business."
Funny.
Marty,
There's been some talk lately about the points leader after 26 races getting a bonus. That's stupid. Why would they get recognized for being good with almost half a season left? Look what happened to Kyle Busch last year. He dominated then [stunk]. Please tell me you agree with me on this, Marty. I have money on it.
-- Zebedee Gunter, Sacramento, Calif.
Pull out the wallet. Pay up, Zeb. Sorry, man, I'm with your buddy.
Since the advent of the Chase for the Spring Cup five years ago, the points leader prior to the playoff reset has gotten a raw deal: zero compensation for having spanked the competition for seven months. Not so much as a gold watch.
That's asinine. It basically says the season's dominant team and the guy that finishes 12th, eight million points behind the leader with no wins and four top-10s, are complete equals.
[+] Enlarge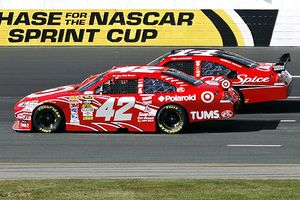 AP Photo/Mary Schwalm In our man Marty Smith's world, there's no way Juan Pablo Montoya, front, should be ahead of Tony Stewart, back, in the standings right now.
I've long said the Chase is akin to the beginning of the playoffs in other sports from the perspective that everyone is even once the postseason begins. In the NFL, 13-3 division champions play against ragtag 8-8 wild-card outfits every year. Sometimes the wild-card team wins -- two of the past four Super Bowls were won by wild-card teams, in fact -- and some folks cry and complain that they didn't even belong in the playoffs in the first place.
It'd be like Juan Pablo Montoya winning the championship this year without winning a single race. It could happen, and folks would cry foul. I would. Fundamentally, one should have to win to win, right? If a winless champion were crowned, Brian France's "winning matters more" hypothesis is officially napalmed.
The difference between football and racing is this: Even though the 13-3 team failed, it was compensated for its effort, with home-field advantage and possibly a bye week. It may ultimately mean nothing, but it's a nod for a great season, an intangible advantage.
In NASCAR, you get a pat on the rear and a "good job" and maybe a one-way ticket to fifth in the standings. That ain't right -- especially given just one driver that led the points after 26 weeks, prior to the playoff reset, went on to win the championship.
That was Tony Stewart in 2005.
NASCAR says it's surveying the concept of awarding a regular-season championship prize. Excellent.
Fielding the best team for 26 weeks should earn a team a $1 million paycheck … and a 50-point lead over second place to start the Chase. I'd say 100 points, but 100 is too many. Money is wonderful -- especially these days -- and it's not like NASCAR doesn't have it to dole out. But in racing, points are money.
A move like this would change the complexion of the season. You want to make the latter-half of the regular season -- during the doldrums of summer in Pocono and Michigan -- sing like Susan Boyle? Offer those boys a fat payday and a worthy playoff advantage after 26 events. Atlanta and Richmond would be madhouses.
Drivers will tell you they race to win every week, and peripheral circumstances like this don't affect their approach one iota. I believe that. Sort of. But if a guy builds a 400-point advantage over 12th place after 18 races, his team's logic has to change a bit. Let's try some new things. We have the leeway to do so. Not everyone does it -- Stewart swears he didn't this year -- but some certainly do.
With a million dollars and precious points on the line, I'd bet that strategy would change. Granted, Stewart earned the most points in the regular season, regardless. And for that, he should pocket some loot. And if he'd gotten that 50 points, he'd be in second place instead of fourth and only 17 behind Mark Martin right now, one ahead of Jimmie Johnson.
Just a thought …
Random: While recently in St. Louis, I got a pair of wristbands. They're blue and fuzzy and have Natty Light embroidered on them. They rock. I put them on and instantly feel like Kenny Powers, like I could reach back and throw a wildcat punch through a galvanized steel plate. Not really. It just sounds cool. Maybe I'll wear them on-air. Maybe not. Maybe I want to keep my job.
Random II: I did an interview with Kevin Harvick last week that will air in-full on "NASCAR Countdown" on Sunday. It was quite revealing. Many folks figure Harvick was handed the keys to the kingdom -- the No. 3 car. He noted that more comes with inheriting one of the most famous racecars ever than we could fathom, having not walked in those shoes. He also discusses his troubles this season, how bad it's gotten and whether he really asked out of his contract. Oh yeah, and what about that radio banter? Check it out.
Marty,
So NASCAR told Brad Keselowski not to race the Chase drivers so hard. That is total B.S. What are your thoughts on that?
-- Brad Jacobsen, Flint, Mich.
That's not exactly what happened, Brad. NASCAR reminded Keselowski to be "mindful," as he called it, that he could completely ruin a competitor's shot at a championship with an unintentional misstep. I fully understand why NASCAR would do that, but that doesn't make it right.
Keselowski claimed after the race it was Montoya that slammed into him. Regardless who's at fault, my opinion on this is simple: If Keselowski is racing fair and not blatantly trying to plant Montoya, NASCAR should stay out of it and let them race.
That's what drivers get paid for. And that's why NASCAR is the best racing in the world. What separates NASCAR from everybody else is door-bangin. Door-bangin' built this city. Let 'er eat.
Marty,
I'm a huge Jimmie Johnson fan and love his contributions to charity. I saw where he's running a JJF [Jimmie Johnson Foundation] paint scheme this weekend. Is this the weekend he wears that helmet with the fan charities on it, too?
-- Misty
Yes, ma'am. Johnson's helmet will include 12 charities, total, one of which was especially interesting to me. Back at Richmond, I spoke with Sally Zepp, who along with her husband, Bill, founded the Zepp Children's Foundation to assist families of children with disorders on the autism spectrum.
Door-To-Door
with Marty Smith
Do you have a question for ESPN NASCAR analyst Marty Smith? Go to Smith's SportsNation page to submit your question or comment for Marty, and check back regularly for the column in which he will provide the answers.
Ask Marty
Sally grew up a race fan. Thirty years ago, her father would take Sally and her brother to the local dirt track on Saturday nights. Then on Sunday afternoons, her family gathered around the dinner table to watch NASCAR. The conversations were thick with names like Allison, Petty, Earnhardt, Waltrip and, eventually, Gordon.
In 2002, Sally started following an unknown rookie, Jimmie Johnson. She and Bill attended their first NASCAR race in September 2002 at Dover International Speedway, a race Johnson won.
Three years later, she and Bill created ZCF in honor of their three sons, each of whom is affected by fragile X syndrome. When Sally learned of Johnson's Helmet of Hope Initiative, she went online and submitted a nomination. Driving home one day, she received a call from JJF -- her charity was the first chosen for Helmet of Hope.
She pulled over to the side of the road, overcome with emotion.
ZCF offers educational, emotional and financial support, none of which the Zepps had when their twin sons, Alex and Andrew, were diagnosed with fragile X and autism 12 years ago.
There is a very special place in my heart for children with disorders on the autism spectrum, anything from sensory integration to autism itself. So when I spoke with Sally at Richmond, I was quite moved.
The Zepps dumped their souls into founding this small charity to help others in their position. When their sons were diagnosed, they had no idea where to turn, no answers and no way to get them. Devastated, they felt hopeless. And it got worse.
When Alex and Andrew were diagnosed, at 3& #189; years old, Sally had recently given birth to Avery, who eventually also tested positive for fragile X. Frantic, they spent hours online researching to no avail. With nowhere to turn, the Zepps enrolled the twins -- who had extreme repetitive and compulsive behaviors, single-word utterances and uncontrollable tantrums -- in public school.
Alex and Andrew were not making any progress, and the Zepps were once again distraught and discouraged. Through a suggestion, the Zepp's enrolled the boys in a private institution and they are now thriving.
It was about that same time that Sally took her passion for finding programs that would help her boys to state legislatures, where she has been active for more than a decade educating them about autism spectrum disorders.
Pretty awesome, right? Without Jimmie Johnson, we might never have known about the Zepps. It's wonderful what that platform lets drivers do. It's wonderful that they do.
Marty,
What are your thoughts on uniform start times? I live on the West Coast, and it's killing me!
-- Ronald Masterson, Vallejo, Calif.
It's necessary, Ronald, and a good decision. I understand that West Coast fans will be forced to fire up the TiVo, but TV ratings need a kick in the pants. Consistency helps drive that. When a fan knows exactly when the race starts, and where it is located, he's more apt to watch. Plus, when I was a kid they all started at noon. No one complained then.
That's my time, folks. Thank you for yours. I'll try to do better next time.
Marty Smith is a contributor to ESPN's NASCAR coverage. He can be reached at ESPNsider@aol.com.
NASCAR
ESPN NASCAR lead reporter
Former NASCAR.com senior writer
15 years covering NASCAR
SPONSORED HEADLINES
MORE RACING HEADLINES
MOST SENT STORIES ON ESPN.COM