Commentary
Revisiting 'have at it, boys'
The boys are definitely having at it. And, for the most part, it's a really good thing for NASCAR.
There was a time when I thought the sport was getting way too sterile. Everything was too calm. But when these drivers are roughing things up and people are talking about it and following the sport more, NASCAR officials have to look at that as a positive.
More On ESPN.com

Kyle Busch is not to blame for what happened Saturday at Darlington and neither is Kevin Harvick. It's NASCAR's fault, Terry Blount writes. Story
• Newton: NASCAR got it right
In the last few laps of the Southern 500 this past weekend, Kevin Harvick, Kyle Busch and Clint Bowyer got tangled up pushing for the same real estate. When you have a couple of laps to go at Darlington, I see no problem with wrecking because you're trying to go for the checkered flag. In the old days, NASCAR would have brought these guys in and penalized them for the on-track stuff. But that's just two drivers racing hard.
My problem is with the way things played out on pit road after the race.
Harvick and Busch were both penalized with four weeks' probation and $25,000 fines -- a standard "slap-on-hand" number for this type of issue. But I think deducting 25 points from Busch on top of the $25,000 fine would make sense. Harvick got out of his car and instigated, but it was Busch that sent a vehicle skidding down pit road so that a couple of crew guys had to scatter to get out of the way. That car could have run somebody over and killed them.
Busch getting punched in the face would have been great for TV ratings. But driving away from confrontation and endangering other people in the process deserves a steeper penalty.
Many of my own "have at it, boys" run-ins involved Jeff Gordon. In 1997, I was looking at the checkered flag at Bristol until he knocked me off the track. I caught him about five races later and wrecked him really hard. But that dude was getting in my pocketbook too much so I just kept messing with him the rest of the year.
[+] Enlarge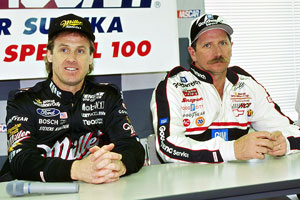 Getty ImagesRusty Wallace and the late Dale Earnhardt drummed up "Waterbottle gate" in 1995.
One time he came across the radio saying, "That goddamn Wallace is crazy, get him away from me. He's nuts!" And that's what I wanted to do. I wanted to make him think I was nuts. Now we get along great, but if today's attitude were at play back then, I would have got under his skin even more.
My most well-known altercation off the track took place with Dale Earnhardt at Bristol back in 1995. He ran up behind me and knocked me into the wall during the race. I was still fuming afterward. So, I tried to talk to him. He had a group of people around him and was ignoring me. I had a water bottle in my hand. So I took a drink, grabbed it by the neck and slung it. That bottle hit him right in the forehead. And all hell broke loose. It was definitely water cooler talk.
With the fans' interest at heart and the increased safety of the new car, I really don't think NASCAR will change the way they police races until somebody gets seriously injured or somebody repeatedly disrupts the integrity of a race. Bill France Jr. used to say, "Look man, I'm happy you're winning. But the day you start stinking up my show is the day I got a problem with you."
When drivers start to disrupt the show with acts of retaliation, NASCAR will step in. And if somebody gets seriously hurt on the racetrack -- spun into a wall driver's side first or something like that -- there will be a round-table discussion about putting limits on "have at it, boys."
But until then, I'm enjoying the show.
---
Rusty Wallace joined ESPN after retiring from driving following the 2005 season. He won 55 races and was the 1989 NASCAR champion. In addition to serving as the lead studio analyst for ESPN's NASCAR coverage, Wallace contributes to SportsCenter, First Take and ESPNEWS.
NASCAR
Former Cup champion Rusty Wallace will provide coverage for ESPN and ABC during this year's IndyCar Series and selected Nextel Cup races. You can check out all things Rusty at his constantly updated and upgraded Web site at rustywallace.com.