Commentary
Paint by numbers? These drivers are No. 1 in their class
Picking the best NASCAR drivers of all time is hard enough. But Matt Willis decided he needed a real challenge, so why not decide the best drivers by car number of all time? Let the arguments begin.
Updated:
May 17, 2008, 3:23 PM ET
By
Matthew Willis
| ESPN.com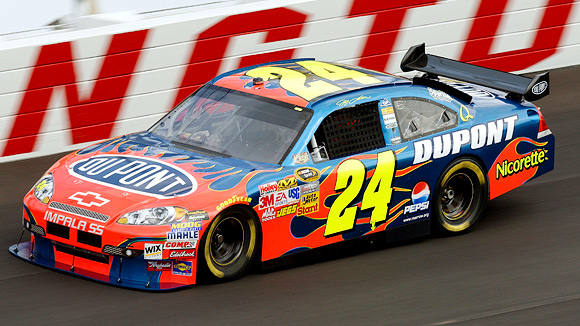 John Harrelson/Getty ImagesIt doesn't take much research to figure out who the best driver in the history of the No. 24 is.
I've seen a lot of lists, especially concerning best by uniform number for all the major sports, but I've never seen one committed solely to NASCAR.This could be because many drivers switch numbers many times during the course of their careers. Or because the numbers belong to the car owners, and not the drivers. It also could be that people just get tired about halfway through and give up.But I didn't get sick of it, because I'm a dork, and put together my own list of the best by car numbers … because I'm a dork. And since it's my list, I got to make my own rules. Such as, I'm only doing single- and double-digit numbers. No 250, no 4T. I don't believe in them, that simple. Also, I only considered the work drivers did while in those numbers; although some of the notes following the drivers include career notes, my basis for that number is the driver behind the wheel of that number.Finally, thanks to the people who run the NASCAR databases at ESPN and Racing Reference. A shoutout of epic proportions goes out to you.Before I get started, since I usually do a little trivia break during the weekly Eliminator column, I have a little guessing game for you: Who was the only driver to be the "best of" for three different numbers? Read on to figure it out.(00)
Dick Getty
I wish I could start this off with a little more of a bang. But here's Dick Getty for you.(01)
Joe Nemechek
Mark Martin
ran part-time in this car and had some good runs. But Front Row Joe won in the No. 01 at Kansas in 2004, the only driver to win from the pole at Kansas.(02) Curtis Crider
But enough about Curtis Crider. Some drivers got their start in the No. 02 car and went on to have very good careers. Guys like Mark Martin and
Ryan Newman
.(03)
Richard Brickhouse
Why him? Because he's a Brickhouse. He's mighty, mighty. He's letting it all hang out.(04)
Jimmy Massey
Had a 13.2 career average finish, didn't win but had a second-place finish.(05) David Sisco
Yeah, doesn't take much to be the best 05 ever.(06) Neil Castle
Cale Yarborough
won in this number, but Neil Castle gets the lifetime achievement award.(07)
Clint Bowyer
I like his chances to expand his lead on such drivers as
Bill Schmitt
and
Steve Stolarek
.(08)
E.J. Trivette
I just told you everything I know about E.J. Trivette. No Trivette trivia. Ha!(09)
Larry Manning
The oh-something numbers end as great as they begin.(0)
Dan Gurney
The second-best driver here is also the second-best driver ever named Jimmie: Jimmie Lewallen.(1)
Donnie Allison
The first of several appearances by Allisons. Donnie ran this number only a few years, but did it well. You'd think a number this prominent would have a little more competition.(2)
Rusty Wallace
Ten straight years in the top 10 in points. The only question is do you like his black-and-gold paint scheme or the blue-and-white one. (Black and gold.)
[+] Enlarge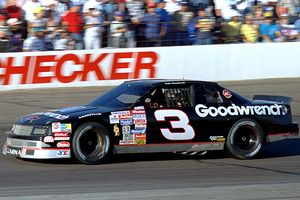 AP Photo/Larry WoodallDale Earnhardt had a pretty good career in the No. 3.
(3)
Rocky DiNatale
(or not)
No, wait, on second thought. Let's go with
Dale Earnhardt
. Dude was pretty good.(4)
Rex White
The mental picture I get with a No. 4 car is
Sterling Marlin
putting the yellow Kodak car in Victory Lane at Daytona. But Rex White won a championship in 1960, finishing a mere 3,936 points ahead of a guy named
Richard Petty
. Of course, the points system was different then, but it still seems like a big margin.(5)
Terry Labonte
A number of Hendrick drivers had good runs in the No. 5.
Geoffrey Bodine
,
Ricky Rudd
,
Kyle Busch
. But give me Texas Terry with the Kellogg's rooster on the hood.(6)
Mark Martin
David Pearson
gave Martin a run for his money, but Martin put his No. 6 car in the top 10 in points for a dozen straight seasons.(7)
Alan Kulwicki
Other drivers have won more in this car, but no driver had a bigger impact. Don't forget Kulwicki's championship in 1992 came after an enormous comeback.(8)
Joe Weatherly
I have asked ESPN.com to provide me with protection after not picking
Dale Earnhardt Jr.
But Weatherly won a couple championships in that No. 8 car, the 1962 and '63 titles. The "Clown Prince of Stock Car Racing" was also taken before his time, in 1964.(9)
Bill Elliott
Had not one, but two successful runs in the No. 9. Won the 1988 championship, and then came back as Ray Evernham's first driver and went on to win at the Brickyard.(10)
Ricky Rudd
Perhaps goes down as one of my favorite cars to look at on the track. Rudd was good for a win a year, and he could really move Tide.(11) Cale Yarborough
DW or Cale? Probably one of the most successful cars with multiple drivers. But Cale won three straight titles in the No. 11, something no other driver has done to date.(12)
Bobby Allison
His championship didn't come in the dozen car, but he won a lot of races in it. Alabama Gang representin'.(13)
Pop McGinnis
I think it might show some superstition when the quality of drivers slips from Cale Yarborough and Bobby Allison to Pop McGinnis.(14)
Fonty Flock
The No. 14 turned out to be a good old-school number, as
Hershel McGriff
was a close runner-up. How old school? The last time this car posted a top-five finish was with
P.J. Jones
at Watkins Glen. And it didn't post a top-five in the entire decade of the 1990s.(15)
Bobby Allison
Alabama Gang has come back for more! Give Bobby Allison another number!(16)
Greg Biffle
Contract status has been up in the air, but he's already gotten himself a spot as the best No. 16 driver of all-time.(17)
Darrell Waltrip
What a number. Three winners in that number in NASCAR history, and they're DW, David Pearson and
Matt Kenseth
.(18)
Bobby Labonte
The 2000 champ gets the nod here, but keep that number warm, Kyle Busch might be coming.(19)
Jeremy Mayfield
Yeah, this has been a number to stay away from in NASCAR history. This wasn't even Jeremy Mayfield's best number, but I give him the nod over some guy named
J.T. Putney
.(20)
Tony Stewart
This is a no-brainer, Stewart has all but one win among those who have driven the 20. The other came from
Marvin Panch
in the 1960s.(21)
David Pearson
The list of drivers who have been behind the wheel of the 21 reads like an all-star roster: Panch, Yarborough, Foyt, Bonnett. But my vote for who did the most damage as the driver of the No. 21 goes to Pearson. By the way, the 21 car has won only five times in the past quarter-century.(22)
Fireball Roberts
Special mention goes to Bobby Allison on this one. Roberts could very well be the best driver never to win a Cup championship. Another driver who died far too soon.(23)
Frank Mundy
NASCAR's version of Michael Jordan? I don't think so.(24)
Jeff Gordon
A complete no-brainer. I shouldn't have even bothered to look this one up, but as long as we're on the topic, the second-best to drive the No. 24? Another Gordon:
Cecil Gordon
.
[+] Enlarge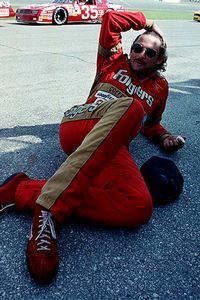 AP Photo/Raul de MolinaTim Richmond made a lot of things look easy, including driving the No. 25 car.
(25)
Tim Richmond
Despite a career that was far too short, Richmond gets the nod here. Would've loved to see what he could do with a full career.(26)
Junior Johnson
Won 13 races in his last (mostly) full season driving (mostly) the 26. Fifty career wins, and can you believe he never finished in the top five in points?(27)
Rusty Wallace
A second appearance on the list, and not just because he currently shares the same employer as me. Wallace spent a lot of years in the No. 2, but his championship came driving the No. 27.(28)
Fred Lorenzen
Davey Allison
and some other occupants of the memorable black No. 28 made a run at this, but I'll take Lorenzen. Lorenzen also had some pretty cool nicknames, he was Golden Boy long before Jeff Gordon. Also, he was Fearless Freddie and the Elmhurst Express.(29)
Dick Hutcherson
Some people would be surprised not to see
Kevin Harvick
in that slot, but let's give some love to Hutcherson, the pride of Keokuk, Iowa.(30)
Michael Waltrip
Now 700 races into his career, Waltrip's run in the 30 dates back to the beginning. Had some very drinkable sponsors in those days. Country Time Lemonade, Maxwell House Coffee and Pennzoil … I don't recommend drinking Pennzoil.(31)
Jeff Burton
Burton won a lot more races in the No. 99, but he's won three with Childress. So did
Robby Gordon
, but I'll take Burton's consistency.
Mike Skinner
drove this car, too … I'll still take Jeff Burton.(32)
Ricky Craven
I used to refer to Craven as the best NASCAR driver ever from Maine. But now I can add that he's the best No. 32 ever.(33)
Harry Gant
Handsome Harry once won four straight September races, propelling him and his Skoal Bandit to the top of the Larry Bird list. (34)
Wendell Scott
Scott's legacy goes much deeper than the best driver of my favorite number. Scott, for those that don't know, was the first full-time black driver on the circuit.(35)
Benny Parsons
Parsons didn't drive the No. 35 for much his career, but it's enough to top the list.(36)
Larry Thomas
At least Jeremy Mayfield didn't get the nod for No. 36 as well.(37)
Jeremy Mayfield
But he did get it for the No. 37.(38)
Elliott Sadler
Hard to compare drivers of different generations, so I gave this one some time between Sadler and
Gwyn Staley
. Sadler wins out in the end, but I just made a lot of people wonder who Gwyn Staley was.(39)
Friday Hassler
A cool name can earn you a few bonus points in my book, especially when nobody else stands out on this list. While we're on cool names, I also could've picked
Blackie Wangerin
. Friday Hassler, by the way, drove for an owner named Red Sharp. This is fun!(40)
Sterling Marlin
In 2001, Marlin finished only 22 points behind Tony Stewart for 2nd place in the Cup championship race. In 2002, Marlin might have very well won the title had it not been for an injury suffered at Kansas.(41)
Curtis Turner
The fourth winner ever in the NASCAR Cup Series. Turner won the race at Langhorne, Pa. The series doesn't race there anymore.(42)
Lee Petty
Three-time series champ, first Daytona 500 winner and retired as the all-time wins leader. He also begins the run on Pettys.(43)
Richard Petty
He didn't get all of his wins driving the No. 43, but he won most of them. That's going to be good enough.(44)
Terry Labonte
Got his first career championship in the No. 44. He'll be driving the No. 45 later this year as a teammate to his brother.(45)
Eddie Pagan
Not an incredibly long career but got in Victory Lane with the No. 45, and that's enough to make it here.(46)
Speedy Thompson
If you work in a field with a number of people who drive exceptionally fast and you get the nickname Speedy, you must be doing something right.(47)
Jack Smith
A couple of top-5 points finishes in the late 1950s. I didn't personally see them, but I imagine they were impressive.
[+] Enlarge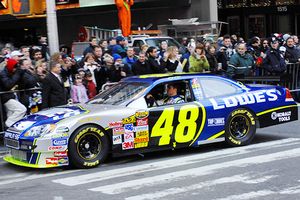 AP Photo/Henny Ray AbramsTwo titles and a whole slew of race wins makes deciding the best driver to don the No. 48 a pretty simple choice.
(48)
Jimmie Johnson
Basically everything that's ever been done in a No. 48 car was accomplished by Jimmie Johnson.(49)
Bob Welborn
Bobby Allison drove somewhat impressively in the No. 49 as well. Welborn won in the car, so he's the driver of the all-time seven-squared car.(50)
Geoffrey Bodine
Drove adequately in the half-century car for a season. (51)
Gober Sosebee
You expect me to go through this entire thing without giving proper credit to the work of Gober Sosebee?(52)
Earl Ross
As we move closer and closer to the Stanley Cup finals, let's make special mention of the only Canadian to win a Cup race, and he did it in the No. 52.(53)
Slick Johnson
Once again, a cool name goes a long way on this list. I looked up Slick Johnson online and found out that he also moonlights as a pro wrestling referee. The two might not be the same person, but how cool would it be if they were?(54)
Lennie Pond
Basically raced his entire career in the No. 54. A fairly lengthy career, in which he did something you can't do nowadays: finish 47th in a race.(55)
Tiny Lund
Like most people nicknamed Tiny, Lund was actually an exceptionally large man: 6-foot-5, 250 lbs. He was also a very good racer.(56)
Jim Hurtubise
Won a race in the 56, and that'll do.(57)
Billy Rafter
I mean, let's not fool around, there hasn't been a lot of success in NASCAR 50-something cars.(58)
Johnny Allen
Won a race in 1962 by six inches. Nobody else was within four laps. A win's a win, especially when Richard Petty,
Ned Jarrett
, Joe Weatherly and
Buck Baker
were in the field.(59) Tim Pistone
Pistone had a pretty good career driving mainly the No. 59. However, he was also the last driver to have a top-5 finish in the No. 59. That was more than 40 years ago.(60)
Bill Rexford
A little life to start off the 60s. The second-ever series champion and the youngest ever to win a title.(61)
Sherman Utsman
Give it up for Sherman Utsman!(62) Curtis Crider
That's right. Two --
Two!
-- "Best Of's" for Curtis Crider. By the way, Crider's nickname was "Crawfish." Awesome.(63)
Terry Bivins
Bivins' career lasted 28 races. The record for best 63 is just begging to be broken.(64)
Elmo Langley
My niece would love this pick. Big Elmo fan.(65)
Carl Adams
I insult other numbers, but this is the least accomplished number in NASCAR history. In school, a 65 means you just barely passed. I don't even give this number a D-minus.(66)
Larry Frank
Being frank, I have no idea who this is. Ha! Honestly, Frank did win a race at Darlington.
[+] Enlarge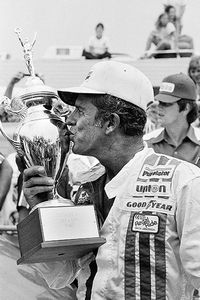 AP PhotoDavid Pearson kissed a lot of trophies back in the day, and more than a few of those behind the wheel of the No. 67.
(67)
David Pearson
Pearson gets on the list again, this time for the number he drove for
Buddy Arrington
.(68)
Bob Derrington
If this was just based on an overall career or influence on the sport, this number would go to
Janet Guthrie
.(69)
Johnny Allen
Allen gets on this list for 58 and 69. He has more numbers in the "Best Of" list than career wins.(70)
J.D. McDuffie
McDuffie holds a fun record: Most career starts (653) without a win. Even my jokes have a better success rate.(71)
Bobby Isaac
Isaac had a whopping 28 wins in a two-year span, winning the 1970 championship by 51 points over Bobby Allison. He also holds the single-season record for poles, with 20. Isaac's just laughing in Ryan Newman's face.(72)
Benny Parsons
The man who listed his occupation as "Taxi Cab Driver from Detroit." I imagine his speeds (first driver to qualify a stock car at over 200 mph) might cut down on the fares.(73)
Johnny Beauchamp
Originally declared the winner of the original Daytona 500, then it was revealed he lost by a couple of feet to Lee Petty. Won a couple of races in just 23 Cup starts.(74)
L.D. Austin
His career is highlighted by a couple of fifth-place finishes. The number 74 is highlighted by L.D. Austin. Enough said.(75)
Neil Bonnett
Not known for his time in the No. 75, but his performance in it is definitely worth three quarters.(76)
Ben Arnold
Although it was hard for me to get over what he did during the American Revolution.(77)
Joe Lee Johnson
Three names is enough to get the slot at No. 77.(78)
Jim Paschal
Furniture Row may yet come knocking at this number. Paschal had a very good career, but not much of it in the No. 78.(79)
Frank Warren
Yes,
the
Frank Warren.(80)
Jim Paschal
l
Paschal did have more success in the No. 80 than the No. 78, but he had to fight off a guy named
Tubby Gonzales
to get this spot.(81)
Danny Graves
Loved his work with the Cincinnati Reds.(82)
Joe Eubanks
Finished fifth in the 1954 points, behind Lee Petty,
Herb Thomas
, Buck Baker and
Dick Rathmann
. I assume he's not related to the guy who hosted "The Newlywed Game."(83)
Lake Speed
The No. 83 wasn't the Spam car, but Speed was still the best driver to grace the No. 83.(84)
Dick Trickle
Yes, you were waiting for the Dick Trickle number. I hope you weren't thinking I'd leave him out.(85)
Emanuel Zervakis
A great name, but also more than that. Zervakis was third in points in 1961 but raced in eight fewer events than champion Ned Jarrett.
[+] Enlarge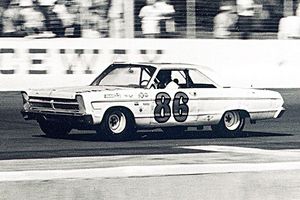 RacingOne/Getty ImagesBuck Baker was flat-out fast, no matter what car he drove.
(86)
Buck Baker
His son
Buddy Baker
was also a candidate for this number. Buck Baker won two championships, the first driver to go back-to-back (1956-57). In 1955 and 58, he was second in points. Not a bad run.(87)
Buck Baker
In fact, it's good enough to give him No. 87 as well.(88)
Dale Jarrett
After switching to the No. 88, here are Jarrett's finishes in the points the next six seasons: 3rd, 2nd, 3rd, 1st, 4th, 5th.(89)
Buck Baker
Buck Baker owns the late 80s. Somebody break up Buck Baker!(90)
Dick Brooks
Had a good run at the end of his career driving Julie Donleavy's No. 90.(91)
Tim Flock
Two reasons why I love Tim Flock: First of all, he is the only driver to win in NASCAR with a monkey co-pilot, named Jocko Flocko, in his car. Second, he won the only NASCAR Cup Series race ever held in my hometown of Owego, N.Y. It was held at the Wine Creek Race Track, if you were curious.(92)
Herb Thomas
Maybe one of the best drivers nobody really talks about. He was the first driver to win two series championships.(93)
Donald Thomas
That's right, a third Thomas on the list. Consider this list officially Thomas-heavy.(94)
Bill Elliott
His best years didn't come driving the McDonald's No. 94, but the 94's best years came with Bill Elliott driving. Let's not forget that Matt Kenseth made his debut subbing for Elliott in this car, and finished sixth in it.(95)
Darrell Waltrip
DW started his career driving the No. 95.(96)
Ray Elder
This car's had its most success on road courses. Elder won a couple of times at Riverside, and both Terry Labonte and
Ron Fellows
had top-5 finishes in the car as road-course specialists.(97)
Kurt Busch
I liked this car when it was the green John Deere machine. But Kurt Busch did drive it to a championship.(98)
LeeRoy Yarbrough
First driver to win the "Triple Crown" of stock car racing. The Daytona 500, the World 600 and the Southern 500 in the same season. He also ran a trio of Indianapolis 500s, albeit without much success.(99)
Jeff Burton
Burton might very well just be keeping the number warm for
Carl Edwards
. But don't forget how close Burton came to a championship in this car. Four straight years finishing in the top five in points.This is when I usually say something witty or along the lines of "The numbers don't lie." But now I'll say … Gentleman, start your debating.
Matt Willis is a studio researcher at ESPN.
MOST SENT STORIES ON ESPN.COM