Hamlin released from hospital, needs doctor's OK for Charlotte race
Updated:
October 9, 2008, 7:00 PM ET
ESPN.com news services
TALLADEGA, Ala. -- Denny Hamlin was released from a hospital Monday, one day after a tire failure led to a hard crash at Talladega Superspeedway.
[+] Enlarge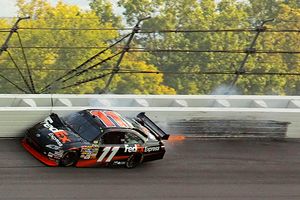 Guy Rhodes/US PresswireDenny Hamlin was not seriously hurt Sunday when he hit the wall at Talladega, but he felt the pinch of falling to 12th (last) place in the Chase standings.
Hamlin told ESPN's Jamie Little that he feels fine. Joe Gibbs Racing released a statement saying Hamlin did not suffer a concussion, nor did he break any bones.
"I couldn't stand sitting this race out, and I think there's a lot of people that question that, but I think if I had any question in my mind about it, I wouldn't do it because really I have nothing to lose," Hamlin said Thursday at Lowe's Motor Speedway.
The driver will have to be cleared by Dr. Jerry Petty, a prominent neurosurgeon, before getting back in the car for Saturday night's race in Charlotte, the fifth of 10 Chase for the Cup races.
"You move around too much and you're sore," Hamlin said. "I had a headache and whatnot. It seems like every day it's just gotten a little bit better. I've become a little bit more active each day as well. I went out and played tennis yesterday.
"Just to do things to get my heart rate up and make sure I don't have any headaches or anything, but now everything seems to get good," he said.
Hamlin was kept overnight for observation at a Birmingham hospital after his car slammed into a wall. He was alert and awake when he was transported to UAB Medical Center on Sunday, but he was complaining of a headache and there were concerns that he might have a concussion. He was also favoring his right foot after a slow exit from his crumpled car.
Hamlin, one of 12 drivers racing for the Sprint Cup championship, was leading midway through the race when his right front tire failed and his Toyota shot into the outside wall. He said nothing over his in-car radio after the hit and took several moments to get out of the car.
Hamlin knew he was going to wreck but said he had almost no time to prepare himself.
"I had about one second, because I did cross all three lanes," he said. "That was the worst thing because I wasn't on the high groove where I was up against the wall already. I came from the low to the high. That was probably the one time that I wish I wasn't leading the race."
Hamlin was 39th in the race and fell to 12th in the Chase standings.
Hamlin's tire failure was the fourth in the race and fifth of the weekend. Earlier in the day, Brian Vickers' tire exploded as he was racing for the lead, triggering an eight-car accident.
"I felt a bomb explode in my right front tire," Vickers said. "I just went down into the tri-oval, and it didn't cut or go flat -- it exploded. I saw the right front fender going through the air before the front of the car even dropped. It was the same thing that happened to [Dale Earnhardt Jr.] in practice."
Hamlin was scheduled to run Friday night's Nationwide Series race for Braun Racing but bowed out because of his accident.
"We just felt like it would be a good idea if he pulled back a bit," said Joe Gibbs Racing president J.D. Gibbs. "He's feeling better, doing fine, but he needs to take it easy if he can."
Information from ESPN associate editor Mark Ashenfelter and The Associated Press was used in this report.
SPONSORED HEADLINES
MORE RACING HEADLINES
MOST SENT STORIES ON ESPN.COM