Brick Master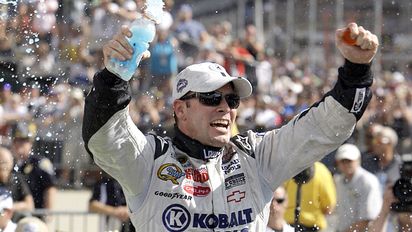 AP Photo/Darron Cummings
Jimmie Johnson became the first back-to-back Cup winner at Indy.
Juan Pablo Montoya provided the break Jimmie Johnson needed, and the three-time defending champ took full advantage Sunday to win his third Brickyard title in four years.
Ed Hinton
|
Indy blog
|
Recap
•
Blount: Montoya's mistake defied logic
|
Newton: Kyle in trouble
•
Watch

:
Three for JJ
|
NASCAR Now's take
|
Highlight of night
Must Read

Father Time is nipping at Mark Martin's heels. A 50-year-old Cup champ? His competitors say it can be done. Terry Blount
• Newton: Gant likes Martin's chances
• Blount: Martin gets it done at Phoenix

UP NEXT

SPRINT CUP SERIES
Daytona 500
Sunday, Feb. 20, 2011, TBA
Daytona International Speedway
•
Sprint Cup Series schedule
NATIONWIDE SERIES
DRIVE4COPD 300
Saturday, Feb. 19, 2011, TBA
Daytona International Speedway
CAMPING WORLD TRUCK SERIES
NextEra Energy Resources 250
Friday, Feb. 18, 2011, TBA
Daytona International Speedway
NASCAR on ESPN TV
Play Stock Car Challenge
Given a $100 million salary cap, build a team of five NASCAR drivers and compete for great prizes.
Select your drivers today!
2010 NASCAR Track Guide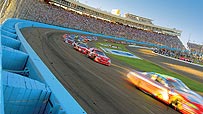 So this is the year you want to make NASCAR a bigger part of your sports existence. ESPN SportsTravel can get you started with a guide to all
22 tracks of the Sprint Cup Series.
Head out to the speedway