Oh So Close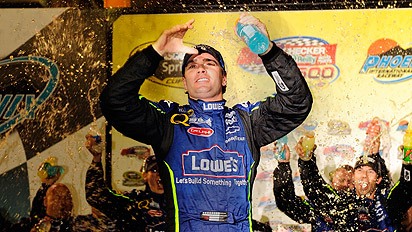 Rusty Jarrett/Getty Images
Johnson goes to Homestead-Miami with a 141-point Chase lead.
Let's just state the obvious: Jimmie Johnson is good.
Very good
. JJ all but wrapped up his third straight Sprint Cup title by dominating the field Sunday at Phoenix International Raceway.
Terry Blount
|
Watch
Must Read

The question of whether drivers are athletes rages on with race fans and stick-and-ball nuts. Ed Hinton writes drivers are not. Maybe. Oh, why should it even matter? Story
• Hinton: Is it cheatin' or creatin'?

More from ESPN.com
Hinton: JJ chasing his hero
As a boy, Jimmie Johnson worshiped the asphalt Cale Yarborough drove on. Guess who's been admiring JJ of late? The hero is now a fan, writes Ed Hinton.
McGee: Where art thou, Atlanta?
Atlanta Motor Speedway offers some of the best side-by-side racing in the Cup circuit. If only there were fans in the stands to appreciate it, writes Ryan McGee.
Play Stock Car Challenge
Given a $100 million salary cap, build a team of five NASCAR drivers and compete for great prizes.
Select your drivers today!
2010 NASCAR Track Guide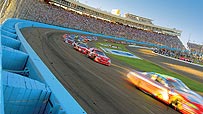 So this is the year you want to make NASCAR a bigger part of your sports existence. ESPN SportsTravel can get you started with a guide to all
22 tracks of the Sprint Cup Series.
Head out to the speedway