Commentary
Contingency stickers fill front fenders and help with bottom line
Those little stickers, also known as contingency decals, on the front fender of NASCAR Sprint Cup cars can bring in some big cash for drivers and teams.
Updated:
April 11, 2008, 3:30 AM ET
By
Brett Borden
| Special to ESPN.com
As anyone who has seen a NASCAR race car up close will tell you, each multicolored machine is covered in decals. And not just the large ones of the primary sponsor, or even the smaller ones of the secondary sponsors. The front side panels are mottled with mostly rectangular stickers that teams are either required or financially encouraged to place there.
[+] Enlarge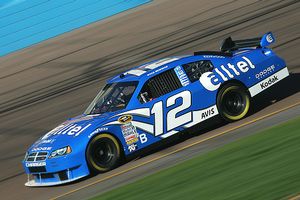 Todd Warshaw/Getty Images for NASCARPaint schemes on Penske-owned cars, such as Ryan Newman's Dodge, aren't cluttered with too many contingency stickers.
They are called contingency decals, and they have been around since the days of beach racing in Daytona. Car parts companies would give the teams parts and money if they agreed to put their stickers on the car. And that was just for exposure to the modest crowds that gathered at the beach to watch in person. Today, cars are shown up close and personal with in-car cameras and tight camera shots before a national television audience.
Primary sponsorships can cost up to $14 million in the NASCAR Sprint Cup series. Companies not willing to write that big of a check can still be involved in the sport and reach out to its 75 million fans, though, through contingency programs. This year, the cost of doing that business is between $311,600 and $366,000.
Contingency sponsors
Here are the contingency sponsors of NASCAR's Sprint Cup series:
Auto Meter
Comp Cams
Coors Light
Denso
DirecTV
Dow Automotive
EA Sports
Edelbrock
Goodyear
Holley HP Carbs
JE
Jegs
K & N
MAC Tools
Mahle Clevite, Co.
Mechanix Wear
Mobil 1
Moog Chassis Parts
Raybestos Brakes
Stant
Sunoco
USG Sheetrock
WIX
3M
There are roughly 30 contingency sponsors, from Raybestos Brakes to EA Sports to Coors Light and just about every other type of business you can think of. Teams that run the stickers on their cars are eligible for the rewards those companies offer after each race. Teams that don't? Well, they're basically giving money away.
Sometimes the teams choose to do that. The Penske cars carry less than half of the contingency stickers, mostly because of sponsor conflicts. Richard Petty used to refuse to run alcohol-related companies for moral reasons. There are other examples, but almost all of the teams choose to take the easy money.
Many teams will place the higher-paying decals higher than the lower-paying ones, so the Coors Light Pole Award -- formerly the Budweiser Pole Award -- sticker is often seen up top. Just two seasons ago, Kasey Kahne earned more than $200,000 in year-end awards from contingency sponsors. He won that much by winning six poles and leading after the first lap.
"These sponsors are 'official status' sponsors with NASCAR, and if we run their decal on the car, we have the opportunity to win contingency money," Carl Edwards said. "They present money for being the pole winner, leading the most laps, leading at the halfway point, and, of course, winning the race."
The teams love the contingency programs, and why not? Not everyone gets to leave a track with a victory, but several get to leave with a few extra dollars in their uniform pockets.
Raybestos Brakes sponsors the Rookie of the Year Award, paying $1,500 to the highest finishing rookie at each race, making it a race within a race for first-year drivers. The prize for being the top rookie at the end of the year is $65,000. Raybestos also doles out $5,000 at each race to first-, second-, third-, 10th- and 20th-place finishers.
There are also contingency awards for the most efficient pit crews and the driver who makes the wisest move during a race. For the most part, each sticker is located in the same spot on almost all of the cars. In fact, NASCAR gives each team a list before the season detailing their desired layout. Goodyear, for example, goes directly over the front tires. So the next time you see a race on TV, look closely at the stickers that seem almost like classified ads on the front side panels. Those little stickers are giving their sponsors a lot more bang for the buck than you would think. Even without running into other cars.