ESPN's Ray Evernham answers your questions
Gillett Evernham Motorsports co-owner Ray Evernham answers your questions ranging from qualifying modifications to Dodge's performance and more.
Updated:
September 17, 2008, 1:51 PM ET
ESPN.com
NASCAR Icons readers filled the mailbag with questions for ESPN analyst Ray Evernham and he responded to some of the best ones below.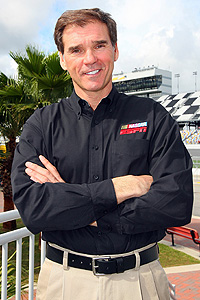 David Griffin/NASCAR SceneRay Evernham didn't dodge a question about why his Dodges haven't been as competitive as other manufacturers' cars.
Evernham, who is co-owner of Gillett Evernham Motorsports, started out racing modifieds before making his name as a crew chief. He won three NASCAR Cup championships and 47 races with Jeff Gordon and Hendrick Motorsports in the 1990s before venturing into ownership in 2000. Kasey Kahne, Patrick Carpentier and Elliott Sadler drive Dodges for Gillett Evernham in the Sprint Cup series this season. Here are your questions and Evernham's answers:
What is the biggest reason Dodge has not been able to be as competitive the past two years in all NASCAR venues.
Danny Thomas,
Newton, N.J.
Evernham: Well, I can only speak to why my Dodge team hasn't been competitive. We've been off a little bit on aerodynamics. We've been off a little bit on, I don't want to say overall horsepower, but the power band -- the amount of horsepower through the rpm range. And we've struggled getting the chassis setups properly. So there are a number of reasons that we have missed. But Dodge as a company or the factory support I don't really have all of the answers why they've not been as competitive in the past two years as they were early in the program.
I've noticed that during qualifying many cars appear to have a solid skirt on the side of the cars with no slot cut out for the jack to fit into, but during the race the slot is always visible. Wouldn't that be considered a body modification and does it reduce any drag by a significant amount?
Steve,
West Carrollton, Ohio
Evernham: That's a real good heads up, Steve. That is a small detail that does help add a little bit of downforce and take away a little bit of drag, which is good for qualifying. NASCAR does allow you to make certain modifications after qualifying and that is one of them. So the reason that is done is that it increases downforce and it reduces drag.
When someone is already in the garage, working on a car, because of a wreck, does that crew have to stop working under a red flag from a later wreck? This happened about three weeks ago.
Barbara Adams,
The Plains, Ohio
Evernham: Yes, absolutely. When the red flag is displayed all work has to cease. And there is an official assigned to every car in the garage area that is being worked on to make sure that it's being worked on safely, to make sure that they are still obeying the rules while it's being worked on and also in the event of a red flag that work stops.
In the new COT there are always discussions about the bump stops, coil-binding, etc. Can the teams use hydraulic or pneumatic bump stops that can be adjusted as another adjustable tool to the car? If they can, would they be advantageous to use?
John,
Jackson, Miss.
Evernham: Again, great question. This is again why NASCAR fans are probably the best and most educated fans in all of sports. Those are great questions. Hydraulic and/or pneumatic bump stops would definitely be an advantage and have been tested and NASCAR outlawed them because they were advantageous.
SPONSORED HEADLINES
MORE RACING HEADLINES
MOST SENT STORIES ON ESPN.COM