Commentary
Edwards hoping to derail Bowyer in series finale at Homestead-Miami
In Clint Bowyer's eyes, Carl Edwards is a dangerous man. The defending Nationwide Series champ has nothing to lose and the points leader squarely in his sights, writes Mark Ashenfelter.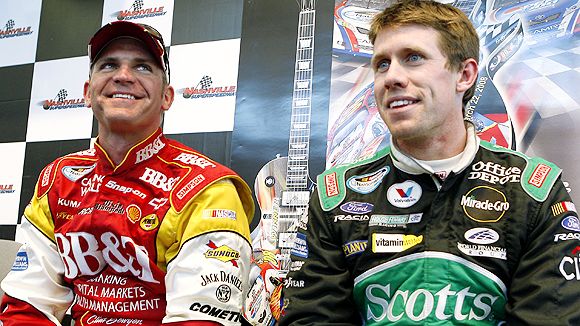 AP Photo/Bill WaughClint Bowyer, left, has to hope he has enough to hold off Carl Edwards for one last race.
HOMESTEAD, Fla. -- On the bright side for
Clint Bowyer
, in only two Nationwide Series races this season has
Carl Edwards
gained more than 56 points on the series leader.Bowyer takes a 56-point lead over Edwards into Saturday's Ford 300 at Homestead-Miami Speedway and can clinch the title by finishing eighth no matter how Edwards finishes. If Bowyer leads a lap, he can finish ninth, and if he leads the most laps, an 11th-place finish will give him the title even if Edwards wins the race.Edwards, meanwhile, can find solace in the fact that he gained 61 points on Bowyer at Michigan in August and 80 points last month at Memphis. Edwards won while leading the most laps in both of those races.It's an awful lot for a driver to digest, but Bowyer has the luxury of heading into the race with the lead -- meaning his job is seemingly much easier than Edwards' task."We just have to keep doing what we've been doing. We're not in a panic situation," Bowyer said. "We've got a 56-point lead, but -- don't get me wrong -- we still have to protect that lead. This is a very good race team, and I feel like the only ones who can beat us out of this championship is ourselves."We crashed last weekend [on pit road] in Phoenix, and I thought our championship was over, but no one panicked. Dan [Deeringhoff, the team's crew chief] and the guys got the car fixed, and we stayed on the lead lap and finished fourth. He even made a gutsy call to come and get tires for the green-white-checker, and we went from seventh to fourth in two laps. That's what wins championships."We're going to do everything the same way we've done it all season, and as long as we do that, we'll be just fine and the championship will take care of itself." Edwards, of course, will be hoping otherwise. With six wins on the season, compared to just one for Bowyer, Edwards has tried hard to make up the ground lost up until a switch to crew chief Drew Blickensderfer jump-started his team in June.He's got just one race left to successfully defend his title, and Edwards plans to go down fighting."Wow, I can't believe the season will be over this weekend. We have a legitimate shot for the championship this weekend and we are definitely focused on winning it," Edwards said. "The guys are motivated and understand what we need to do. "Homestead is a great 1.5-mile track for us with lots of grooves, just like I like. I plan on pressing it hard and going for the win. It would be great to cap off the season with a victory -- and another championship." The gamesmanship has begun, as Richard Childress Racing filed a late entry for
Jeff Burton
in the team's No. 21 Chevrolet, in the hope that Burton could finish ahead of Edwards if Bowyer should have a tough day and find himself in danger of finishing lower than eighth.While the spotlight will rightfully be on both Bowyer and Edwards, two other titles are on the line Saturday.
Joey Logano
will be looking to secure the owners' championship for Joe Gibbs Racing's No. 20 car. That team -- which has featured
Tony Stewart
,
Kyle Busch
and
Denny Hamlin
in addition to Logano -- carries a 28-point lead over Bowyer's No. 2 team.The owners' title appeared locked up in August until the No. 20 team was docked 150 points for attempting to manipulate the information learned from a chassis dyno test following the Michigan race. The huge lead was largely built on the performances of the three veteran drivers, but Logano has also done his part with three consecutive top-10 finishes heading to Homestead."One of the goals of this team all year and since I've been in the car has been to win the owner championship for JGR. We've really figured out a lot over the last several weeks with our intermediate-track cars and have them a little bit more to our liking," Logano said. "Really, starting at Charlotte, I've been very happy with each car we've been able to bring to the racetrack. Even last week at Phoenix, we had a great car, but we were on old tires there at the end and turned out to be a sitting duck [while finishing 10th]."You kind of have to look at the big picture and know that we've been running well but maybe not getting exactly the results that we want. I haven't been racing in this series for very long, but one thing I've learned from other places I've been is that you can't worry about what the rest of the guys are doing. Otherwise, you aren't concentrating on getting your stuff better. We can't worry about what the [No.] 2 car is doing, but just focus on getting our car the best it can be to run up front and have a chance to win. The points will take care of themselves from there."The last title up for grabs won't garner much attention, as only one of the two candidates for Raybestos Rookie of the Year is entered in the race.
Bryan Clauson
, who trails leader
Landon Cassill
by six points entering the race, will be in Chip Ganassi Racing's No. 40 Dodge, while Cassill will be on the sidelines. Cassill's slate of 19 races ended at Phoenix, so Clauson has a chance to gain on his rival.All eyes, though, will remain focused on Bowyer and his attempt to hold off Edwards for the Nationwide Series crown.
Mark Ashenfelter is an associate editor at ESPN.
NASCAR
• Ashenfelter is an Event News Editor at ESPN.
• Worked at NASCAR Scene for eight years.
• Has covered NASCAR since 1999.
SPONSORED HEADLINES
MORE RACING HEADLINES
MOST SENT STORIES ON ESPN.COM